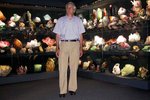 GIULIO57
Status:
Member
Join Date:
2nd February 2009
Last Login:
30th May 2023 - 10:15
Real Name:
GIULIO57
Website:
Visit My Website
Occupation:
Biologist
Interests:
To spend a few hours in my darkroom; to attend Photo Contests; to read good books and to use my bicycle. In summer to travel with my Vespa Piaggio taking pics of places I'm visiting.
---
Topics Created
No forum topics created yet.
Error
You must be a member for at least 30 days before you can post portfolio comments.