Past Issue
Click here for a free online sampler!
Click here to subscribe to the magazine or read below for details of the current issue and past issues
Click here to view the pictures by the members in this magazine
Summer Issue 2 2010 contents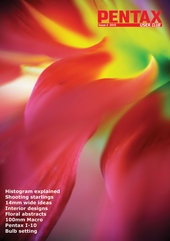 Pentax compacts - hands-on
Matt Grayson takes a look at some of Pentax' latest compact offerings.
Pentax 100mm macro lens
Gary Wolstenholme reviews Pentax' new 100mm macro lens.
Beginners' guide part 4
John Riley returns with part four of his beginner advice and looks at using the histogram.
Floral Photography
Zeb Andrews shows us how he produces his beautiful floral landscapes.
It's all in the timing
Craig Roberts explains the camera's bulb setting.
Member in the spotlight
Pentax User puts John Anthony centre stage for his member in the spotlight interview.
The 14mm lens challenge
Matt Grayson shows us five interesting items we can photograph with a 14mm wide lens.
Starling photography
Steve Bennett returns with his starling photography advice.
Photographing interiors
We go inside with Andrew Cowin for some interesting interior photography tips.
See your images in print, and win a prize!
This issue's sponsor is professional photographer Annabel Williams who is offering her book, 99 Portrait Photo Ideas. 99 Portrait Photo Ideas is packed with inspirational ideas to transform the way you approach photography. Annabel shares the secrets which have made her a household name in the photographic world, and
you'll learn key techniques to enhance your own portrait work.
Every picture printed in the Gallery wins a copy of 99 Portrait Photo Ideas worth
£15. Runners-up will appear on the Pentax User website. To enter, submit up to
three slides, prints or digital files per issue (colour or black & white), one month
before the publication date. Or try out our new Pentax User website Gallery upload
feature, where photos can be set for automatic entry to the magazine competition.