Reasons To Choose Pentax
Here are a list of reasons Pentax believe you should choose a Pentax DSLR.
10/01/2014 - 00:00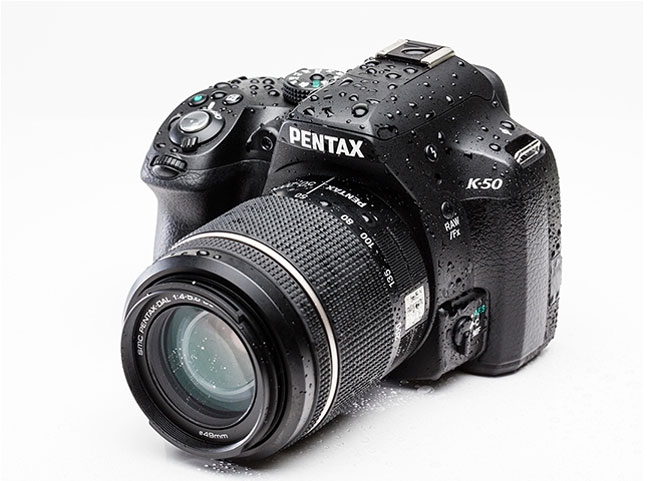 1. All-Weather Shooting Is Possible
The Pentax digital SLR camera system features weather-resistant, dustproof camera bodies and lenses, which means you'll be able to carry on shooting even if you're caught in a shower and you won't have to constantly worry about your equipment when you're at the beach in the summer. Featured in this range is the Pentax K-3 which has a water resistant body with 92 protection seals.
2. Large Lens Selection
The Pentax range of interchangeable lenses is optimised for an APS-C sensor size so whether you're a telephoto shooter who needs high-magnification, someone who shoots wide vistas or enjoy macro photography, Pentax offers a wide selection of zoom and primes that'll meet your needs.
Also, by incorporating the shake-reduction mechanism, once in the camera body, Pentax has removed the weight of lenses by removing the need for an SR system in each lens. Also, by optimising the lens design for APS-C image sensors, weight and size has been further reduced.
3. Minimised The Adverse Effect Of Camera Shake
As the Pentax-developed SR (shake reduction) mechanism is now found in Pentax SLR camera bodies, the effect of camera shake is minimised effectively and with all compatible interchangeable lenses. Further more, the Pentax entry-class models are equipped with a pentaprism viewfinder, in place of a pentamirror viewfinder commonly used for the entry class models. As a result, a larger, brighter image for quick, effortless confirmation of image composition is produced.
4. Personalise Your Camera With Over 100 Colour Choices
Certain models found in the Pentax DSLR range can be customised with colour. Choose from over 100 colour combinations to make your camera unique. Before purchase, photographers can colour coordinate the body and grip with their favorite colours, in fact on the Ricoh website users can use a colour simulator to change the colour of a Pentax K-50.
---