Ricoh GR III Review
Read our full review of the new Ricoh GR III, the compact camera with a 24mp APS-C CMOS sensor, and a wide-angle 28mm equivalent lens.
14/03/2019 - 12:46
Ricoh has officially announced the Ricoh GR III, after showing a prototype camera at Photokina 2018. The GR III is the smallest Ricoh GR camera to be released with an APS-C CMOS sensor. The GR III features a new 24mp APS-C CMOS sensor, with sensor-shift image stabilisation and a number of other updates, including a 3inch touch-screen, phase detection auto-focus, and USB-C connection.
The GR III will be available for £799 / €899, and will be available from the middle of March.

Ricoh GR III Features
The Ricoh GR series is designed to be portable, with a quick response. In order to give a quick response when shooting the camera offers snap shooting, letting you shoot rapidly without having to wait for focus.
The Ricoh GR III offers a new 24mp APS-C CMOS sensor, with phase-detection auto focus. The camera has built in sensor-based shake reduction, meaning the sensor can move to counter image shake, Ricoh say this gives up to 4 stops of image stabilisation. Thanks to this, Ricoh have been able to add Dust Reduction to the camera, to help remove any dust from the sensor, if dust does end up in the camera. Hopefully it won't be an issue, and if it is, then this should help remedy the problem.
Ricoh has also introduced an anti-aliasing filter simulation mode, as the sensor does not feature a built in anti-aliasing filter. If you're concerned about moire in images, then you can use the AA filter simulation to reduce the likelihood of moire.
There's a new processing engine for improved image quality, and quicker image processing.
Ricoh has a reputation for delivering firmware updates that not only fix bugs or errors, but also add additional features. One of the first firmware updates to be released for the GR III will be an option to add "graininess" to your photos.
However, the GR III has a fixed lens, with no optical zoom, instead the lens is an 18.3mm f/2.8 prime lens, equivalent to 28mm in 35mm terms, which has been redeveloped to be smaller, whilst delivering sharper results, a quicker switch-on time, as well as improved macro performance, with a new 6cm – 12cm macro focus mode.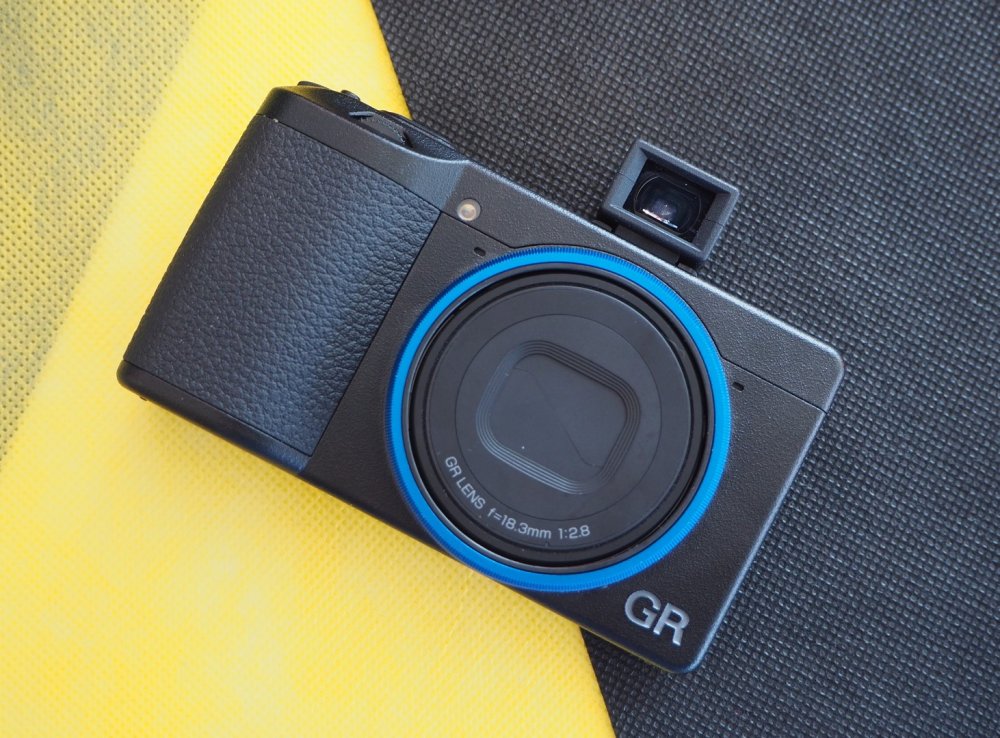 Ricoh say the camera is "Neither versatile, not for excitement, but to move ones heart…"
There's a purity in the Ricoh GR series, in that they've followed the original film cameras, and always offered a 28mm equivalent prime lens. This design has allowed the cameras to remain compact, making them extremely compact, and pocketable. Over time a Ricoh GR fan base has grown, and Ricoh call these people "GR-ist" fans.
The Ricoh GR III isn't an "ordinary camera" and Ricoh say the "GR remains unfinished and keeps evolving" - They've even outlined 5 principles for GR cameras, and we've paraphrased them here:
Do not compete with numbers
Do not install function because of fad
We do not design only to draw attention
We do not change models easily
Always make something new
It has been 4 years since the Ricoh GR II, and there have been a number of updates made, so we thought it would be a good idea to list the main updates introduced with the GR III, compared to the GR II:
New to the Ricoh GR III:
Reduced start-up time 0.8 seconds (New, improved)
Similar in size to GR digital IV (which has 1/1.7inch sensor)
24mp APS-C CMOS sensor (New)
Sensor image stabilisation (3-axis, pitch, yaw, roll), 4 stops
Dust Removal II – Ultrasonic cleaning function
Anti-aliasing filter simulator to eliminate moire (2 settings)
New 28mm f/2.8 aperture, 9 blade diaphragm for bokeh
6 optical elements, in 4 groups (reduced in size), clearest, sharpest images in GR series history
New GR Engine 6 image processor (for improved processing speed, and IQ improvements, for more detail), improves AF performance
AdobeDNG raw shooting (14-bit)
Maximum ISO102400
6cm macro capability (macro range to 12cm)
3inch touch-screen, 1million pixels, air-gapless –
Touch-screen to set focus point, menu selection, image magnification, with outdoor view setting
Hybrid AF phase detection and contrast detection – for improved focus speeds, whilst maintaining accuracy.
8 types of focus mode including continuous AF, touch-AF, plus face detection
10 image filters, and within this you can adjust hue contrast, sharpness, and apply an HDR effect.
2GB memory built-in (in case you forget your memory card)
USB Type-C
No built-in flash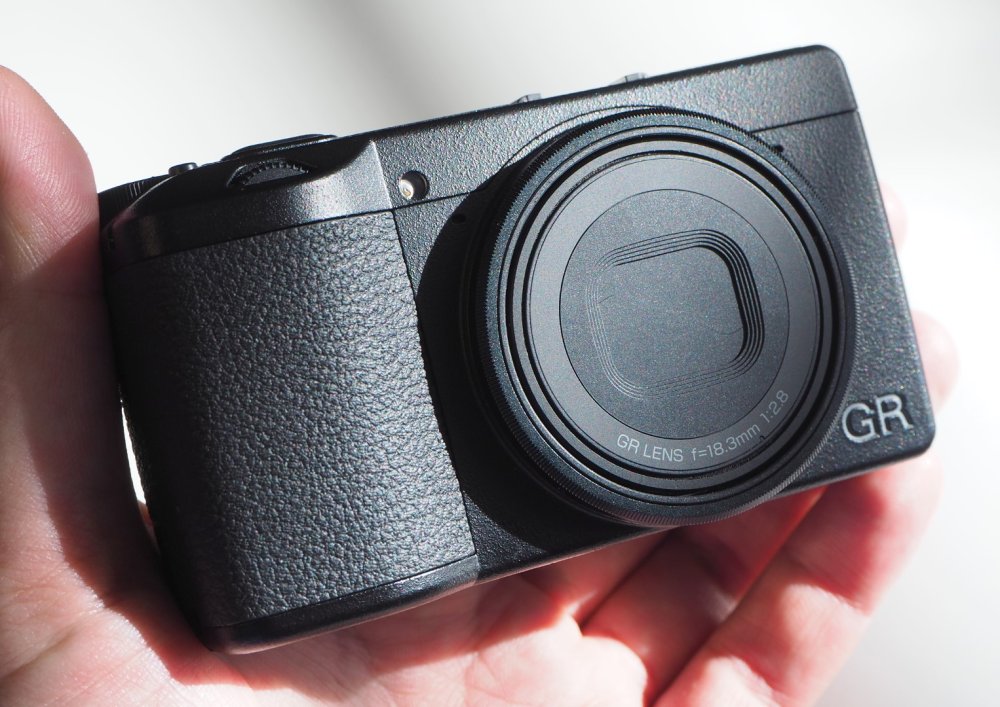 The GR III also features in camera raw development. Interval shooting, 10 minute increments up to 24 hours. Multi-exposure (for multiple images, up to 2000).
35mm equivalent, and 50mm equivalent crop modes are available, at a reduced resolution of 15mp, or 7mp respectively.
GR III no longer features a built-in flash, and this has allowed the camera to be the smallest APS-C camera yet. Wi-Fi and Bluetooth are built-in, and Ricoh are launching an updated Ricoh ImageSync App in April.
The camera has a tough Magnesium alloy frame, however, the camera is not weather-sealed, so if the weather does turn against you then we'd recommend you put the camera in your pocket.
There are a range of accessories available, including a new GW-4 21mm wide-angle convertor (a new adapter was needed to work with the new lens), external viewfinder(s), flash
Key Features
24mp APS-C CMOS sensor, AA filter simulation (option), 14bit output
18.3mm f/2.8 lens giving 28mm equivalent (in 35mm terms)
9 blade diaphragm for enhanced bokeh
Sensor image stabilisation (3-axis, pitch, yaw, roll), 4 stops
3inch touch-screen, 1m pixels
Hybrid / Contrast and Phase Detection Auto Focus (PDAF)
ISO up to ISO102400
FullHD Video, 60/30fps
Wi-Fi, Bluetooth 4.2 (for ImageSync app)
USB C connection
Built-in ND filter
6-12cm macro focus mode
Dual-axis electronic level
2GB built-in (can record 140+ JPEG images)
Ricoh GR III Handling
The Ricoh GR III is compact, and easily pocketable. There are rubber grips at the front and back of the camera giving the main grip plenty of texture. The rest of the camera is finished in a textured black paint, giving a good level of grip, and a more solid feeling.
The mode dial is locked until you press the release button next to it, and then you can turn the dial. There are three custom modes, U1, U2, U3, as well as Manual, Tv, Av, and P modes. The ADJ (adjust) selector is customisable, and can be used for exposure compensation to quickly adjust the exposure. Pressing the ADJ selector in will give you a number of options on screen. The Fn (function) button can be customised, and used for back-focus and manual focus. There's no quick way to switch between photo and video modes, unless you customise the Fn button and set it up as a switch between the two modes.
The touch screen is quick to use, and can be used within the menu system as well. The menus have a clean design, and a clear layout. There's also a new outdoor view setting to make it easier to see the screen when out in bright sunny conditions. If you're shooting into or towards the sun, then this is most welcome.
There are numerous different focus modes and options, with a total of 8 different modes, this includes Auto-area AF, Select AF, Pinpoint AF, Tracking AF, Continuous AF, Manual focus, Snap focus, and Infinite focus. There's also face detection focus, an AF assist light, focus peaking, and you can set the snap focus distance. You can use the touch-screen to set the focus point, and can select a wide-area of the screen, but not right in to the corners of the frame.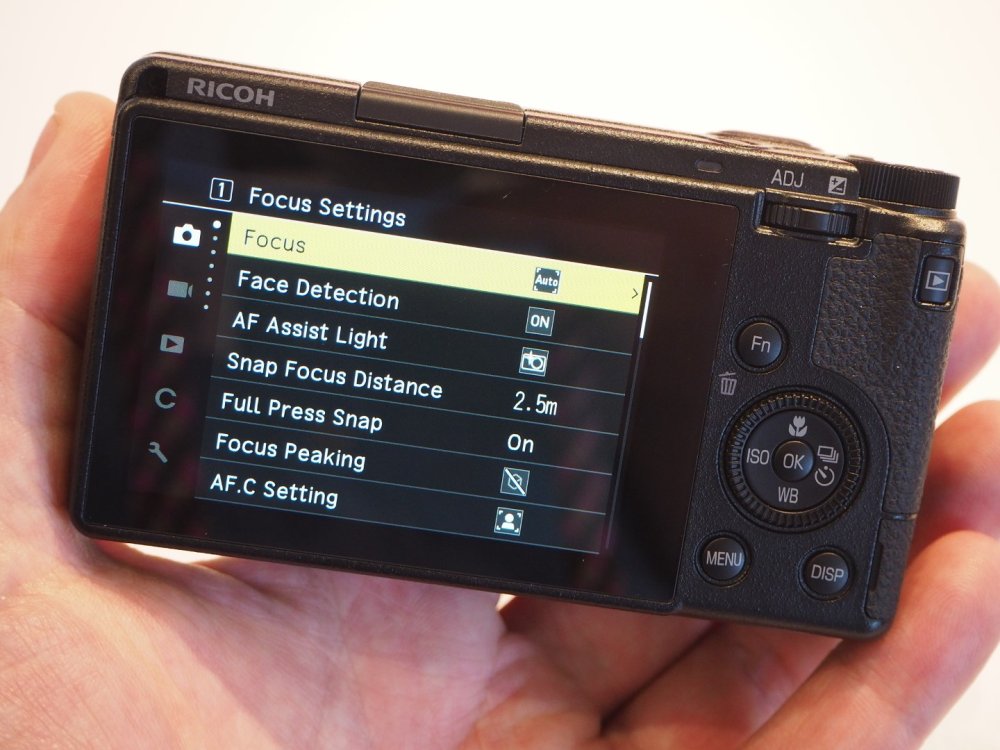 The compact size, and the rapid focus when using the camera gives confidence when shooting street photography. The camera is small and unlikely to intimidate anyone, and due to the small size it's quite likely to go unnoticed by those around you. The camera also benefits from an almost completely silent shutter, which again makes the camera a discreet camera to shoot with.
The layout of controls follows the design of previous cameras, and with a number of labelled options, it doesn't take too long to work out how to quickly change settings. If you do find you're going in to the menus to change settings, such as the crop factor, then you can customise a number of different buttons. Alternatively you can put your most regularly used settings in the MyMenu area.
Shooting with the GR III, the view on the rear screen shows a photo with low levels of saturation, on standard settings, and we switched to Vivid colour settings to improve the saturation and contrast in images.


Battery life - Battery life is rated at 200 shots according to Ricoh / CIPA test results, which is very low. Therefore a spare battery or two is definitely recommended. Luckily the camera can be charged through the USB Type C connection, which means you can use a portable charger if needed.
Ricoh GR III Performance
The performance section is where we look at the image quality performance of the camera. Additional sample photos and product shots are available in the Equipment Database, where you can add your own review, photos and product ratings.
Speed - We took a number of shots to test the camera's responsiveness, from switch on to first photo, shot to shot, focusing speed etc. We take a number of shots and then use the average to ensure accurate and consistent tests, making it easy to compare with other cameras.

Focus is quite quick, and by using full-press snap, you can take photos instantly at a set focus distance. Shot to shot times are good, although the continuous shooting speed is average.
Ricoh GR III Sample Photos
The camera is capable of taking very sharp, detailed photos. Anti-aliasing was occassionally seen, and this can be countered by using the Anti-Aliasing filter simulator - there are options of low and high. The majority of time, there are minimal signs of vignetting, with an option to correct this automatically in the camera (under the Peripheral illumination Correction option). The camera was generally resistant to flare, except when shooting with a bright light source (such as the sun) in the frame. There are crop options to take the 28mm equivalent lens to 35mm equivalent, or 50mm equivalent.
Using the macro mode, you can shoot objects that are between 6cm and 12cm away from the camera. This moves the whole lens forwards to enable closer focus, and the out-of-focus areas produce pleasing looking bokeh, and background blur.
Ricoh GR III ISO test images
ISO Noise Performance - For best results, the lower ISO speeds are best. Results look very good up to ISO1600, and good up to ISO3200, with more detail dropping off after this. Noise is quite grainy, and is reasonable up to ISO6400 / ISO12800, although it's likely that this is the highest speed you'll want to use. You're going to want to avoid using ISO25600 as noise is high, and detail is low. The highest ISO speeds of ISO51200 and ISO102400 are best avoided altogether, as noise is excessive.
Ricoh GR III White-balance test images
White Balance Performance - There are options for auto white balance (AWB) and Multi-Area auto white balance, you also have the option of "High" or "Low" correction when shooting in Tungsten Light. These shots were taken with correction set to "High". Despite this setting being on, the correction is quite subtle, with a warm image produced under Tungsten lighting. The Tungsten preset gives a much more accurate result. AWB gives a warm result under mixed lighting, and a slightly warm result under Fluorescent lighting. There are four different fluorescent presets to choose from, and we went for the one which gave the best result for our lights.
Ricoh GR III Digital filters
Digital Filters - There are a number of different colour options (and effects), and these allow you to customise the saturation, hue, high/low key adjustment, contrast, contrast (highlight), contrast (shadow), sharpness, shading, and clarity. The built-in HDR mode gives a fairly unnatural look to the images. There is no automatic panoramic shooting mode.
Video - The Ricoh GR III offers FullHD video recording at 60fps, 30fps, and 24fps. Strangely there are no options to record at 50 or 25fps. Video quality looks very blocky with jagged edges when recording at 60fps, however, this effect is less noticeable when recording at 30fps. Focus can be slow, when recording using continuous auto-focus, and the camera will quite regularly lose focus. The focus options are AF, MF, Snap and Infinite, with seemingly no control over whether the auto-focus is continuous or set when you first start recording. You can't select the ISO speed in video mode.
Value For Money
The Ricoh GR III is priced at £799, which is £200 more than the GR II's RRP of £599. However, looking at the competition, the price is quite reasonable. The closest competitor to the GR III is the retro styled Fujifilm X100F, with 24mp APS-C CMOS sensor, and priced at £1199.
Other, older cameras that you could look, if you can find them for sale, includes the Sigma dp1 Quattro, with 29mp Foveon sensor, and Leica X (Typ 113), with 16mp APS-C sensor. Alternatives with a large sensor, and optical zoom:
Panasonic Lumix LX100 II, 17mp Four Thirds, £849
Canon Powershot G1 X Mark III, 24mp APS-C, £1089
Have a look at more serious compact cameras in our Top 10 Serious Compact Cameras. You'll also need to buy a memory card and a case or bag to keep your camera safe and protected - have a look at our complete guide to camera bags.
Ricoh GR III Verdict
The Ricoh GR III gives high image quality, with sharp detailed images, whilst also giving ample customisation of the output. There are a number of colour presets available, and each of these can be customised with options for saturation, contrast, sharpness, and more. The level of customisation available, and the wide range of options available, means that this camera is likely to be a dream for those that want to tinker, and customise till everything is set up just right. For everyone else, the camera gives great results, straight from the camera, and from the get go, the camera is fast and responsive. With its compact size, and "big camera" image quality, the GR III is something that screams to be used, and taken with you everywhere you go. The fixed 28mm equivalent lens isn't going to be for everyone, but for those that like this focal length, the GR III is well worth investigation.
The flash has been removed, making the camera smaller. The camera is nigh-on perfect for a street camera, but the lack of a tilting screen is a disappointment, as is the short battery life of the camera, making a spare battery pretty much essential. Video recording is not a strength of the camera, offering a limited range of settings, as well as an odd range of frame rates. Video quality is also lacking.
It's good to see Ricoh continues to offer a unique, compact, camera with high image quality, and they are to be commended to releasing a product that offers something different to the norm. The Ricoh GR III has one main aim, and that's to be a compact camera with a high quality lens, and high image quality, and it acomplishes this very well.
Own this product? Let us know what you think of it in the EQDB.
Spotted a mistake? Let us know in the EQDB.
---