Ricoh GR II Review
Read our full review of the new Ricoh GR II, the World's smallest compact camera with a large APS-C CMOS sensor.
24/08/2015 - 15:35
Features
Handling
Performance
Verdict
Specification
The Ricoh GR II is an update to the Ricoh GR, and features a number of updates including built-in Wi-Fi and NFC, improved white balance, noise performance, effects modes, as well as the capability to wirelessly control external flash units. Features carried over from the GR include a 16 megapixel APS-C CMOS sensor, plus a 28mm equivalent f/2.8 GR lens.
Ricoh GR II Features
The Ricoh GR II is the World's smallest digital camera with an APS-C CMOS sensor and offers not only a 16 megapixel APS-C CMOS sensor, but features a compact 18.3mm f/2.8 GR lens, which is the equivalent of a 28mm wide-angle lens. The camera is pocketable, being little larger than a compact camera with a normal sized sensor, making it an ideal camera to take everywhere with you, particularly with Street photography. The camera even has a snap focus mode to give instant focus speeds for quick snapshots, and is a digital version of the classic Ricoh GR film camera series.
With a large 16megapixel APS-C CMOS sensor, image quality should be massively improved in comparison to other compact cameras, giving better low light performance. There have also been improvements in the GR II in image quality processing that should also improve noise performance as well as white balance performance.
Built in Wi-Fi and NFC has been added to the camera which can be used with Ricoh Image Sync available for iOS and Android apps. The camera also features effects built in, with the button doubling as a Wi-Fi button when held. Continuous shooting has been improved with a deeper buffer allowing more shots to be taken before slow-down. The camera records FullHD video at 30fps with stereo sound.
Optional accessories include an optical viewfinder (GV-1 21/28 OVF), as well as a wide-angle lens adapter, which will give you a 21mm equivalent.
Key Features
16.2 megapixel APS-C CMOS sensor
18.3mm f/2.8 GR lens (28mm equivalent)
No optical low-pass filter
3inch 1,230,000 dots (RGBW) screen
Wi-Fi and NFC connectivity
FullHD video recording, stereo sound
ISO100 to ISO25600
4fps continuous shooting
10cm macro focus
Raw processing in camera
Magnesium body
ND filter built-in
Ricoh GR II Handling
The GR II feels well built with a tough magnesium alloy body, and a rough texture helps give the camera a premium feel. There is a large (for a compact camera) rubber hand grip that extends from the front of the camera to the rear for your thumb. On the back is a 3inch screen with a high resolution of 1230k dots (RGBW), and viewing angles are good.
The top of the camera features a flash hot-shoe, on/off switch, plus a locking mode dial. To turn the mode dial you need to hold the release button next to it, and there are three customisable "MY" modes on the dial. There are strap loop holes for attaching a neck strap in portrait or landscape orientation, and the camera has a flat edge on the left or right edges letting you shoot portrait photos with the camera resting on a flat surface.
A nice touch is the ability to turn off the green light that surrounds the on/off switch when the camera is on. The layout of controls and buttons are all neatly placed so they can be reached when the camera is being used with one hand, excluding the Filter button on the far left of the camera. Pressing in the ADJ (Adjust) button brings up a row of options that you can quickly change, such as ISO, Image quality, Aspect ratio, Focus and Metering, however you can customise this so that you have quick access to your favourite settings. The "Effect" button lets you quickly choose a digital effect to apply to the image, or a long press will activate Wi-Fi. You can also customise the function buttons, as well as what the Effect button does.
Spot focus lets you choose a specific spot from a wide area of the screen as the focus point, and you can enable an enlarged view to confirm focus.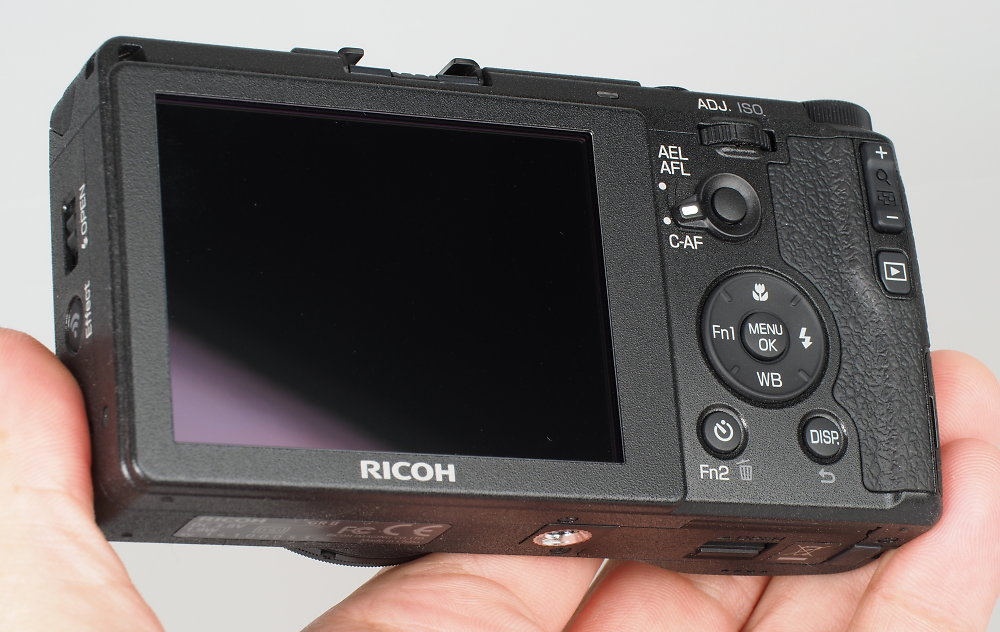 The menus are clear and easy to read, however the settings feel a little unorganised at times, as you can set the ISO setting and NR (Noise Reduction) options in the first shooting menus, but you'll also find additional ISO settings in the setup menu, including the ISO Auto-High settings. There isn't any built in help in the menus which means you may wish to keep the manual handy in case you get stuck on the meaning of menus items.
| | |
| --- | --- |
| | |
| Wi-Fi Connection | Image Playback |
Wi-Fi features - Connecting the camera to the Ricoh Image Sync app you can connect to the camera and view images on your smartphone. The app also supports remote shooting. The app works with the Pentax K-S2 and Ricoh GR II and is available for Android and iOS devices.
Battery life - Battery life is rated at 320 shots according to Ricoh / CIPA test results, which is an improvement over the 290 shots of the previous version. Charging is via USB, and a USB adapter is included, although the USB cable is not the more standard MicroUSB cable found on smartphones and a number of other compact cameras.
Speed - We took a number of shots to test the camera's responsiveness, from switch on to first photo, shot to shot, focusing speed etc. We take a number of shots and then use the average to ensure accurate and consistent tests, making it easy to compare with other cameras.
Shutter Response
<0.05secs
Wide - Focus / Shutter Response
0.3secs
Switch on Time to Taking a Photo
1.3secs
Shot to Shot without Flash
0.3secs
Shot to Shot with Flash
1.0secs
Continuous Shooting - JPEG
(shots before slow down)
4fps (100+ shots)
Continuous Shooting - Flash
N/A
Continuous Shooting - RAW
6.6fps (10 shots)

The camera has very fast shutter response, and good focus speeds. Continuous shooting is good with the camera able to shoot at 4fps when shooting JPEG images, and 6.6fps when shooting raw. The number of shots possible before any kind of slow down or the camera stopping shooting is improved over the previous version, with the camera able to take 10 raw shots before stopping.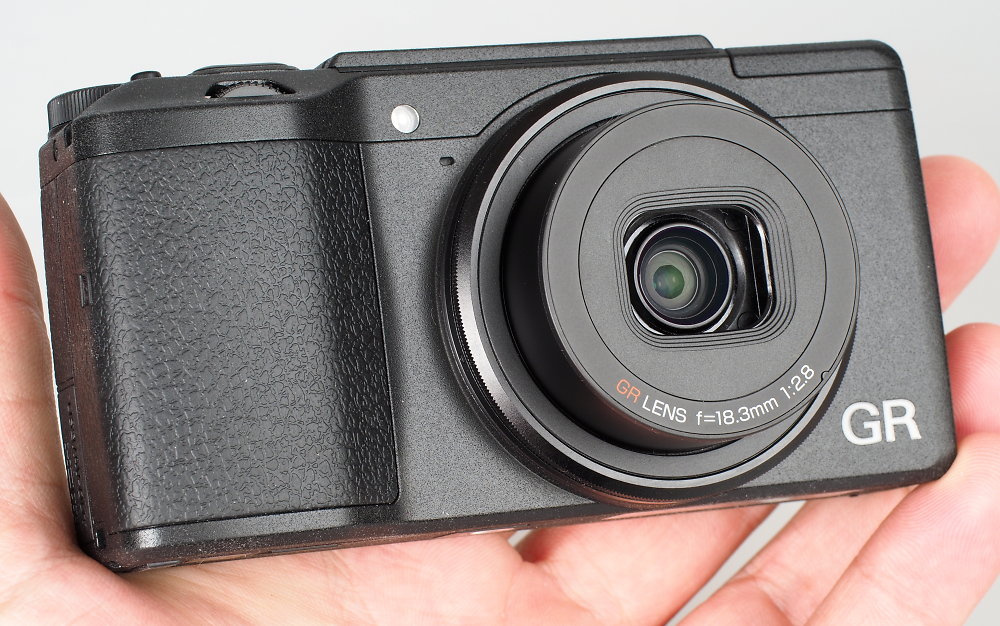 Ricoh GR II Performance
The performance section is where we look at the image quality performance of the camera. Additional sample photos and product shots are available in the Equipment Database, where you can add your own review, photos and product ratings.


Ricoh GR II Sample Photos
Sample Photos - Colour is quite muted (slightly under saturated) on default settings, with fairly low contrast, being reminiscent of some film, and colour settings can be customised to your liking. Exposure is reliable, with good dynamic range, and there are options to expand dynamic range recorded by the camera including: Off, Auto, Low, Medium and Strong. You can alter the noise reduction settings in camera, or alternatively process the raw files (AdobeDNG) to keep high levels of detail in images, as well as tone the image to your liking recovering highlight and shadow detail if required.
Ricoh GR II Lens test images
Lens Performance - Detail is good into the corners of the frame, with very sharp details in the centre of the frame, and occasionally moire was visible. There are raw development options in playback, as well as the option to correct for colour moire (weak, medium and strong). The camera has a 10cm macro focus distance, although using manual focus can help get closer focus, as the auto focus can struggle when the subject is this close. Distortion is minimal, and the camera automatically corrects for this in-camera. Purple fringing and chromatic aberrations were rarely noticed, except when shooting areas of high contrast such as trees against a bright sky. The camera also has a 35mm equivalent crop mode.
Ricoh GR II ISO test images
ISO Noise Performance - For the lowest noise and best detail possible we would recommend using ISO100 to ISO1600, as images have low levels of noise and good levels of detail. For lower light situations ISO3200 to ISO6400 still provides good results, although noise increases and detail is reduced. At ISO12800 noise levels become strong and we would recommend avoiding this setting if possible, although results may still be useful if resized and used on the web. ISO25600 is best avoided as noise is extremely high, and detail is very low.
The camera has advanced noise reduction options that can be customised based on the ISO setting, for example on default settings: Weak noise reduction is applied to images taken between ISO100 and ISO800; Medium noise reduction is applied to images taken at ISO1600 to ISO3200, and Strong noise reduction is applied when shooting at ISO6400 and above.
Ricoh GR II White-balance test images
White Balance Performance - Auto White Balance (AWB) gives a warm colour cast, whether using the normal auto white balance setting, or the Multi-area WB. Using the incandescent / tungsten preset you get a more accurate result. AWB gives a slightly warm result under fluorescent lights, with the fluorescent preset giving a more accurate result.
Ricoh GR II Digital filters
Digital Filters - There are a number of digital effects available, as shown above, and you can also adjust saturation, contrast, sharpness and vignetting. The camera records both raw and JPEG images when shooting with effects or colour options, meaning you can always go back to the raw file if you don't like the settings applied to the JPEG image. The camera does not feature an automatic panoramic mode.
Video - The camera records FullHD video with stereo sound at 30, 25 or 24 frames per second. In our video, the camera picked up a lot of wind noise. With continuous AF switched on, the noise of the lens focusing is picked up by the camera's microphones. Video recording quality isn't as good as we expected, due to the sound issues we encountered, and a tripod is recommended as there is no built-in stabilisation.
Value For Money
The Ricoh GR II is available for £599 which makes it quite good value for money, although if you want to add the optical viewfinder, this will add to the price of the camera. Alternatives to consider with a prime lens are shown below:
Fujifilm X100T, 23mm f/2.0, 35mm equivalent, 16mp APS-C CMOS sensor, £845
Sigma dp1 Quattro, 28mm equivalent, f/2.8, 29mp APS-C Foveon sensor, £667
Nikon Coolpix A, 28mm equivalent, f/2.8, 16mp APS-C CMOS sensor, £330
Leica X (Typ 113), 23mm, f/1.7, 35mm equivalent, 16mp APS-C CMOS sensor, £1550
Sony Cyber-shot RX1, 35mm f/2.0, 24mp full-frame CMOS sensor, £1849
Leica Q, 28mm f/1.7, 24mp full-frame CMOS sensor, £2900
For more alternatives, have a look at the Top 10 Best Serious Compact Cameras reviewed by ePHOTOzine. You'll also need to buy a memory card and a case or bag to keep your camera safe and protected - have a look at our complete guide to camera bags.
Ricoh GR II Verdict
The Ricoh GR II may seem like a subtle update to the previous camera, however, the camera offers built in Wi-Fi and NFC, bringing the camera more up to date. Improvements have been made in continuous shooting and the camera feels very rapid in use. The camera gives quick access to settings, and once you're familiar with the layout of controls and options, particularly the menu system, then you can rapidly change settings. The Ricoh GR 28mm f/2.8 lens performs extremely well producing images that are very sharp and detailed, and the compact size of the camera combined with a large APS-C CMOS sensor means that you get extremely high image quality (akin to a DSLR) for a compact camera.
The camera features numerous focus options, including snap focus for instant photography and this makes the GR II an ideal street camera, with a subtle and compact design. A 21 / 28mm equivalent optical viewfinder is available and the rear LCD screen can be switched off completely giving the camera the feel of using an old film camera, which the original Ricoh GR series was.
For those that want a pocketable camera that can deliver high image quality, without the need for optical zoom, then the Ricoh GR II would make an ideal solution. Highly Recommended.
---