Pentax KP Review
We review the new Pentax KP, the 24 megapixel DSLR from Pentax, with a number of unique features including pixel shift resolution, ultra high ISO of ISO819200, 5-axis image stabilisation and a removable grip.
16/03/2017 - 11:39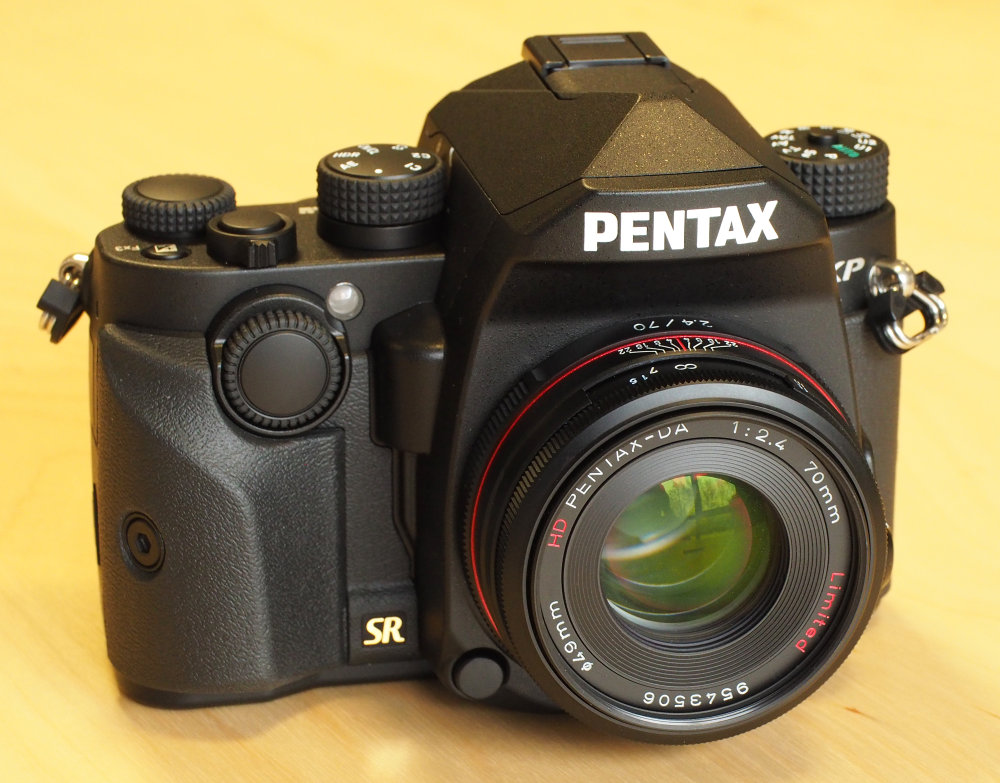 The Pentax KP offers a 24.3 megapixel APS-C CMOS sensor, high ISO up to ISO819200, 5-axis image stabilisation, as well as a weather-sealed body. You can customise the camera with different size grips, and the KP is priced at £1099 body only.
Pentax KP Features
The Pentax KP offers a new design, that is slimmer than many DSLRs thanks to a removable grip so that you can choose the size of the grip you want. The KP also offers numerous external controls, with a total of three control dials.
The 24 megapixel APS-C CMOS sensor in the camera features a wide ISO range from ISO100 all the way up to ISO819,200. There is no AA (Anti-Aliasing) filter on the sensor, however the camera is able to simulate an AA filter, for situations where there may be moire thanks to the sensor based image stabilisation system. There are a number of other features unique to Pentax DSLRs, including horizon correction, composition adjustment, as well as Astrotracer (which can be used with the optional GPS unit), again, thanks to the sensor being able to be moved precisely.
Front, back, and bottom exterior panels are all made of magnesium alloy, and there are 67 seals to ensure the camera is dustproof, weather-resistant and cold-proof. The camera comes with the smaller "Grip S", shown below, and can be replaced with the optional medium (M) and large (L) grips.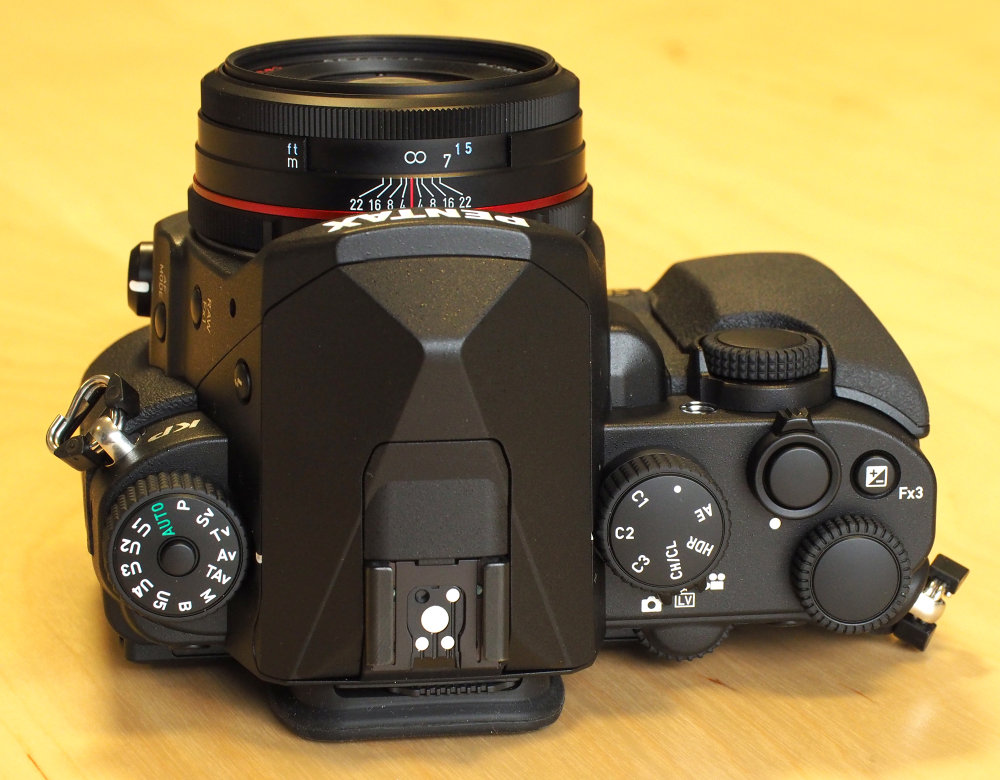 The camera features front (front e-dial) and rear (rear e-dial) command dials, as well as an additional top "setting" dial. This settings dial, and it's operation can be changed by using the top "Function dial" - For example, if you turn the Function dial to HDR, the top setting dial can then go through the HDR options. You can set up three custom settings, for example, one could be ISO and another exposure compensation (EV), then when these are selected, turning the settings dial will quickly let you change these settings. Underneath the Function dial, you can switch between standard operation, live view, and video mode.
Pentax cameras offer a number of shooting modes, that differ slightly to the usual modes offered by other cameras. As well as the usual P (Program), Tv (Shutter priority), Av (Aperture priority), and M (Manual) modes, there are also Sv (Sensitivity priority) - where you just change the ISO speed and the camera does the rest, and TAv (Shutter and Aperture priority) - where you adjust the shutter and aperture and the camera automatically changes the ISO speed. In Manual mode you have to manually set shutter, aperture, and ISO speed.
There are 5 user modes on the mode dial, and the focusing screen can be changed for a matte focusing screen if you want. New shooting modes include depth-of-field bracketing (changing the aperture for each shot) and motion bracketing (changing the shutter speed for each shot). The camera can shoot at 7fps in continuous shooting mode.
5-axis Shake Reduction is built-in to the camera, and the sensor moves to counteract shake and blur. This system is also used to provide "Pixel Shift Resolution" which moves the sensor by one pixel, taking a photo four times, and then combining the images so that each pixel has full R,G,B colour information. Not only does this give you full-colour information for each pixel, it also results in a sharper image with more detail.
The Pentax KP is a premium Digital SLR with a unique design, and the latest features packed into a solid weather-sealed camera body.
There are numerous colour modes available, called "Custom Image" which can be customised by changing the saturation, hue, high/low key adjustment, contrast and sharpness, or you can select from one of the many presets available. The more creative of these include bleach bypass, reversal film, monochrome (with filters, including an infrared filter) and cross process. There are also a number of digital filters, including extract colour, replace colour, toy camera, retro, high contrast, shading, invert colour, unicolour bold, and bold monochrome. The camera also has options to adjust Clarity, as well as Skin Tone.
The camera has a large optical viewfinder, providing 100% view, as well as 0.95x magnification. The screen on the back is a gapless 3inch LCD that tilts up and down, with 921K dots. Wi-Fi is built-in which lets you remotely shoot, as well as view images, using the Ricoh / Pentax Image Sync app. The app is available for iOS and Android devices.
The camera records FullHD video with stereo microphones built-in. There's a microphone socket on the side, in case you want to use an external microphone.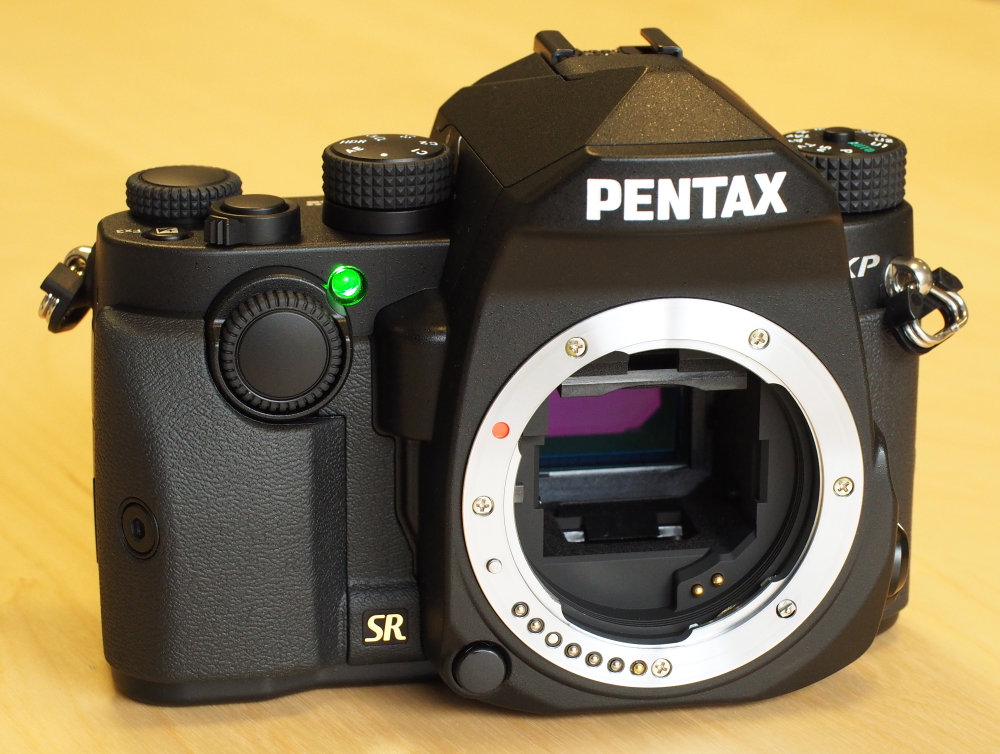 Key Features
24.3mp APS-C CMOS sensor
AA filter free, with AA simulation (if needed)
Pentax K mount
5-axis image stabilisation, sensor-based Shake Reduction
3inch tilting screen, 921K dots
100% view OVF with 0.95x magnification
27-point AF system (25 cross-type, SAFOX 11), -3EV
1/6,000s mechanical shutter, up to 1/24,000s electronic shutter
FullHD video, 60i/50i/30p/25p/24p, built-in stereo mic
ISO100 to ISO819,200
7fps continuous shooting
Built-in Wi-fI
Dust reduction, pixel mapping
Weather-sealed camera body, available in black or silver
Pentax KP Handling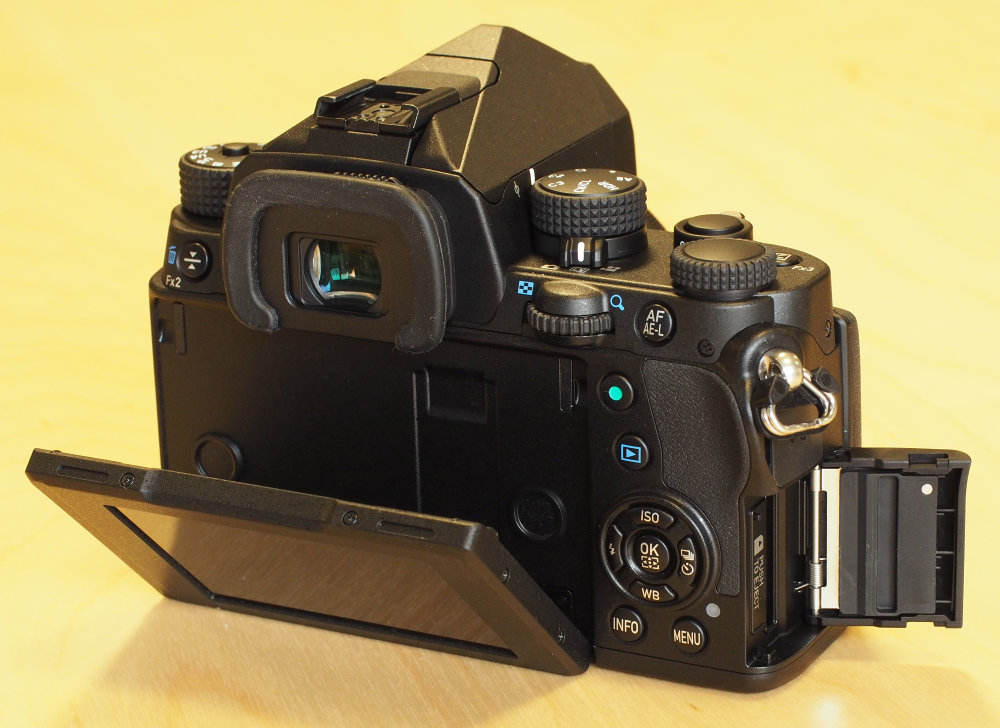 The Pentax KP feels extremely well-built with a solid metal body, and numerous rubber grips at the front, rear and left side. The soft rubber surround around the optical viewfinder makes it comfortable to hold up to your eye, and the dioptre adjustment makes it easy to adjust for your own vision. However, the viewfinder doesn't protrude very far from the back of the camera, so you may want to change the eyecup or add a magnifier, such as the Pentax O-ME53 if you have a larger nose.
The mode dial has a locking button in the middle that needs to be pressed before you can turn the dial. The optional large grip makes the camera much more like holding a standard Digital SLR. When using the small grip, that comes with the camera as standard, the rear thumb grip helps make the camera easier to hold on to, although you may want to add a wrist strap for extra security.
The tilting rear screen has a solid construction and feels very well-built so that you can feel secure in the knowledge that if you were to roughly handle the camera, it should survive. The screen looks good, with clear text, and good colour reproduction. The screen is not a touchscreen, which will disappoint some, although should come as no surprise to regular Pentax users. Some people will prefer the tilting screen, compared to a vari-angle screen, as it is quick to tilt the screen up or down, without first having to swing the screen out.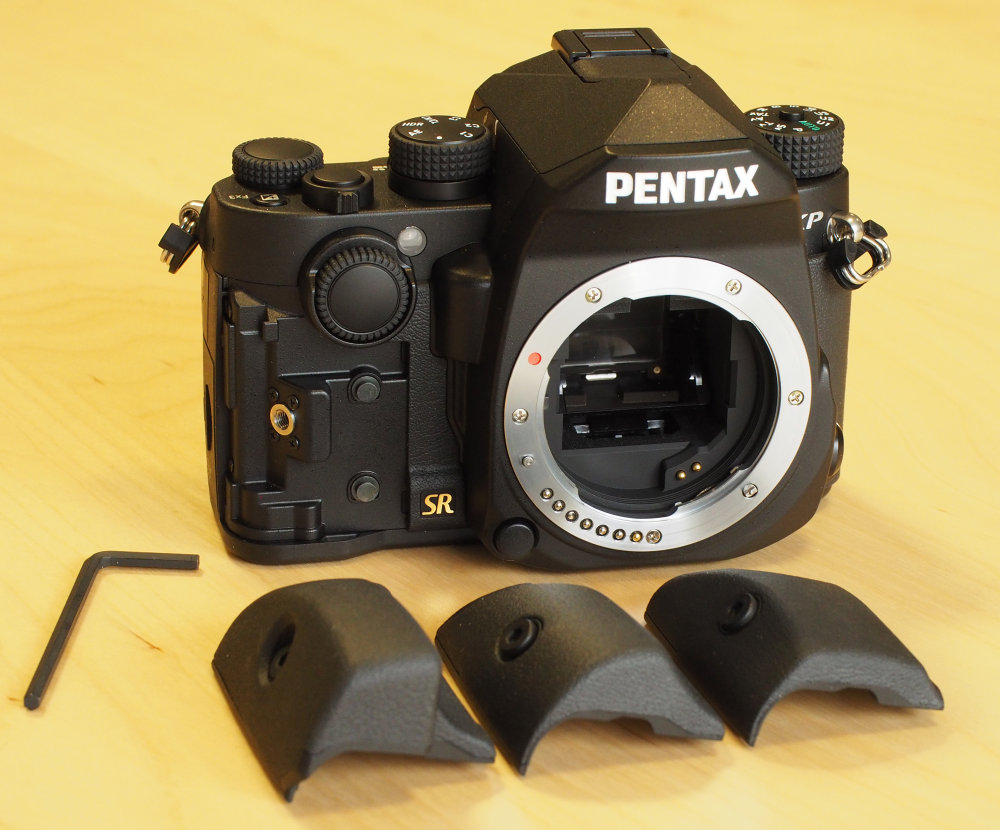 The camera is designed to be a "small and compact" Digital SLR, however, if you look at the measurements of the camera, they aren't particularly smaller than other Pentax DSLRs, with the K-70, K-S2, and K-S1 all smaller. The camera is also larger or very similar in size to the Canon EOS 800D, Nikon D5600, with only the Sony Alpha A68 larger. The camera is also heavier than all of these cameras.
If we move up to the next level in DSLRs, such as the Canon EOS 80D, Nikon D7200, Sony Alpha A77 II, and Pentax K-3 II, then the KP is smaller and lighter than all of these.
You can use the small grip and then that part of the camera is quite small, but we suspect that most people will want either the medium or large grip fitted. Unfortunately, when the grip is removed, the camera is quite unattractive and too uncomfortable to use without the grip. Some other camera's with removable grip have maintained a good design so that you can reduce the size further if you can cope without the grip, or sold a larger grip as an optional extra.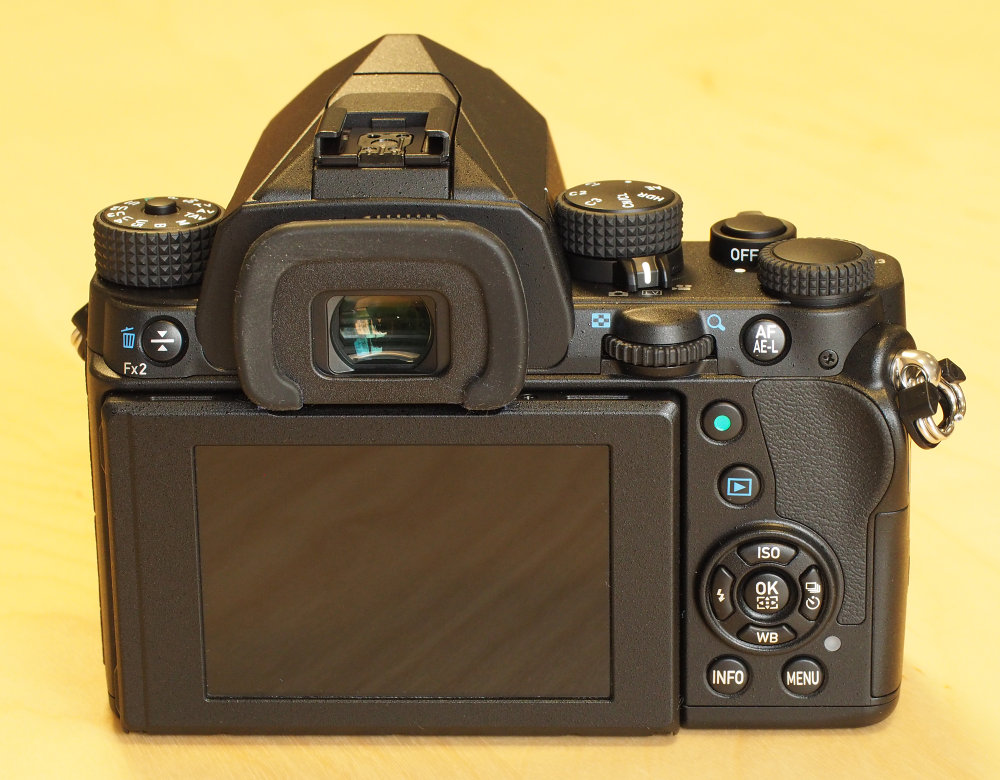 Menus – The menus on the camera are neatly laid out, with different sections for photo, video, playback, settings, and custom settings. You can customise the layout of the rear control panel if you want. There is built-in help for some of the menu options, which will help when you don't have the manual handy.
There are numerous customisable buttons, with three Fx buttons, and the AF/AE-L button can be customised. This can be used for back-focus by default. The green button can be used for different things depending what mode you are in, however, isn't directly customisable like a function button, which is a shame. Perhaps a future firmware update will give this option.
There are 27 focus points, with 25 of these being cross-type, and they are located in the centre of the frame. The focus system works down to -3EV. In live view mode, the focus area is slightly larger but doesn't cover the full frame of the camera. Using the remote app, you can select a slightly wider area of the frame. However, it does make us wonder why there is a limit to the area selectable in live view, and in remote view.
Wi-Fi features:

The "Pentax Image App" app gives a good level of control over settings, with control over a number of manual controls. The app is available for iOS and Android devices.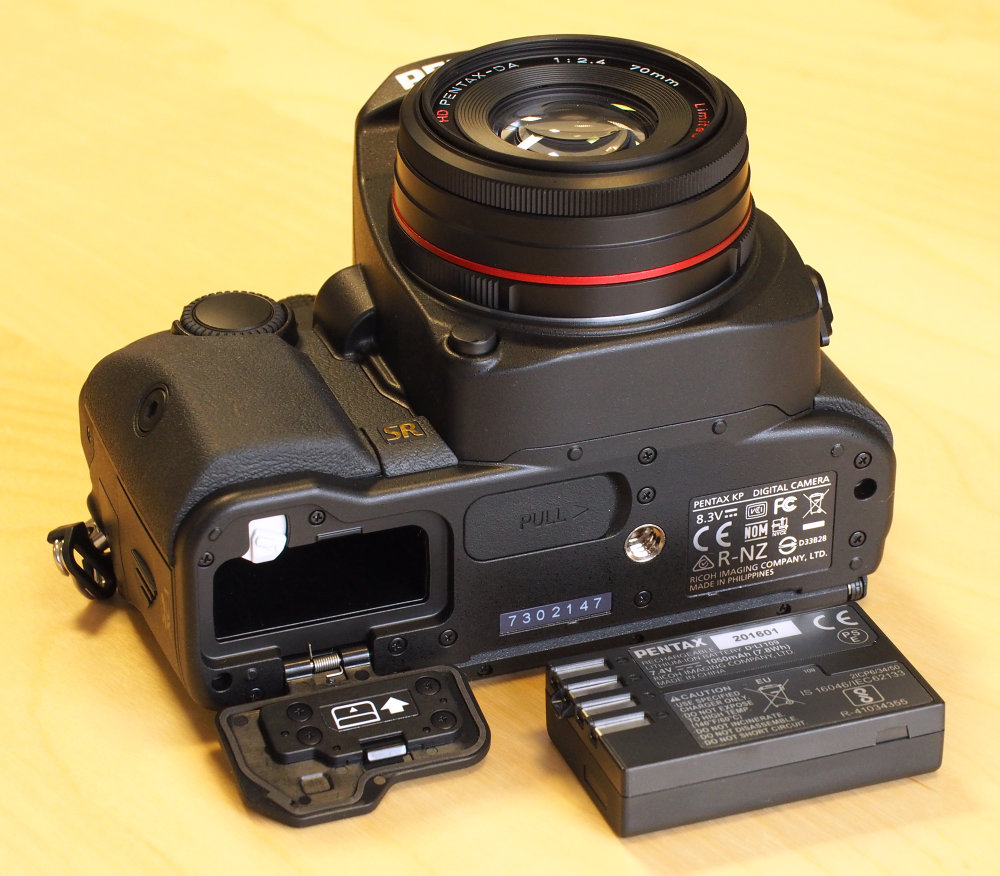 Battery life - Battery life is rated at 390 shots according to Pentax / CIPA test results, or 420 shots without flash. This is quite low for a DSLR, so we'd recommend a second battery.
Pentax KP Performance
The performance section is where we look at the image quality performance of the camera. Additional sample photos and product shots are available in the Equipment Database, where you can add your own review, photos and product ratings.
Speed - We took a number of shots to test the camera's responsiveness, from switch on to first photo, shot to shot, focusing speed etc. We take a number of shots and then use the average to ensure accurate and consistent tests, making it easy to compare with other cameras.

We were able to shoot at 6.5fps in high-speed continuous shooting mode for up to 36 JPEG shots before slowing down, or at 7fps when shooting raw, and could take up to 10 shots before slowing down. Live view focus and shutter response is slow, and not as quick as the Canon EOS 80D (with phase detection AF on the sensor), but is thankfully quicker than the Nikon D7200.
Pentax KP Sample Photos
Sample Photos - JPEG results from the camera are good straight from the camera, however, the default option of "Bright" may make colours too bright and saturated for some people, so one of the other presets may be preferred. Alternatively, you can customise this, turning down the saturation. Exposure is reliable, and we rarely felt the need to use exposure compensation. Dynamic range is good, and there are various options to expand this if required, including D-RANGE Compensation with options for Highlight Correction, and Shadow Correction. You can shoot HDR images in-camera, with multiple images merged into one shot. There's also an Automatic composition correction function.
Pentax KP Lens test images
Lens Performance - We used the Pentax KP with the HD-Pentax 70mm f/2.4 Limited and Pentax 20-40mm f/2.8-4 lenses, and were impressed with the results. The camera is capable of producing very sharp and detailed results, with good colour reproduction. There's also good results from the JPEG images straight from the camera, with little benefit to be found in processing the raw files yourself (except tuning and adjusting to your own personal preferences). To get the best out of the camera, we'd recommend using high-quality lenses.
There are numerous Lens Correction options, including Distortion Correction, Peripheral Illumin. Correction, Lateral Chromatic Aberration Correction, and Diffraction Correction, which means you can get on with shooting, without having to worry too much about correcting images later. With AdobeDNG support you can shoot raw images, and you don't have to wait for Adobe or other software to be updated before opening raw files.
Pentax KP ISO test images
ISO Noise Performance - Noise performance is excellent at the lower ISO speeds. Detail remains good at ISO6400, with ISO12800 also being usable. ISO25600 is where we'd probably want to process the image further (resize, additional noise reduction, or convert to black and white). ISO51200 and above is best avoided, although could potentially be useful to some. Images get particularly "ugly" at ISO102400. ISO204800 may provide an image of some use, just about. We wouldn't particularly want to use ISO409600 ever. ISO819200 makes ISO409600 images look good, that's how bad it is. Why ISO819200 is included on this camera is unknown to us, as the results are particularly awful.
There are numerous noise reduction (NR) settings, including slow shutter speed noise reduction, and High-ISO NR settings (Auto, Low, Medium, High, Custom, Off). If you set this to custom you can individually set the level of noise reduction applied to each individual ISO speed! We left these settings on Auto for the photos above.
Pentax KP White-balance test images
White Balance Performance - Auto White Balance (AWB) gives a warm result under tungsten lighting, with the AWB - Multi Area option giving a slightly better result. Using the Tungsten preset gives a much more accurate result. Both AWB modes give a slight colour cast when shooting in fluorescent lighting. The fluorescent preset gives a colour cast, so using manual white balance may be needed in fluorescent lighting. We got the best results using the Tungsten preset with mixed lighting (both tungsten and fluorescent lighting sources). Test images were taken with the "strong" correction setting. Noise performance is improved compared to the Pentax K-3 II.
You can also view the same shot taken with Pixel Shift Resolution, and should be able to see the difference when viewing the full-size originals. The difference in detail can be quite subtle, but if you look at areas with strong bold colours, such as the flowers at the top, where they are red, orange and pink, there is much more detail visible in the Pixel Shift Resolution photo.
Pentax KP Digital filters
Digital Filters - There are numerous digital filters, and HDR options, which we've shown above. Some of the HDR options are quite garish, however, if you stick to HDR Auto you get natural looking results. The camera doesn't feature a panoramic mode.
Video - FullHD video at a frame rate of 60i, 50i, 30p, 25p and 24p. You can set the microphone level manually, or leave this on auto. You can switch movie shake reduction on or off. There is no HDMI out port as standard, however, you can connect a SlimPort-HDMI adapter to the MicroUSB connection if you need HDMI out.
Video compression is quite high, with the camera recording FullHD, 30fps video at 23mbps which is very low, and a shame, as the 5-axis image stabilisation makes the Pentax KP appealing for video recording. Video quality is acceptable but not particularly sharp, and in this video, which we recorded with the 20-40mm lens, the focusing noise is quite loud. You can watch additional Pentax KP videos on the ePHOTOzine YouTube channel.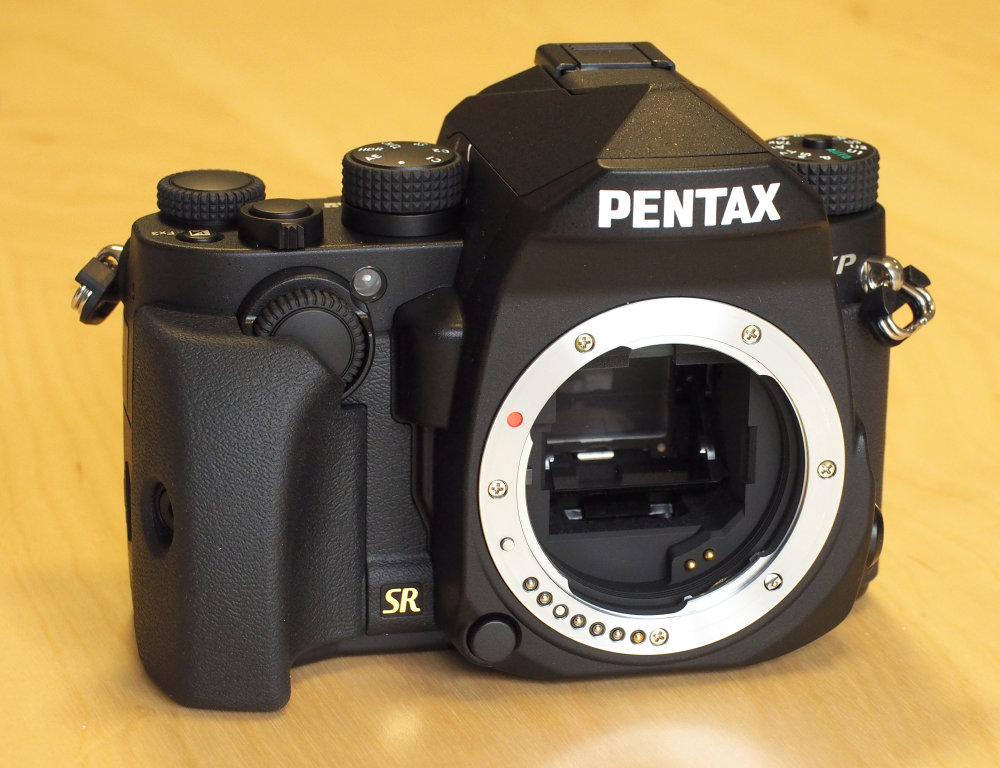 Value For Money
The Pentax KP is available for £1099 body only, which makes it a little bit more than the competition, and a price drop by £100 would make the camera feel more competitively priced. The Pentax KP and Sony Alpha A77-II (£999, 12fps) both offer in-camera sensor-based image stabilisation, and all of the cameras, apart from the KP offer a top LCD, including the Canon EOS 80D (£999, 7fps), and Nikon D7200 (£859, 6fps).
Have a look at more DSLRs in our Top 10 Best APS-C DSLRs. You'll also need to buy a memory card and a case or bag to keep your camera safe and protected - have a look at our complete guide to camera bags.
Pentax KP Verdict
The Pentax KP is a Digital SLR that doesn't stick to the usual rules of DSLR design, giving you the choice of a handgrip, as well as customisation of the third control wheel on top of the camera. This gives the camera the feel of a serious Digital SLR, however, there will be those that miss some of the more advanced features expected at this price point. For example, there is only one SD card slot, and there is no flash-sync socket. The battery life of the KP is also shorter than other DSLRs, with the K-3 II offering 720 shots compared to the KP's 390 shots.
If you're a previous Pentax DSLR shooter looking for the next upgrade then the Pentax KP will definitely appeal. If we look at the alternative DSLRs available, then the KP has a number of unique and innovative features, including 5-axis image stabilisation, pixel shift resolution, a tilting screen, and a removable grip, to name just a few of them. There are numerous external controls and dials, along with the ability to customise the camera so that it's setup up how you want it.
Whilst the high ISO setting of ISO819200 is one of the marketing points of the camera, we wouldn't actually recommend anyone use this setting, as the results are simply awful looking images. However, noise performance is excellent at lower ISO settings, and you can even get usable images at high ISO settings up to ISO25600, and potentially ISO51200, depending on your intended use.
The Pentax KP offers an alternative design compared to the standard DSLR, letting you customise it to suit you. The KP offers impressive features not found on other cameras, as well as exceptional image quality. For these reason's we think the Pentax KP is well worth your attention.
---