Past Issue
Click here for a free online sampler!
Click here to subscribe to the magazine or read below for details of the current issue and past issues
Click here to view the pictures by the members in this magazine
Winter Issue 4 2009 contents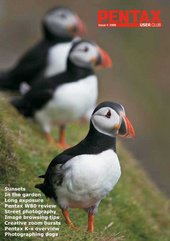 Sunset photography
Craig Roberts explains why sunsets are more than just romantic visions.
Garden photography
David Askham stays local to share some ideas about garden photography.
The street at night
Mike Manalang walks the streets in the early hours to capture images while the world sleeps.
Photographing dogs
dogs are not the easiest subject to photograph, but Steve Bennett has some tips to share.
Pentax K-x
Matt Grayson gains a sneak preview at the latest digital SLR to join the Pentax fold.
Guide to digital photography
John Riley is our guide in the second instalment of the beginners' guide to digital photography.
Creative zoom bursts
The zoom lens is not only a versatile compositional tool, it can be used for creative effects.
Long exposures on water
Matt Schofield shows us how to take better water pictures by being more creative with the shutter speed settings.
Pentax W80 review
Matt Grayson finds out if the new Pentax W80 waterproof camera is as fun as it looks.
See your images in print, and win a prize!

This issue's sponsor is professional photographer Annabel Williams who is offering her book, 99 Portrait Photo Ideas. 99 Portrait Photo Ideas is packed with inspirational ideas to transform the way you approach photography. Annabel shares the secrets which have made her a household name in the photographic world, and
you'll learn key techniques to enhance your own portrait work.
Every picture printed in the Gallery wins a copy of 99 Portrait Photo Ideas worth
£15. Runners-up will appear on the Pentax User website. To enter, submit up to
three slides, prints or digital files per issue (colour or black & white), one month
before the publication date. Or try out our new Pentax User website Gallery upload
feature, where photos can be set for automatic entry to the magazine competition.