Past Issue
Click here for a free online sampler!
Click here to subscribe to the magazine or read below for details of the current issue and past issues
Click here to view the pictures by the members in this magazine
Spring Issue 1 2009 contents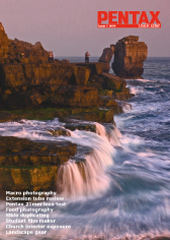 Macro Photography
Matt Grayson looks at the world of macro photography for Pentax photographers.
Extension tube review
Peter Bargh looks at a budget set of extension tubes for Pentax SLRs.
Pentax K-m Review
Matt Grayson checks out the new entry level DSLR to see if it's worthy of the Pentax name.
Food Photography
Choosing the right ingredients to make the perfect food based picture with Marco Bernardini.
Slide duplicating
Roy Hampson finds that the digital alternative to slide duplicating can open up new creative doors.
Student film maker
Matt Schley likes nothing more than taking pictures with his K1000 film camera and spending hours in the darkroom.
Church interior exposure
Tim Watkinson shows us how to use a compact digital camera creatively to get realistic shots of building interiors where the brightest and darkest areas are too much for the CCD's sensitivity.
Landscape gear
Put on your walking shoes, pick up your camera and head off to the countryside with Craig Roberts, who's here to help you make the most of your landscape adventure.
See your images in print, and win a prize!
This issue's sponsor is Reallusion who are offering FaceFilter 2 as the prize. FaceFilter 2 is a highly automated photo-editing tool designed for novice users looking to edit their first photos or for seasoned professional photographers needing to enhance facial characteristics or expressions in studio portraits. For beginners there's an automated five step editing process, while more advanced users can use FaceFilter to attempt high quality facial image reconstruction and change facial expressions, facial feature orientation and filter skin tones.
Every picture printed in the Gallery wins the FaceFilter 2 program worth £30.