Past Issue
Click here for a free online sampler!
Click here to subscribe to the magazine or read below for details of the current issue and past issues
Click here to view the pictures by the members in this magazine
Autumn Issue 3 2009 contents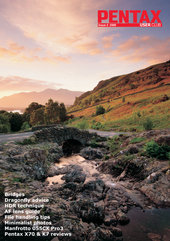 Macro photography
Mike Eaves is a photography enthusiast from the USA. In this issue he tells us why he likes macro photography so much.
X70 and P70 reviews
Matt Grayson looks at two new digital camera offerings from Pentax and puts them to the test.
Photographing the everyday
Andrew Cowin takes the ordinary and turns it into something extraordinary.
HDR photography
Matt Schofield loves HDR, here he tells us how he uses the technique to enhance his photos.
Member in the spotlight
We decided to shine a light on our members and this issue, we start with Graham Hutton.
Beginners' guide to photography
In part one of this new series, John Riley gets our digital files in order.
Bridges
Craig Roberts guides us over a few bridges to show us how to photograph these wonderful structures.
Manfrotto tripod review
Matt Grayson sees if the Manfrotto 055CX Pro 3 tripod is good enough for a Pentax camera.
The AF Series
John Riley takes us to the AF revolution and looks at the backward compatibility of the KAF mount.
Pentax K-7 Review
Matt Grayson inspects the latest digital SLR offering from Pentax – the K-7.
See your images in print, and win a prize!
This issue's sponsor is professional photographer Annabel Williams who is offering her book, 99 Portrait Photo Ideas. 99 Portrait Photo Ideas is packed with inspirational ideas to transform the way you approach photography. Annabel shares the secrets which have made her a household name in the photographic world, and
you'll learn key techniques to enhance your own portrait work.
Every picture printed in the Gallery wins a copy of 99 Portrait Photo Ideas worth
£15. Runners-up will appear on the Pentax User website. To enter, submit up to
three slides, prints or digital files per issue (colour or black & white), one month
before the publication date. Or try out our new Pentax User website Gallery upload
feature, where photos can be set for automatic entry to the magazine competition.