Vegetable Photography Tips
Why not have a go at shooting some of your veg with your Pentax camera before eating it?
31/08/2012 - 00:00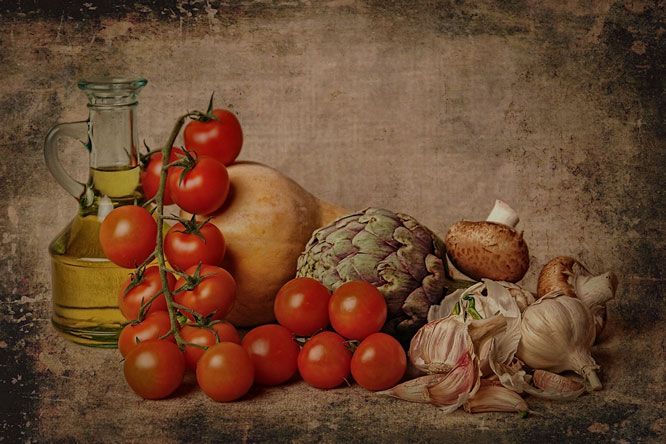 Gear Suggestions:
A macro lens like the
DFA Macro 100mm f/2.8
will get you in close to magnify the details of the vegetables but if you want to include more of your background use a wider angled lens, such as an
SMC DA 18-250mm f/3.5-6.3
. This super zoom will give you maximum versatility to get the level of zoom you want for the photo.
If you don't have many props to fill your background a telephoto lens would be a better option as you'll need less props to create a composition with a similar result. A spray bottle will be handy for making your vegetables look more appetising and having lemon juice to hand will slow the speed at which they turn brown at.
Technique:
Bright, healthy vegetables will be more appealing in your photograph than ones that are a little off-colour. Make sure they're clean and try adding a mist of water to your produce to make them look good enough to eat.
Flash can wash out colours and cause bright reflections so use natural light where at all possible. By or on a window's the best place to set your still life up but if you find it to be too bright diffuse the light with tissue paper, a net curtain or a piece of muslin. Don't use coloured material though as this will add a colour cast to your image. If you do want to use flash bounce it off a nearby wall or ceiling instead of firing it straight on.
When it comes to building your still life less is usually more so don't be tempted to fill your scene. Instead try using one or two props such as a basket or garden tools in the foreground or the background of your shot.
If you're lost for ideas pick up a few cook books and see how other people have arranged their shots. Pay close attention to the colours and shapes of the vegetables you use - do you want them to compliment each other or contrast? And use leading lines to draw the eye into and through the image.
As we eat our food looking down on it at a 45 degree angle it is tempting to put the produce in the centre of the frame and snap away on one focal length. But if you move your feet and play with different focal lengths you'll soon have shots that are good enough to eat.
---