SMC Pentax MX-1 6-24mm f/1.8-2.5 Vintage Lens Review
John Riley reviews the Pentax MX-1, or more specifically reviews the SMC Pentax 6-24mm f/1.8-2.5 lens found on the Pentax MX-1.
04/06/2021 - 09:08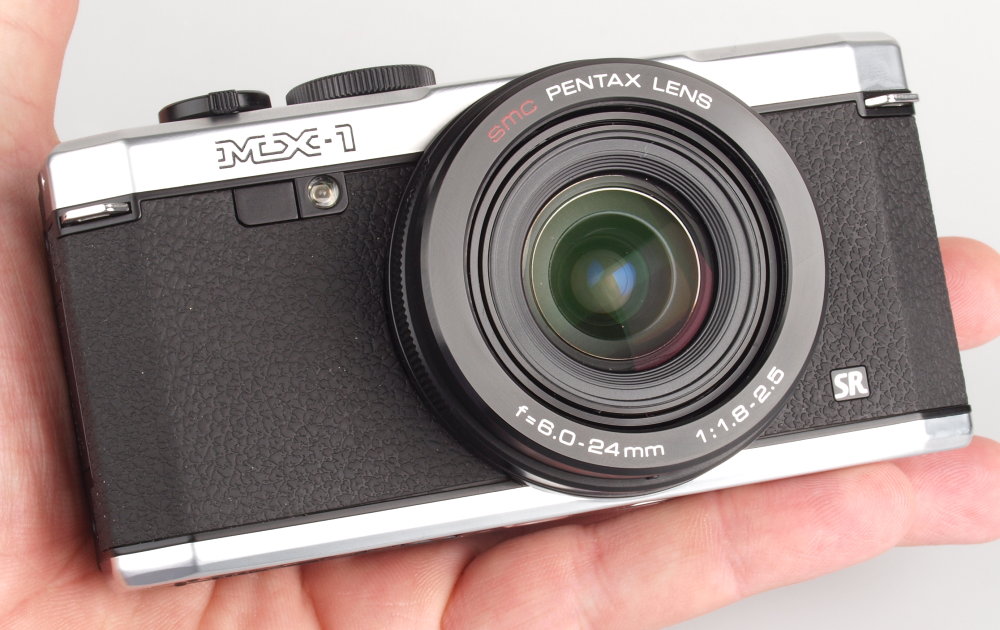 A zoom lens covering a "35mm equivalent" range of around 28-112mm, a fast maximum aperture of f/1.8-2.5, the ability to focus as close as 1cm... what could possibly be the catch? Well, the catch is that to achieve that we need to make the lens for a very small format and in this case, the lens is permanently mounted on the Pentax MX-1 compact camera, which I have had in constant use since I bought it new in September 2013. The camera was reviewed on ePHOTOzine when originally released and given 4 stars and overall an encouraging report.
The camera is long discontinued but these days in high demand, so this is a hybrid review, mainly looking at the interesting aspects of the lens but also looking at the lasting qualities of the overall design of the camera.
SMC Pentax 6-24mm f/1.8-2.5 Vintage Lens Handling and Features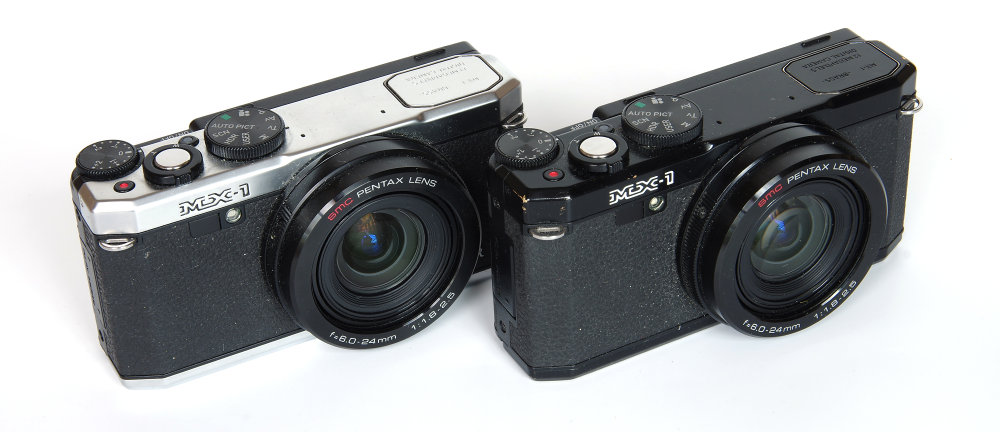 Originally I used the MX-1 in conjunction with the Ricoh GR. There is no doubt that the APS-C sensor of the GR gives better quality than the 1/1.7" sensor of the MX-1, but then we have to weigh this against the limited versatility of a 28mm-equivalent lens that only focuses down to 10cm and the MX-1 with its fast zoom that focuses down to 1cm as well as being able to cover just about anything from a fly to stage shots. The fact that the MX-1 stayed in use, and is still in use, makes the decision that was made clear.
The lens is not on its own and there is a remarkable similarity with the seemingly identical specification lens fitted to the, also discontinued, Olympus XZ-1 and XZ-2 cameras. I bought an XZ-1 but changed to the Pentax as soon as it was released. The reason was much to do with the clearer menu system, a slightly higher pixel count (12MP against 10MP) and a camera that operationally is very similar to any Pentax DSLR.
Before we get to the lens itself there is also the brass top plate and brass bottom plate. In the case of the black finish, the original promise was that it would eventually wear through to the brass, the effect familiar to users of classic black cameras and called brassing. Coupled with the camera mimicking the shape and logo of the much loved Pentax MX film camera here was something with a nostalgic retro appeal. A bit of style. I can report that brassing does eventually appear, nothing drastic, but that familiar worn-in effect that shows a camera that has seen real use. As a result of the brass top and bottom plates, the tilting screen and the fairly large camera the Pentax MX-1 weighs in at a solid 391g including battery and card. It will however all fit in a jacket pocket.

To the lens itself, it is Super Multi-Coated and extends when the camera is switched on. If we leave the lens cap on the camera reminds us and we have to remove it and start again. The AF is quite snappy and is definitely accurate, even in quite low light. There are options for standard AF, macro, super macro around 1cm, pan focus (hyperfocal distance), infinity and MF. The lens is however also clever enough to also switch into macro setting automatically should we move too close for the standard AF range.
Standard focusing is down to 0.4m. Macro focusing is 0.05m-0.5m (wide) and 0.2m-0.5m (tele). Super macro is 0.01m-0.2m. No magnification is quoted by Pentax, but the closest focus image gives an idea that this is very close indeed.
Optical construction is 11 elements in 8 groups, including 4 aspherical.
Handling is a doddle for Pentax Users as the came operates just the same way as all other Pentax cameras. The lens is supported by a host of features and the full manual runs to over 200 pages. However, none of this is over complicated in use and it is an excellent companion that will manage to shoot most subjects in most places. The usual difficulties with the back screen in bright light apply, and cupping a hand round the screen so the details can be seen may be needed. Having said that, the screen is brighter and clearer than many.
But the main question is, is the lens up to it? Let's look at the performance and see what we have.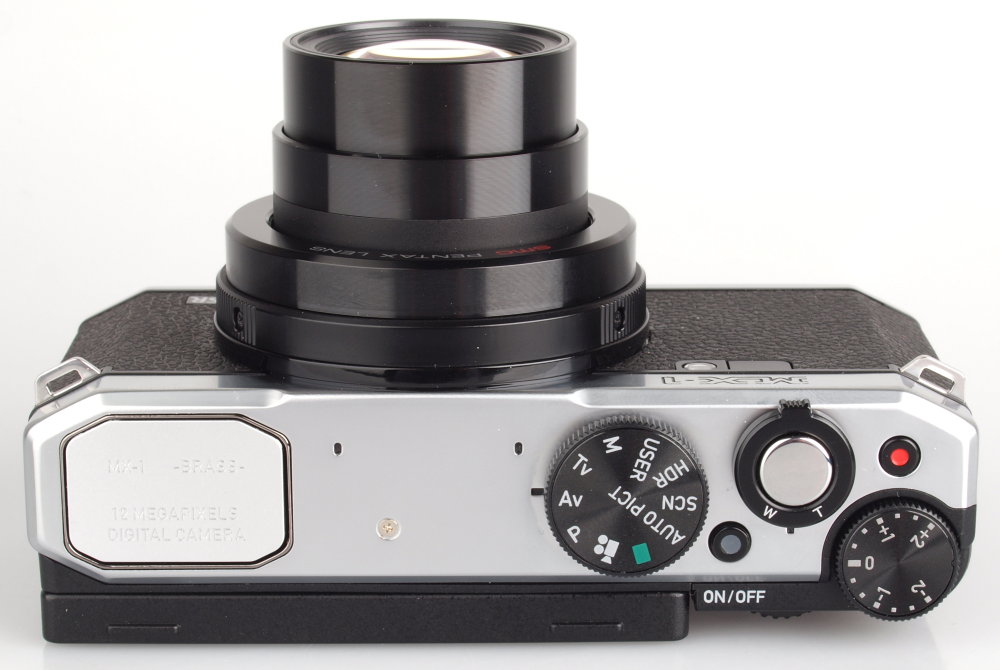 SMC Pentax 6-24mm f/1.8-2.5 Vintage Lens Performance
At 6mm central sharpness is excellent from f/1.8 right through to f/5.6. At f/8 it is still very good, but in common with many cameras with small sensors that is as small as the aperture gets as diffraction hits much sooner than with larger formats. At 6mm edge sharpness is very good from f/1.8 through to f/5.6, dropping to just good at f/8 as diffraction takes its toll.
At 24mm central sharpness is excellent from f/2.5 to f/5.6 and good at f/8. At 24mm edge sharpness is excellent from f/2.5 to f/5.6, again dropping to good at f/8.
This bears out the experience in the field, where the camera consistently produces nice crisp, sharp images that are still looking great when printed at A3.
| | |
| --- | --- |
| | |
| MTF50 at 6mm | MTF50 at 24mm |
| | |
How to read our MTF charts
The blue column represents readings from the centre of the picture frame at the various apertures and the green is from the edges.

The scale on the left side is an indication of actual image resolution and sharpness as LW/PH and is described in detail above. The taller the column, the better the lens performance.

For this review, the lens was tested on a Pentax MX-1 using Imatest. Want to know more about how we review lenses?

CA (Chromatic Aberration) is a relative weakness, but in practice, it is surprising how many subjects do not really suffer for it. If necessary, it can be corrected in software.
| | |
| --- | --- |
| | |
| CA at 6mm | CA at 24mm |
| | |
How to read our CA charts
Chromatic aberration (CA) is the lens' inability to focus on the sensor or film all colours of visible light at the same point. Severe chromatic aberration gives a noticeable fringing or a halo effect around sharp edges within the picture. It can be cured in software.

Apochromatic lenses have special lens elements (aspheric, extra-low dispersion etc) to minimize the problem, hence they usually cost more.

For this review, the lens was tested on a Pentax MX-1 using Imatest.
There is some distortion, but the in-camera corrections reduce this to +0.14% pincushion at 6mm and +0.1% pincushion at 24mm, which is as rectilinear as could be expected, beating many a macro lens.
Bokeh is a term that describes the quality of the out of focus areas in an image, the smoothness of gradation. The expectation for a small format might be reduced, but this lens actually produces some very nice, smooth bokeh. Excellent.
Flare is potentially not helped by having no provision to fit a lens hood, but in fact, is not really a problem anyway. The backlight has to be pretty severe to make any impact on the quality of the images.
Vignetting is very reasonable and there is no obvious effect on most images.
| | | |
| --- | --- | --- |
| Aperture | 6mm | 24mm |
| f/1.8 | -1.0 stops | |
| f/2 | -1 | |
| f/2.5 | | -1.1 |
| f/2.8 | -0.9 | -1 |
| f/4 | -0.9 | -0.9 |
| f/5.6 | -0.9 | -0.9 |
| f/8 | -0.9 | -0.8 |
Pentax MX-1 Other sample images
Pentax MX-1 Lens test images
You can view additional images in the Equipment Database, where you can add your own review, photos and product ratings.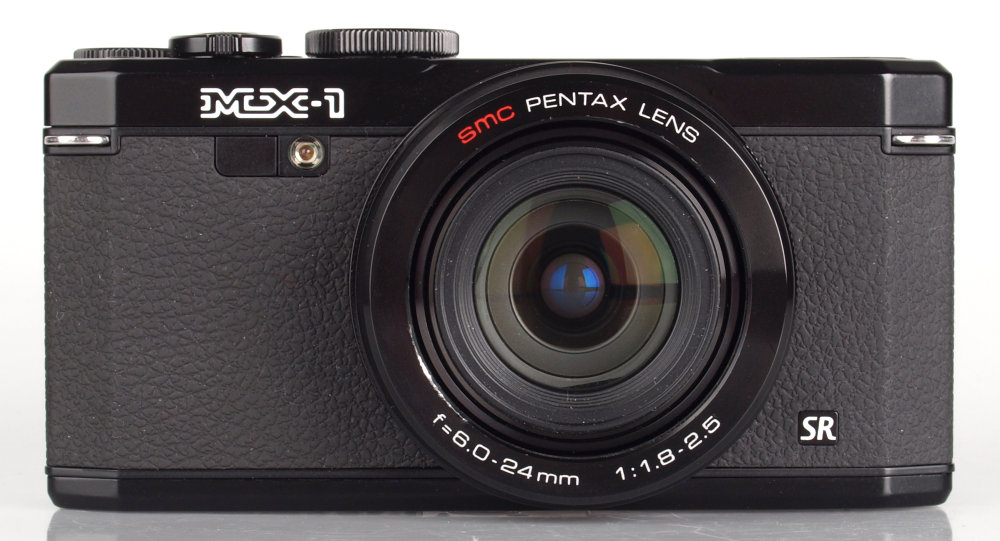 Value For Money
When new the Pentax MX-1 was priced at around £400, which in 2013 was relatively expensive. The fact that it has been in use constantly for 8 years mitigates that cost somewhat when broken down into cost per year. Most compact cameras have not lasted that long.
Asking prices are currently up to £290 for boxed, mint examples on eBay, but there are precious few of them around. Olympus XZ-2 cameras are similarly scarce, but on offer on eBay slightly lower around £240.
VFM is probably not going to be the major driving factor as the choice is very limited and it looks like the reality of supply and demand is dictating the price level and keeping it high.
SMC Pentax 6-24mm f/1.8-2.5 Vintage Lens Verdict
Taken as a lens, this is a real cracker and so, so versatile. Coupled with the Pentax MX-1, and we have little alternative to that, it is a great choice as a constant companion, being unobtrusive and light enough to carry anywhere, even where photography is not encouraged. It gives a quality of results that punches far above its weight and my intention is to continue to use it as long as it functions or can be repaired, after which I might have to buy another.
Own this lens? Let us know what you think of it in the EQDB.
Spotted a mistake? Let us know in the EQDB.
---