SMC Pentax-FA 70-200mm F/4-5.6 Power Zoom Vintage Lens Review
John Riley has been putting the vintage SMC Pentax-FA 70-200mm f/4-5.6 Power Zoom lens to the test that he purchased for under £50.
10/03/2021 - 08:38
Since the introduction of Pentax full-frame DSLR cameras, the range of new full-frame lenses has steadily, if slowly, increased. In the early stages, there was a huge amount of interest in older film-era lenses, as these are also full-frame and the amazing degree of backwards-compatibility of Pentax kit means that a host of good lenses are available on the second-hand market. Being designed for film cameras, some of these may be poor on digital, lacking the desirable telecentric design that digital cameras are suited for. But many are still excellent and very usable on the latest camera bodies. Here we have the SMC Pentax-FA 70-200mm f/4-5.6 Power Zoom lens, manufactured between 1991 and 2000, a workhorse of a lens in most ranges and a fraction of the cost of current offerings. This looks an attractive proposition, so let's look at how it handles and performs using the 36MP Pentax K-1 body.
[HOOK]position_1[/HOOK]
SMC Pentax-FA 70-200mm f/4-5.6 Power Zoom Vintage Lens Handling and Features
Being a modest maximum aperture of f/4-5.6 the lens is far more compact than most f/4 or f/2.8 designs, and also relatively light at just 465g. The lens barrel is accordingly svelte and the filter thread a very modest 49mm. There is a dedicated hood RH-RB 49mm, but missing here and in any event, it is a screw-in type, so has none of the advantages of current lenses with their bayonet fit hoods. A suitable snap-on hood was selected for use for this review.
There is a thin manual focusing ring at the front of the lens, quite free in action as is typical of Pentax FA series lenses and which can be experienced today in the current SMC Pentax-FA 50mm f/1.4 lens, which is still available new. We have no QuickShift facility though, so the camera will need to be set to MF for the ring to be used. The ring does rotate as AF operates, although the front element does not so the use of polarising filters is not compromised.
There is a plastic window revealing the distance scale, clearly marked in feet and metres, but no depth of field scale. We do have though two red markings for IR focus correction, one for 70mm and one for 200mm. Focusing is down to 1.1m or 3.6 feet, giving a maximum magnification of 0.25x, or 1:4. This is usefully close, one-quarter life-size.
There is a switch and button array marked P, A and AS and the part that will function today is the P setting, which allows Power Zoom. The zoom ring has two positions. Pulled back, it is a normal manual zoom action, smooth enough in operation. Pulled forward, revealing the words Power Zoom, and the ring is motorised. Depending on the degree of rotation three speeds of zooming can be selected. If this motor had been silent, then its usefulness in videography would be obvious, but unfortunately, no such concepts were considered at the time and the motor is quite noisy. Intriguing that current cameras should still be enabled to use it, but these days the same power contacts provide the current to drive AF motors in lenses so equipped.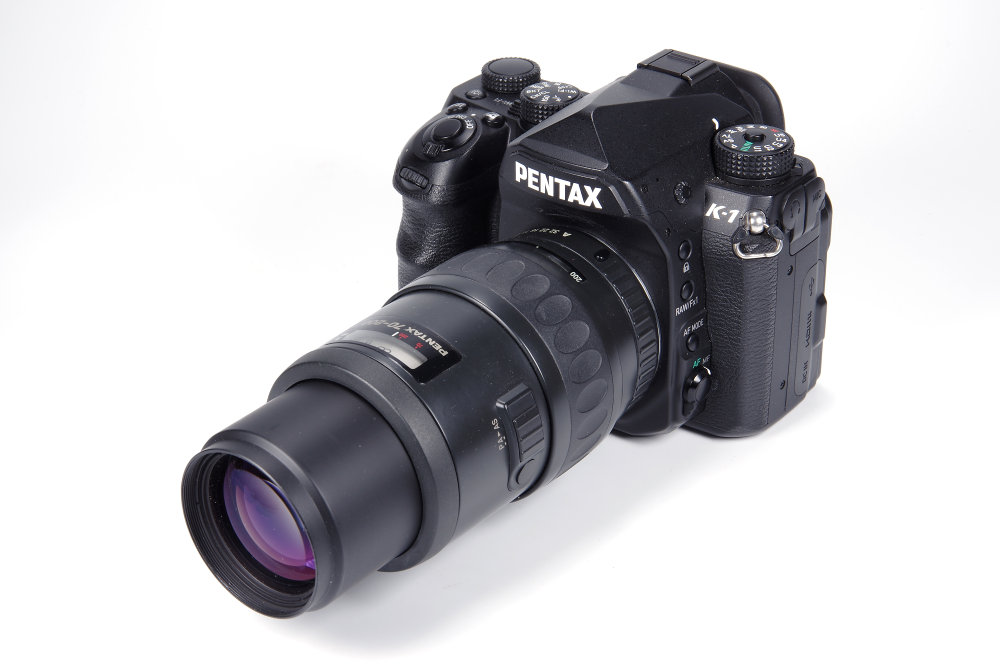 Going back to the switch, there are some zooming tricks that film cameras could employ. So P = Power Zoom. A = Auto Zoom. AS = Set to select type of auto-zoom, using the button provided. These functions are Image Size Tracking, where a tracked subject is kept the same size as it moves through the frame and the camera zooms automatically to achieve this. Zoom clip memorises a zoom setting, which can be returned to at any time by pressing the button. Zoom effect will auto-zoom a set range for the typical zooming effects we see with longer exposures. All clever stuff, but with the K-1 only the simple Power Zoom setting will work.
There is a final clear plastic window that reveals the zoom setting scale, clearly marked at 70mm, 85mm, 100mm, 135mm, 170mm and 200mm.
AF is by screw drive and with the K-1 is blisteringly fast as well as blisteringly noisy. There is rarely any hunting and the lens whacks into focus virtually every time, but it is hardly subtle.
Optical construction is 10 elements in 8 groups, which is relatively simple compared to current lenses. No special elements either. The diaphragm comprises 9 blades, more than usual for a telephoto zoom of the era where we might have expected 7.
The bulbous zoom ring, typical of Power Zoom lenses, does make it look a little odd, but it all works very well. One point made very forcibly is that there are handling benefits from having a restricted maximum aperture and a fairly compact and light lens, so this is easy to use for long periods of time.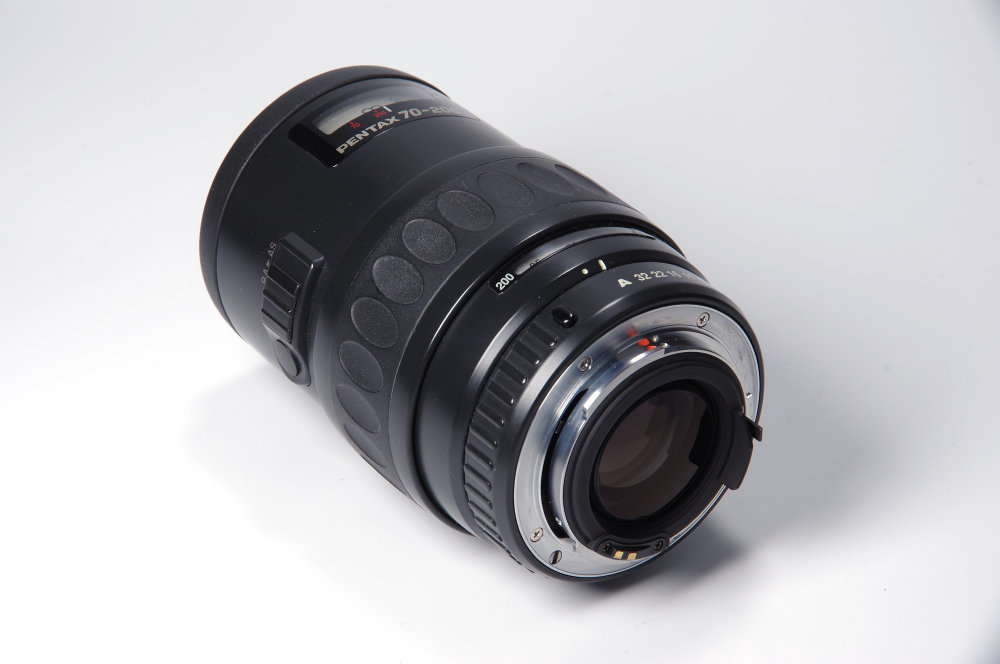 SMC Pentax-FA 70-200mm f/4-5.6 Power Zoom Vintage Lens Performance
At 70mm central sharpness is very good from f/4 right through to f/16 and good at f/22 and f/32. The edges are also very good from f/4 to f/16 and good at f/22 and f/32.
At 135mm central sharpness is good at f/4.5, very good at f/5.6. excellent at f/8, very good from f/11 to f/16, good at f/22 and fair at f/32 and f/40. The edges are good at f/4.5 and f/5.6, very good at f/8, good at f/11 and f/16 and fair from f/22 to f/40.
At 200mm, the centre is fair at f/5.6, good at f/8, very good at f/11 and f/16, good at f/22 and fair at f/32 and f/45. The edges are only fair though the whole aperture range, rising to good at f/11.
Fine detail definitely suffers at longer focal lengths, although images remain punchy, suggesting that the MTF20 figures would be much better.
Pentax SMC Pentax-FA 70-200mm f/4-5.6 Power Zoom Vintage MTF Charts
How to read our MTF charts
The blue column represents readings from the centre of the picture frame at the various apertures and the green is from the edges.

The scale on the left side is an indication of actual image resolution as LW/PH and is described in detail above. The taller the column, the better the lens performance.

For this review, the lens was tested on a Pentax K-1 using Imatest.
CA (Chromatic Aberration) is very well controlled centrally, but strays at the edges, especially as we zoom to longer focal lengths. Having said that, there are expensive current zoom lenses that are worse and in any event, CA can be tackled in software.
Pentax SMC Pentax-FA 70-200mm f/4-5.6 Power Zoom Vintage Chromatic Aberration Charts
How to read our CA charts
Chromatic aberration (CA) is the lens' inability to focus on the sensor or film all colours of visible light at the same point. Severe chromatic aberration gives a noticeable fringing or a halo effect around sharp edges within the picture. It can be cured in software.

Apochromatic lenses have special lens elements (aspheric, extra-low dispersion etc) to minimize the problem, hence they usually cost more.

For this review, the lens

was tested on a

Pentax K-1

using

Imatest.
Distortion is very reasonable for a zoom lens of this era. Barrel distortion measures -1.0% at 70mm. This soon changes to pincushion, measuring +1.7% at 135mm and +1.57% at 200mm.
Bokeh is helped considerably by the lens being a telephoto zoom and those 9 diaphragm blades, and gradation looks smooth, although not as impressively so as some current optics.
Flare is generally not a problem, but point the lens towards the sun and then a veil descends. This shows that coatings, including Pentax's SMC and HD varieties, have improved dramatically over recent years.
Vignetting is very moderate for a zoom lens and the results are:
| | | | |
| --- | --- | --- | --- |
| Aperture | 70mm | 135mm | 200mm |
| F/4 | -1.2 stops | | |
| F/4.6 | | -1 | |
| F/5.6 | -0.8 | -0.7 | -0.8 |
| F/8 | -0.8 | -0.6 | -0.7 |
| F/11 | -0.7 | -0.5 | -0.6 |
| F/16 | -0.7 | -0.5 | -0.5 |
| F/22 | -0.7 | -0.5 | -0.5 |
| F/32 | -0.6 | -0.5 | -0.4 |
| F/40 | | -0.4 | |
| F/45 | | | -0.4 |
Pentax SMC Pentax-FA 70-200mm f/4-5.6 Power Zoom Vintage Sample Photos
Pentax SMC Pentax-FA 70-200mm f/4-5.6 Power Zoom Vintage Aperture range
You can view additional images in the Equipment Database, where you can add your own review, photos and product ratings.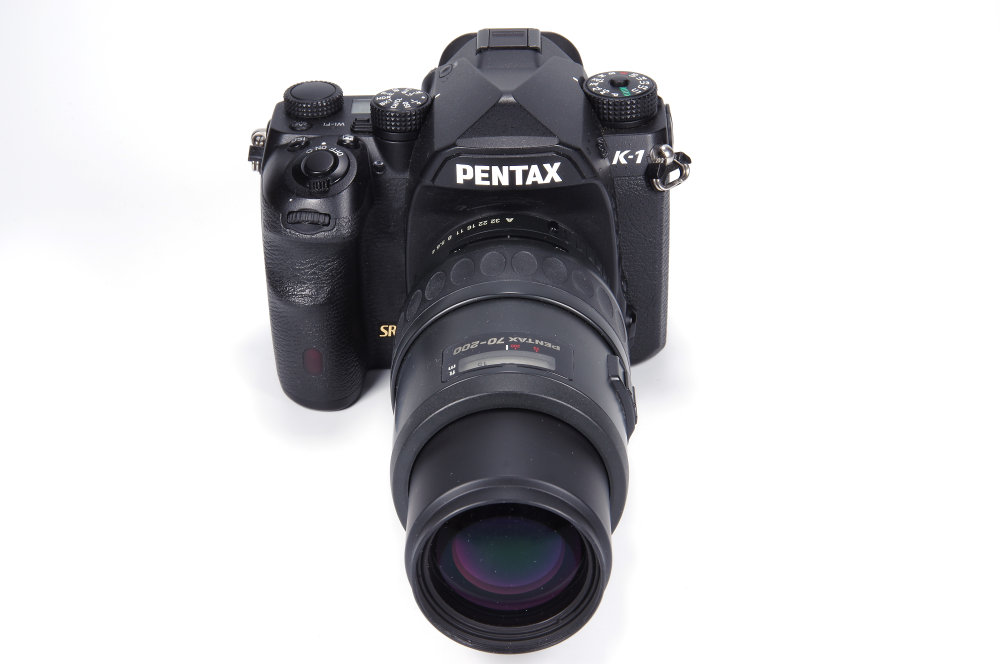 Value For Money
This SMC Pentax-FA 70-200mm f/4-5.6 lens cost me £49.
Alternatives are a mass of second hand 70-200mm lenses, or if we buy new perhaps one of these:
We might be tempted to try things out for around £50 and this should not be dismissed as the lens has some good points, but by and large, it may not satisfy on quality grounds, so VFM is worse than it might seem.
[HOOK]position_1[/HOOK]
For more options have a look at our top lens and optical lists which can be found over in Buyer's Guides.
SMC Pentax-FA 70-200mm f/4-5.6 Power Zoom Vintage Lens Verdict
The lens is great to use, focuses incredibly fast and can produce some nice, snappy, sharp images. However, it is badly let down at longer focal lengths and even where images look sharp at first glance the fine detail is not really there. So although it's really good to use, it might be better to buy something a bit more recent to get the best out of the Pentax K-1 or K-1 II. It's a shame because a compact 70-200mm lens has a lot going for it.
Having said that, it is a decent performer up to maybe 135mm and the softness could be exploited as a portrait lens. It would not be the first time brilliant portrait images have been produced from sometimes very poor lenses, and this one is better than that but still has a gentle softness that can be flattering to skin.
As a general-purpose lens, let down as indicated, but there are sometimes other specific possibilities for creativity.
Own this lens? Let us know what you think of it in the EQDB.
Spotted a mistake? Let us know in the EQDB.
---