SMC Pentax-DA 55-300mm f/4-5.8 ED Lens Review
John Riley reviews a compact zoom lens from Pentax.
23/05/2011 - 14:15
Features
Handling
Performance
Verdict
Specification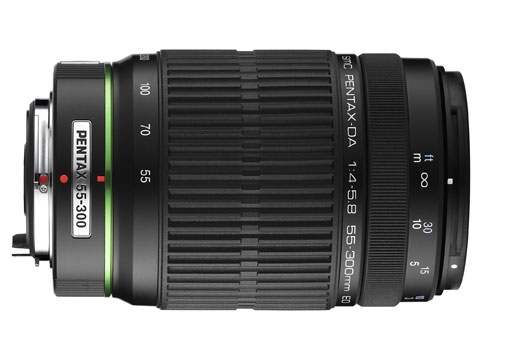 Longer lenses for Pentax do seem a bit thin on the ground so the introduction of this longer zoom is a welcome addition to the range. We shall explore whether or not the performance of this compact zoom delivers the quality needed and whether it is a significant contribution to the Pentax lens portfolio.
SMC Pentax-DA 55-300mm f/4-5.8 ED: Features
Pentax generally make compact lens designs and this is no exception, tipping the scales at just 440g, or 470g complete with the supplied bayonet hood. This version is the one with metal mount, although a lower cost plastic mount DA-L zoom is available with the same optical construction.

The metal mount version however has the hood included, essential in my opinion, and also the superb Quick Shift function that allows tweaking of the focus point manually, without resorting to switching from AF.

Construction is 12 elements in 8 groups, including an ED, extra-low dispersion glass. Closest focus is a useful 1.4m (4.67 feet), offering 0.28x magnification. Although not a macro lens, this is close for a lens of this focal length.

The lens measures a maximum of 71mm diameter x 111.5mm long, its compact dimensions needing just 58mm filters. Focusing is continuous and there are no macro switches to contend with.

The finish is the usual Pentax black and all the markings are clear and precise. There is a very broad zoom collar, easy to grip even with gloves on, and an adequately sized manual focus collar at the front of the lens.
SMC Pentax-DA 55-300mm f/4-5.8 ED: Handling
The range of 55-300mm is a very useful one for a variety of applications, including sports, wildlife and landscapes. The 35mm equivalent range is 84.5-460mm, so this lens has a very good reach and some care needs to be taken at the longer end to avoid the possibility of camera shake. Pentax's SR system goes a long way to helping with this, giving a 2-4 stop advantage in terms of usable shutter speeds.

The lens focuses conventionally, using the screw drive system. It buzzes quite audibly as it focuses and can be liable to hunting on some occasions when used with older digital bodies. However, the Quick Shift mechanism can come to the rescue, although for some wildlife subjects it may be necessary to revert to manual focus. Focusing on the new K-5 body is much more efficient and the lens locks on much more reliably.

In other handling respects, Pentax lenses are smooth and trouble free and this zoom is the same. There are no surprises. Focusing is slightly "ratchety" in sound, but smooth enough, the zooming is firm and free from play or creep. The lens hood bayonets firmly into place and is substantial enough to make a real difference.

In terms of quality of manufacture, this is a well made lens and makes good use of engineering plastics to ensure that weight and bulk are kept to a minimum whilst not sacrificing any stability. The metal mount is secure and well finished, substantially held in place by a respectable five screws, rather more solid than the three screw construction of many current mounts.
SMC Pentax-DA 55-300mm f/4-5.8 ED: Performance
In practical picture taking there is no doubt that this lens produces sharp, excellent quality images, with outstanding colour reproduction.

Looking at the test charts the usual patterns of performance for a zoom of this type are evident. The best performance is found at shorter focal lengths and in the centre of the field, where the levels of correction are concentrated and very impressive. At longer focal lengths the resolution does drop, especially at the extreme corners, but, to be fair, this is not where the main subject usually is and it is quite a demanding set of tests.

Taking distortion first, we find mild barrel distortion at 55mm that soon changes to pincushion for the rest of the range. This is well controlled for such a compact design and should not impact on the types of photography the lens is aimed at.

Chromatic aberration is likewise well controlled, extremely well at the centre of the frame. Part way across this holds, but at the corners there is much more evidence of CA. However, it is still within a reasonable limit and should only become intrusive at the edges and in challenging circumstances. An example might be the branches of a tree against bright sky.
| | | | |
| --- | --- | --- | --- |
| | CA | MTF20 | MTF50 |
| 55mm | | | |
| 100mm | | | |
| 200mm | | | |
| 300mm | | | |

Fine detail resolution is indicated by the MTF50 charts, a very demanding standard. The lens is commendable for its uniformity of performance across the frame. Detail is well resolved but definitely better at shorter focal lengths.

The visual quality of the lens is enhanced by its good overall contrast, and this shows clearly in the MTF20 charts. This is ideal for wildlife and the lens produces punchy, sharp pictures with no problem. Again, uniformity across the frame is impressive.
| | | |
| --- | --- | --- |
| | | |
| This shot shows superb colour reproduction and fine detail, ISO800, 1/1250, f/8, 300mm (35mm equiv: 450mm) | | Combined with the fast AF of the K-5 wildlife photography is well within range of this zoom lens, ISO800, 1/200, f/8, 300mm (35mm equiv: 450mm) |
| | | |
| Aided by the use of a tripod, the sharpness is impressive, ISO200, 1/13, f/8, 230mm (35mm equiv: 345mm) | | Long lenses are not only for isolating detail and full use can be made of the available depth of field, ISO200, 1/15, f/22, 98mm (35mm equiv: 147mm) |

Likewise, pictures of small flowers are perfectly balanced against out of focus backgrounds and the long focal length means that specimens at the back of wide garden borders can be captured easily.

In summary, the lens shows a commendably uniform and very satisfactory performance and is suitable for a wide variety of applications.
| | | |
| --- | --- | --- |
| | | |
| 70mm was selected as a flattering focal length for portraits, ISO200, 1/50, f/8, 70mm (35mm equiv: 105mm) | | The lens is also a good choice for larger groups of fungi, ISO200, 1/8, f/16, 210mm (35mm equiv: 315mm) |
| | | |
| The reach of the lens is ideal for isolating single blooms, even if they are at the back of wide flower beds, ISO200, 1/40, f/16, 150mm (35mm equiv: 225mm) | | This feather, shot at the minimum focus distance, is full of detail, ISO200, 1/25, f/16, 170mm (35mm equiv: 255mm) |
SMC Pentax-DA 55-300mm f/4-5.8 ED: Verdict
This is the ideal moderately priced long zoom lens for Pentax cameras. Compact, well balanced and well made and offering a very useful range of focal lengths. There is some degree of hunting for focus in some circumstances but generally performance is sound. For general telephoto use Pentax users can be happily recommended this lens.
A very good overall performance at a very reasonable price.
SMC Pentax-DA 55-300mm f/4-5.8 ED: Pros
Well made

Good price

Excellent ergonomics

Good quality results
SMC Pentax-DA 55-300mm f/4-5.8 ED: Cons
Some AF hunting with older bodies
| | |
| --- | --- |
| FEATURES | |
| HANDLING | |
| PERFORMANCE | |
| VALUE FOR MONEY | |
| OVERALL | |
SMC Pentax-DA 55-300mm f/4-5.8 ED: Specification
Price
£274.99
Contact
www.pentax.co.uk
Filter size
58mm
Format

APS-C

Construction
12 elements in 8 groups
Angle-of-view
29° ~ 5.4°
35mm equivalent focal length (on APS-C body)
82.5-450mm
Internal focusing
No
Image stabilisation
No
Minimum focus
1.4m
Maximum aperture
f/4-5.8
Minimum aperture
f/22-32
Weight
440g
Size (lxw)
111.5mm x 71mm
In the box
Front cap
Rear cap
Lenshood
Soft case
---