Pentax Q-S1 Review
Reviewed, the new compact and stylish Pentax Q-S1, with 12 megapixel BSI sensor and a redesigned camera body available in a number of colours.
18/12/2014 - 14:06
Features
Handling
Performance
Verdict
Specification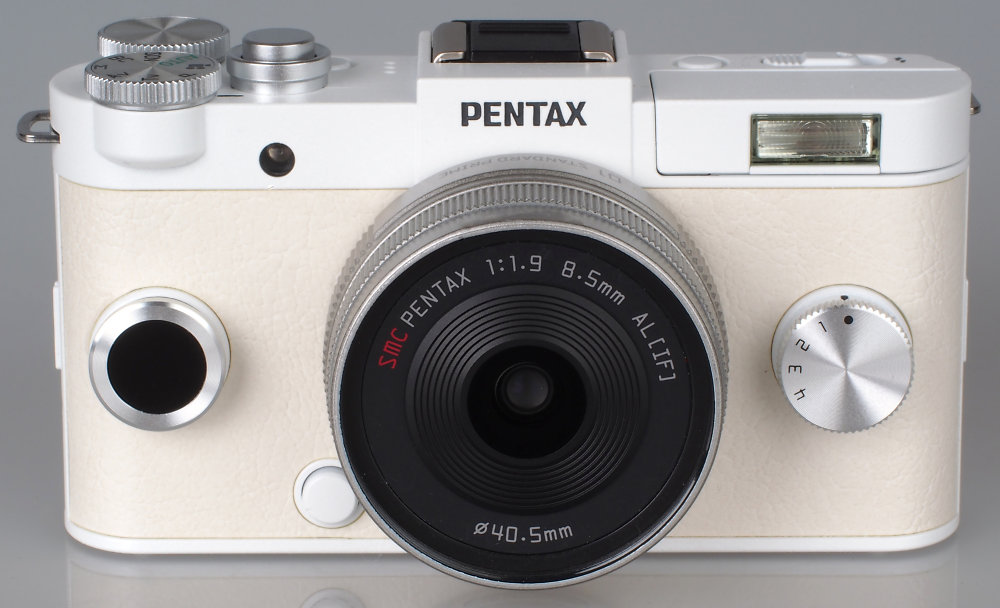 The Pentax Q-S1 is Pentax's latest compact mirrorless camera, updating the Q7, and features a 12 megapixel 1/1.7inch BSI CMOS sensor, Pentax Q lens mount, built-in anti-shake sensor, and is available in a variety of colours body only or with a kit lens.
Pentax Q-S1 Features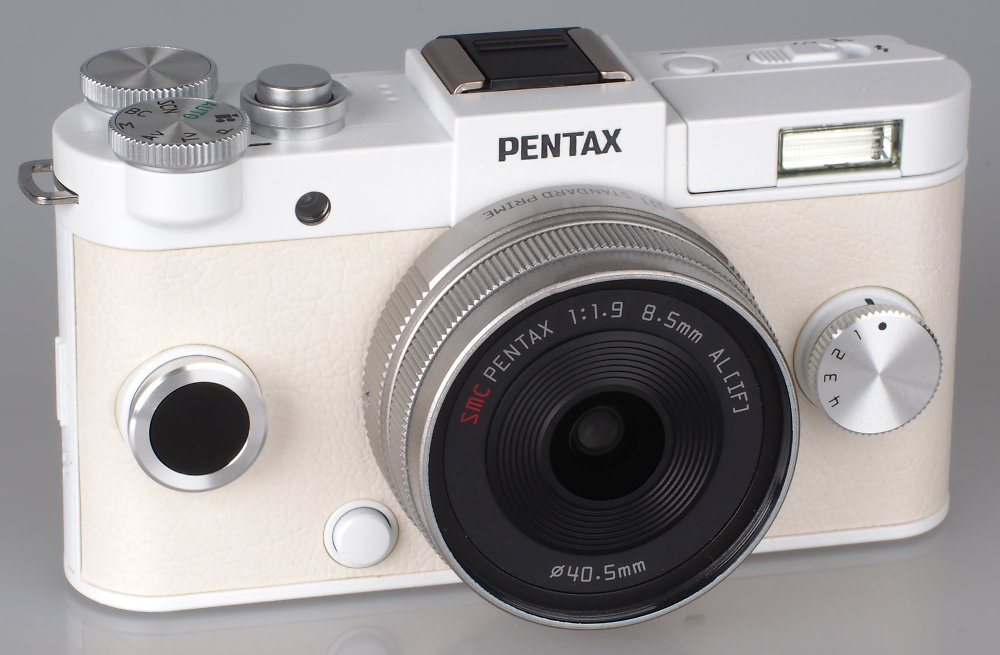 The Pentax Q-S1 is a stylish and compact mirrorless camera which Pentax say is ideal for all levels of photographers and for everyday use. It features a 1/1.7 inch back-illuminated CMOS sensor with ISO up to 12800, and a built-in reliable shake reduction system. The Q-S1 is available for £299.99 (RRP) body only, £379.99 with a 5-15mm lens and £549.99 with a 5-15mm and 15-45mm lens.
Designed to be a super-compact camera with interchangeable lenses the Q-S1 is available in a choice of 40 colour combinations to match your individual style, with a choice of five body colours and eight grip colours. The camera has full manual controls, as well as numerous auto modes, 21 scene modes, and effects available, and can record raw images in Adobe DNG format.
The camera has a built-in dust removal system designed to prevent dust spots spoiling images, a 3.0inch LCD monitor on the rear, plus Full HD movie recording with mono sound.
Key Features
12 megapixel 1/1.7-inch, BSI CMOS sensor
ISO100 to ISO12800
Digital filters
Shake Reduction sensor
Dust removal system
3.0 inch LCD monitor, 460k dots
21 Scene modes including Night Scene Portrait, Pet and Backlight Silhouette
Full HD movie recording, with mono sound
Body colours: Black, Gunmetal, Pure White, Champagne Gold, Bright Silver
Grip colours: Charcoal Black, Cream, Carmine Red, Canary Yellow, Khaki Green, Royal Blue, Burgundy, Pale Pink
Pentax Q-S1 Handling
The Pentax Q-S1 has an extremely small body and is rubberised on the front on either side of the lens to help give good grip, along with a circular metal knob that acts as additional grip. There are also three dots on the rear for your right thumb. Despite its small body, there is an ample amount of buttons. On the top is a mode dial and another for changing settings such as shutter speed and aperture. Other buttons on the top are the shutter release, on / off, playback and a switch which releases the pop-up flash. Despite the camera being made out of predominantly plastic, the camera feels well built and sturdy.
On the rear are buttons to set the ISO and white balance as well as flash mode and self-timer. In the middle of these buttons is an OK button, all of which act as a d-pad for cycling through the menus. There are also exposure compensation, info, menu and green buttons - the green button can be used for different settings. The Q-S1 also has a dial on the front which has 4 options and can also be changed to the users preference such as smart effects, aspect ratio, focus method etc.
Pentax has managed to pack a 3.0 inch screen on the Q-S1 which has a decent 460k dot resolution and has been treated with an anti-reflection coating. The menu system is split into 5 sections with sub-sections in each - it can take a little time to go through all the available options.


Battery life - Battery life is rated at 250 shots according to Pentax / CIPA test results, which is a bit lower than average for a mirrorless class of camera. We would recommend a spare battery if you plan on shooting more.


Speed - We took a number of shots to test the camera's responsiveness, from switch on to first photo, shot to shot, focusing speed etc. We take a number of shots and then use the average to ensure accurate and consistent tests, making it easy to compare with other cameras.
Shutter Response
0.09secs
Wide - Focus / Shutter Response
0.5secs (8.5mm lens)
Switch on Time to Taking a Photo
1.5secs
Shot to Shot without Flash
1.0secs
Shot to Shot with Flash
1.1secs
Continuous Shooting - JPEG
(shots before slow down)
5fps (5 shots)
Continuous Shooting - Flash
0.9secs
Continuous Shooting - RAW
0.65secs (4 shots)
Shutter response is very quick, although focus with the 8.5mm f/1.9 prime lens was a little slow. Continuous shooting is reasonably good at 5fps when shooting JPEG images, but for only 5 shots. Unfortunately raw shooting is much slower.
Pentax Q-S1 Performance
The performance section is where we look at the image quality performance of the camera. Additional sample photos and product shots are available in the Equipment Database, where you can add your own review, photos and product ratings.


Pentax Q-S1 Sample Photos
Sample Photos - The Pentax Q-S1 takes portrait photos with flash that are free of red-eye, and as the flash can be popped up, it's possible to ensure that the lens does not get in the way of the flash, for example, if you are using the camera with a Pentax K mount lens with the K-mount adapter. Images have bright saturated colours with punch, and the camera lets you customise these settings to give you colours to suit your own personal tastes.
Pentax Q-S1 Lens test images
Lens Performance - The standard and zoom lenses available give good levels of detail, and the camera has built in lens distortion correction as well as dynamic range expansion options to record as much shadow and highlight detail as possible.
There are a number of options when buying the Q-S1, you can buy it body only, or with the 5-15mm standard zoom, or as a double lens kit, which also includes the 15-45mm f/2.8 telephoto zoom lens. We've tested the Q-S1 with the 8.5mm f/1.9 prime lens, which gives the equivalent of 39mm in 35mm terms.
Pentax Q-S1 ISO test images
ISO Noise Performance - For the lowest noise and best detail possible we would recommend using ISO100 to ISO800, as images have low levels of noise and good levels of detail. For lower light situations ISO800 to ISO1600 still provides good results, although noise increases and detail is reduced. At ISO3200 noise levels become strong and we would recommend avoiding this setting if possible, although results may still be useful if resized and used on the web. ISO6400 and above is best avoided as noise is extremely high, and detail is very low.
Pentax Q-S1 White-balance test images
White Balance Performance - Auto White Balance (AWB) gives a warm colour cast under tungsten lighting, with the tungsten preset giving an accurate result. AWB performs well under fluorescent lights, with the fluorescent preset giving a different colour cast depending on the fluorescent preset selected.
Pentax Q-S1 Digital filters
Digital Filters - There are numerous colour options, digital filters, as well as "Smart Filters" that can be assigned to the front dial. These give additional effects and examples can be seen above. HDR shooting is available with JPEG images, and there are several options, including HDR Auto, HDR1 and HDR2. HDR photos take a number of shots and combine them for improved dynamic range, and can be taken handheld, although for better results a tripod is recommended. Similar results can be achieved shooting raw and processing the images.
Video - Video is recorded at 1920x1080, 30/25/24fps and encoded using MPEG-4 AVC/H.264 compression, and sound is recoded in mono.
Value For Money
The Pentax Q-S1 is available for £365 with 5-15mm standard zoom lens, making it reasonable value for money, although we would expect the price to drop over time. There are a number of other mirrorless cameras to consider, with most offering a wider range of lenses available, albeit without the small size on offer from the Pentax Q-S1, and Q lenses. The smallest systems available (including both compact lenses and cameras), includes the Nikon 1 series such as the Nikon 1 S2 (£339), and the Samsung NX-Mini (£289), followed by the small Panasonic Lumix GM1 (£449). Another option would be the Olympus PEN Lite E-PL7 (£399 with lens), or the Sony Alpha A5100 (£405).
You'll also need to buy a memory card and a case or bag to keep your camera safe and protected - have a look at our complete guide to camera bags.
Pentax Q-S1 Verdict
Whilst the Pentax Q-S1 may not have as large a sensor as other mirrorless cameras, the compact size of the camera and lenses may make this a stylish compact camera you'd want to take with you when you didn't want to cart a Digital SLR around with you. There are currently 8 lenses available with more lenses planned, although a number of the lenses currently available are "toy" lenses, and other compact system cameras often have a wider range of lenses available (with the exception being the Samsung NX-Mini).
The Pentax Q-S1 delivers bright punchy, highly saturated images on default settings. Thankfully, if this is not your preferred look, then the colour settings can be customised or you can shoot raw and alter the images as much as you want. The camera can also shoot at 5fps, although for only a short number of shots. With manual controls, raw shooting, and dual axis electronic level, this camera will most likely suit the beginner as well as the more advanced photographer, however, the inclusion of Wi-Fi would certainly be welcome, particularly as this is available on the majority of the competition.
---