The Pentax Optio VS20 is the latest pocket zoom from Pentax and not only features a 20x optical zoom lens, but a unique dual shutter and zoom control. Find out how it performs in our review.
Posted: 20/04/2012 - 14:26
Features
Handling
Performance
Verdict
Specification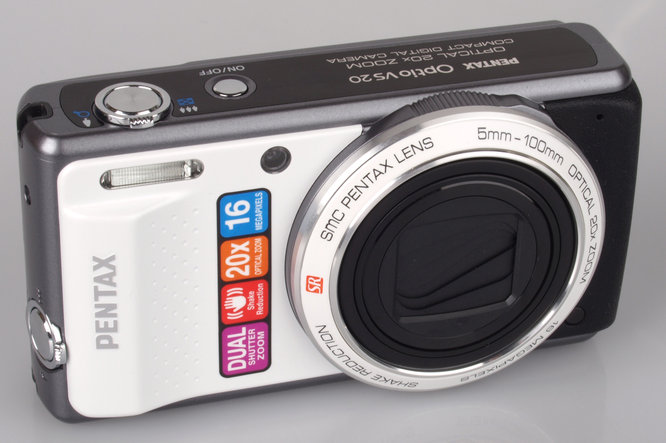 The Pentax Optio VS20 is the latest compact camera from Pentax and features a 20x optical zoom lens, a 16 megapixel sensor, a 3 inch screen and interestingly a vertical shutter button with zoom control, as well as a second tripod socket on the side of the camera.
Pentax Optio VS20 Features
Key Features
16 megapixel sensor
20x optical zoom lens, 28 - 560mm equivalent
Shake Reduction
3inch screen
720p Video
Dual shutter / zoom control
Two tripod sockets
Customisable green button
1cm macro mode


Pentax Optio VS20 Handling
Handling - The camera has a unique shutter button on the side with an additional tripod socket on the opposite side. The camera will also stand by itself on this side which helps if you haven't brought a tripod. The screen automatically rotates when using the other shutter button, so that you can still read the screen, however when you then access the menu, it is still the wrong way round. You can also use the zoom control and the camera has strap loops so it can hang vertically or horizontally from your neck.
Menus - The camera mode is selected using the mode button, with a few other settings directly accesible using the buttons on the D-pad (Macro, Flash, Drive mode), although other options are accessed through the Menu (ISO, Exposure compensation, WB, etc). The green button can be customised so that it sets Exposure, ISO, or image size. The menus and mode selection is easy and the camera has a built in electronic spirit level.
Battery Life - Battery life is rated at 200 shots according to CIPA standards. We took over 150 shots before the battery went flat. Due to this it would be recommended that you look at purchasing a spare battery.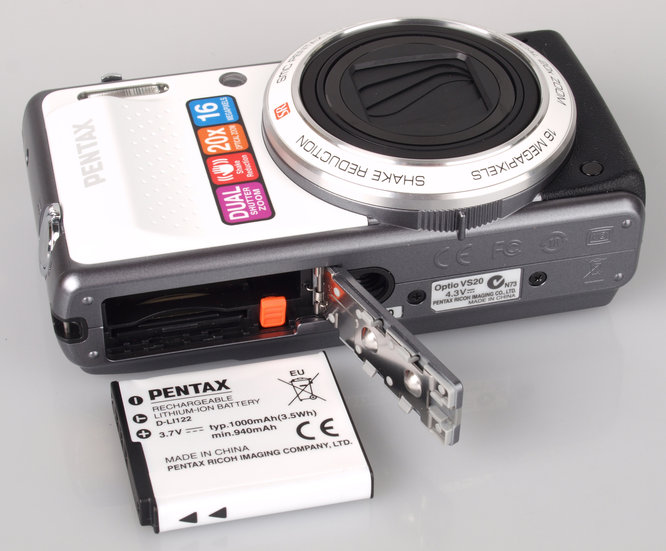 Speed - We tested each camera's performance at focusing, shutter response, shot-to-shot time, continuous shooting etc. and have posted the results below. To test this we took 6 or more shots and calculated the average, so that consistent results were produced.
| | | |
| --- | --- | --- |
| | Canon SX260 HS | Pentax VS20 |
| Shutter Response | 0.05 | 0.05 |
| Wide - Focus / Shutter Response | 0.3 | 0.35 |
| Full zoom - Focus / Shutter Response | 0.4 | 0.4 |
| Switch on Time to Taking a Photo | 1.7 | 2.0 |
| Shot to Shot (without flash) | 1.9 | 2.5 |
| Shot to Shot with Flash | 3.3 | 3.9 |
| Continuous Shooting (JPEG) | 2fps | 1fps |
| Continuous HS mode (mp) | 10fps (10 shots, 12mp) | 10fps (20 shots, 5mp) |
| Continuous Shooting (with Flash) | 1.5s | N/A |

Shutter response is good, with decent focus speeds at wide and telephoto settings. Switch on time is also reasonable. Continuous shooting and shot to shot time is a little sluggish, unless you switch to the high speed continuous shooting mode where the image size is reduced to 5 megapixels.
Pentax Optio VS20 Performance
Pentax Optio VS20 Sample Photos
Sample Photos
- The camera gives bright colourful photos with good levels of detail. There is very little red-eye in our portrait flash photo and the camera is capable of taking an impressive macro with the subject just 1cm away from the front of the lens.
Pentax Optio VS20 Lens test images
Lens Performance
- There is very little barrel distortion at the wide angle setting, and very little pincushion distortion at full optical zoom. Some of the shots were out of focus, and with the screen being difficult to view outdoors, it was difficult to confirm focus.
Pentax Optio VS20 ISO test images
ISO Noise Performance
- Noise is visible in photos taken at ISO100 - and more worryingly viewing images on the camera shows more noise than when viewed on the computer. At ISO200 noise increases slightly. At ISO400 noise increases noticeably. At ISO800 noise increases again. At ISO1600 noise is high with detail being lost. At ISO3200 and ISO6400 image size is reduced to 5 megapixel although these high ISO settings are best avoided.
Pentax Optio VS20 White-balance test images
White Balance Performance
- Under tungsten lighting images have a yellow cast when using the auto white balance. Using the tungsten preset gives very good results. Under fluorescent lighting the auto white balance gives very good results with the fluorescent preset giving reasonable results. Detail is reasonable although lower in darker areas of the image.
Pentax Optio VS20 Digital filters
Digital Filters
- The camera does not feature a built in HDR mode, but the camera does feature "Dynamic Range Enlargement" with shadow and highlight compensation, as well as hand-held night shot mode, as well as auto exposure bracketing. Panoramic mode automatically stitches your photographs together, but it is not the new sweep style, instead it shows you a portion of the previous image for you to line up, once you have taken the photos it then stitches them together.
Video
- Optical zoom is not available while recording videos. Digital filters can be applied, with sepia and black and white having no noticeable effect on video quality, however effects like miniature and sketch result in the camera reducing video size to VGA with a reduced frame rate.

Value For Money
The Pentax Optio VS20 is available for £159 this makes it good value for money for a 20x optical zoom camera. Alternatives to look at include the Panasonic Lumix TZ25 (16x, £229), Samsung WB150F (18x, WiFi, £179), Samsung WB750 (18x, £180), Olympus SZ-14 (24x, £165), Olympus SZ-10 (18x, £149), Sony Cybershot H90 (16x, £219) and Pentax Optio RZ18 (18x, £129).
Pentax Optio VS20 Verdict
The Pentax Optio VS20 offers a lot of zoom as well as a unique dual shutter and zoom control feature, that is normally reserved for professional Digital SLRs. Another unique is the second tripod socket found on the side. However, we tend to find most tripods have a built in ability to rotate to portrait shooting, so we suspect the portrait shot mode will be used without a tripod. Apart from this, the camera is quite large in comparison to other pocket zoom cameras.

The biggest issues we had with the camera were the disappointing noise performance and screen quality, this made outdoor photography difficult, with the camera further complicating assessment of images due to a poor display of photos. This meant to see the actual image quality you would have to view them on your computer. Images were also out of focus more often than expected with higher levels of chromatic aberation than we're used to seeing. Due to these issues we would suggest alternative cameras would offer a better shooting experience, even if they don't feature dual shutters.
Pentax Optio VS20 Pros
Good value
0x optical zoom
Dual shutter / zoom control
Vertical neck strap an option
Electronic level
Excellent macro mode
Pentax Optio VS20 Cons
Optical zoom not available during video recording
Poor screen, low contrast, washed out, difficult to use outdoors
Chromatic abberations (green/pink), Purple fringing
Focus issues
Quite large
Pentax Optio VS20 Specifications
Manufacturer
Pentax
Lens
Max Aperture
f/3.1 - f/4.8
35mm equivalent
28mm - 560mm
Optical Zoom
20x
Image Sensor
Pixels
16Mp (Megapixels)
Pixels (W)
4608
Pixels (H)
3456
Sensor Type
CCD
Sensor Size
1/2.3 inch
Sensor Size (width)

No Data

Sensor Size (height)

No Data

Aspect Ratio
4:3
16:9
1:1

LCD Monitor
LCD Monitor
3in
Screen resolution
460,000 dots
Touch Screen
No
Focusing
Min Focus
1cm
Focusing modes
Autofocus
Spot
AF Tracking

Exposure Control
Shutter speeds shortest
1/2500sec
Shutter speeds longest
4sec
Bulb mode

No Data

Exp modes
Metering
Multi Pattern

ISO sensitivity
100 - 6400
White balance
Auto
Manual
Outdoors/Daylight
Incandescent
Fluorescent
Shade

Exposure Comp
+/-2
Shooting Options
Continuous shooting
1fps
Video
Movie mode
Yes
Video Resolution
1280x720 HD 720p
640x480 VGA
320x240 QVGA

Video FPS
30, 15
Stereo Sound
No
Optical Zoom with Video
No
Other Features
Image Stabilisation
Yes
Interface
HDMI
No
USB
USB 2
Wi-Fi
No
Storage
Card Type
SD
SDHC
SDXC

File Type
JPG

Power Source
Battery Type
Rechargeable D-LI122 Luthium-ion battery
Battery Life (CIPA rating)
200shots
Box Contents
Box Contents
USB cable I-USB7, AV-IAVC7 video cable, rechargeable battery Li-ion D-DLI92, battery charger D-BC92, O-ST104 strap and software.
Dimensions
Weight
191g
Width
108mm
Height
60mm
Depth
34mm
Members gallery photos using: PENTAX Optio VS20