Pentax K-70 Review
We review the new Pentax K-70, Pentax's latest DSLR features a 24 megapixel sensor and a number of features from Pentax's higher end DSLRs.
02/09/2016 - 09:47
The Pentax K-70 is the new mid to entry-level Digital SLR from Pentax and features a 24-megapixel sensor, a vari-angle screen, plus built-in Wi-Fi making it a versatile all-around camera. As with almost all Pentax Digital SLRs, the K-70 features weather-sealing and some advanced features including a shake reduction sensor. Let's see how it performs in our full review.
Pentax K-70 Features
The 24 megapixel Pentax K-70 is an update (and replacement) for the 16-megapixel Pentax K-50, however, it is also the next step up from the 20-megapixel Pentax K-S2, featuring an almost identical design, including a vari-angle screen on the rear, top mode dial, and built-in Wi-Fi. The Pentax K-70 also benefits from a number of features found on the K-3 Mark II, including "Pixel Shift Resolution" which gives more detailed images.
Pixel Shift Resolution - This shifts the sensor one pixel at a time to create four images that are then merged. This means that every pixel point has accurate RGB values, rather than these having to be interpolated by software from the Bayer sensor. Pixel shift resolution is designed to be used on a tripod with non-moving subjects however, there is also pixel shift Motion Correction (MC) for when there are moving subjects in the shot.
The Pentax K-70 offers a 24 megapixel APS-C CMOS sensor, Pentax' first hybrid AF system, plus ISO up to ISO102400.
The Pentax K-70 is available for around £599 body only or £799 with 18-135mm lens as shown here, and both the camera body and lens are weather-sealed. The camera features a 24 megapixel APS-C CMOS sensor, with an ISO range up to ISO102400, and the camera sensor features built-in phase detection for improved focus during live view and FullHD video recording.
Compatible with all Pentax K-mount lenses since the 1970s, the K-70 can be used with any number of Pentax lenses. The camera sensor feature shake-reduction which will work with any lens attached to the camera - the sensor moves to counter any shake and is said to give up to 4.5 EV stops. However, compared to CSC with electronic viewfinders, and cameras that use lenses with optical image stabilisation, you do not see the benefits of SR image stabilisation in the optical viewfinder.
There are a number of colour options, and digital filters available, the majority of these can be customised. The camera also benefits from a number of lens correction options built-in to the camera to correct for any new Pentax lens attached to the camera. Built-in Wi-Fi will let you transfer images to a smartphone, or control the camera remotely.
FullHD video is recorded with stereo sound, and the camera's sensor-based shake reduction system will help keep footage steady while recording.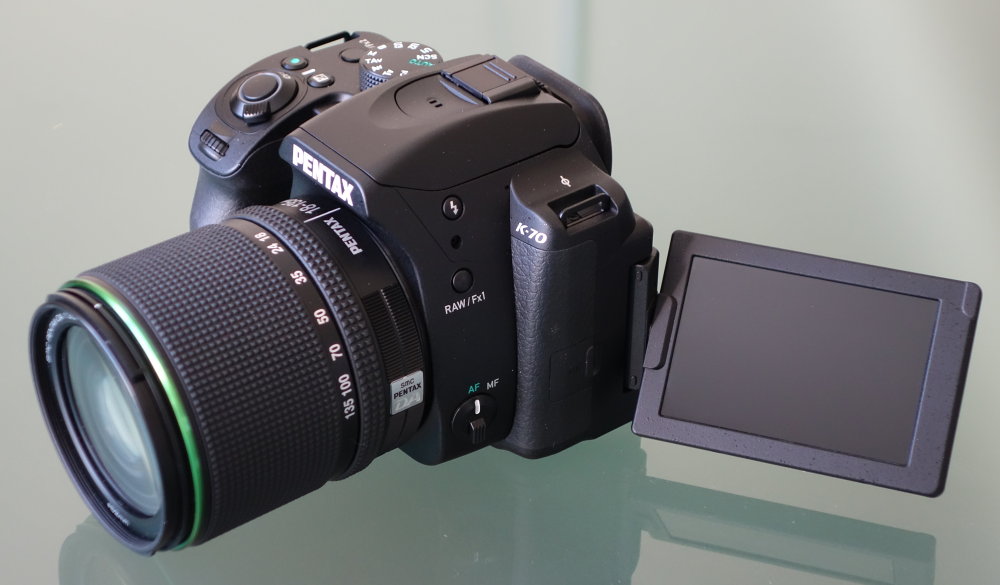 Key Features
24 megapixel APS-C CMOS AA Filter-less sensor
Shake Reduction (SR) - up to 4.5 stops
Pixel shift resolution, AA filter simulator
3inch vari-angle screen, 921K dot
100 percent field of view optical viewfinder (0.95x magnification)
Weather-sealed
11-AF points, -3EV focus
FullHD video, with continuous AF
ISO100-102400
Night vision red light LCD display
6fps continuous shooting
Built-in Wi-Fi
14-bit RAW
Pentax K-70 Handling
The design of the K-70 is almost identical to the K-S2, but with a few less lights on the buttons, and the Wi-Fi button is now labelled as a second Function button (Fx2), with the Raw/Fx1 function button on the left of the camera. The grip on the hand grip has been improved, with a thicker rubber cover on the left of the camera however, the gap between the lens and handgrip can feel quite tight, particularly if you have larger hands or larger lenses. The 4-way controller on the back has been raised, making this easier to use, when compared to the K-S2.
The camera feels well built, and with weather sealing, you can be safe knowing that using the camera outdoors in poor weather shouldn't cause any problems for the camera, or lens when using a weather sealed lens. The controls give quick and direct access to aperture and shutter speeds with front and rear control wheels (when in the correct shooting mode), and a top +/- exposure compensation button makes it easy to dial in quick adjustments to exposure if needed.
There are 11 AF points, however, we found this was not aligned correctly, and when selecting the central AF point, this was actually off to the right slightly. In live view, you can select from a much wider area of the screen, with much more precise control over the focus area. The optical viewfinder quality is very good, with a reasonably large view for an APS-C camera, and with dioptre adjustment on top, it is easy to set the focus for your own preference. The screen is clear and easy to view, and has a number of different viewing modes, for example, you can increase the brightness for using outdoors in bright sunlight, or you can switch on the Night Vision mode for use in low-light, as shown below.
| | |
| --- | --- |
| | |
| Night Vision LCD | Night Vision LCD Live View |

The menus and controls are clearly laid out, with the INFO button bringing up a control panel on the rear screen giving you quick access to a large number of settings. The menu system is colour coded, and is quite clear to read, although to understand all settings, it's recommended you read the manual.
Wi-Fi features - This enables the camera to be controlled by a smartphone or tablet with the Ricoh Image Sync Android and iOS app, although there are some limitations with the current version, including only being able to shoot in single shot mode, although hopefully the app will be improved with further updates. The features available Flucards and Wi-Fi cards can also be used.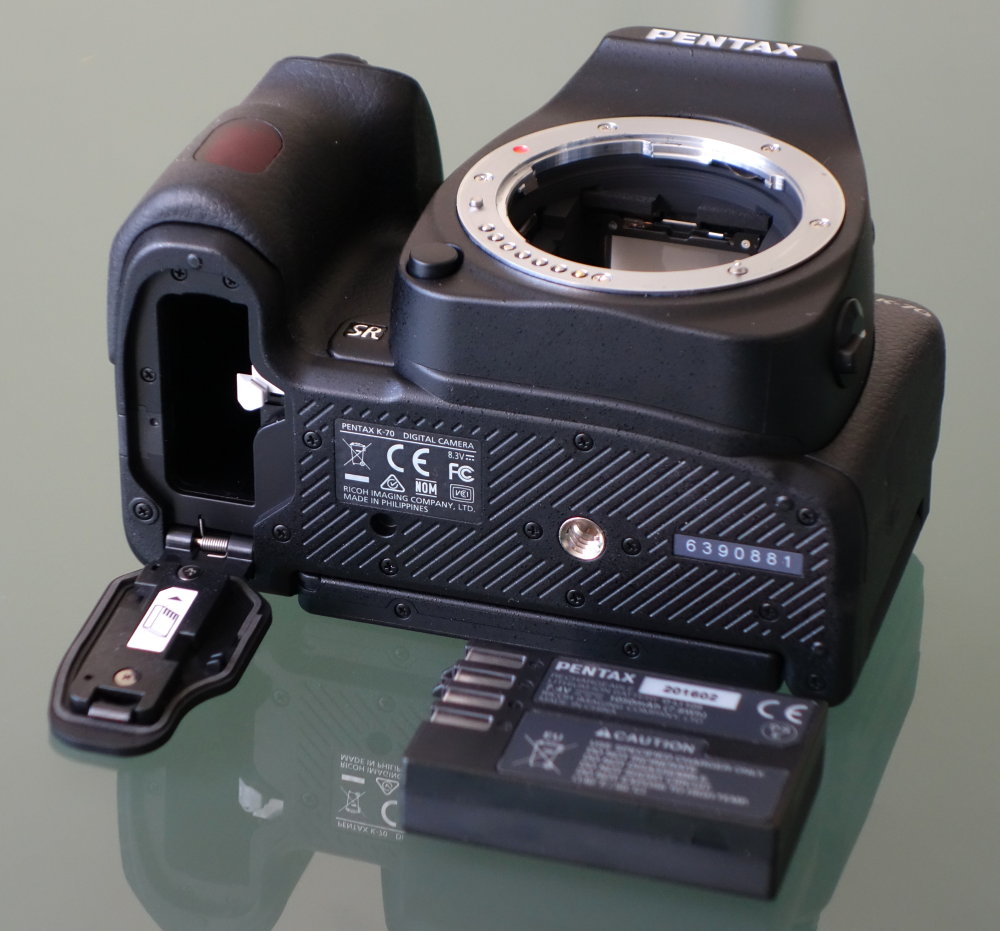 Battery life - Battery life is rated at 410 images with 50% flash, or 480 shots without flash according to Pentax test results, which is good for a Digital SLR camera, although some others offer longer battery life.
Pentax K-70 Performance
The performance section is where we look at the image quality performance of the camera. Additional sample photos and product shots are available in the Equipment Database, where you can add your own review, photos and product ratings.
Speed - We took a number of shots to test the camera's responsiveness, from switch on to first photo, shot to shot, focusing speed etc. We take a number of shots and then use the average to ensure accurate and consistent tests, making it easy to compare with other cameras.

Tested with the 18-135mm lens. Live view a little slow compared to competitors such as the Canon EOS 750D, although focus is quicker than the Nikon D5500.
* Shadow / highlight correction auto, lens correction lat-CA-adj on, and diffraction correction on. Switching these off didn't increase continuous shooting speed much, with the fastest we could manage being 5fps when shooting JPEG L *** (Quality) / Raw (DNG). You can choose between recording PEF (Pentax raw files), or Adobe DNG raw files.
Pentax K-70 Sample Photos
Sample Photos - The Pentax K-70 delivers bright, saturated colours, and images with good levels of detail in sunny conditions. If you find the colours too saturated, then you can easily switch the colour mode to "Natural" which tones down the saturation and contrast slightly. Exposure is reliable and the camera has good dynamic range.
Pentax K-70 Lens test images
Lens Performance - We were slightly disappointed by the image quality of the 18-135mm lens provided with the camera, with fairly soft images produced when shooting at 135mm, or when shooting wide-open. However, when shooting with the lens stopped down, as we have in our ISO and WB test images, it is capable of producing sharp results and is also resistant to flare. For best results, a different zoom lens or prime lens is recommended.
The camera has built-in lens correction options for: distortion correction, peripheral illumination correction (vignetting), lateral chromatic aberration correction, and diffraction correction. We took photos with diffraction correction and lateral chromatic aberration correction switched on (the default settings).
The image stabilisation (IS) system uses sensor-shift shake reduction (SRII) and works with any lens attached to the camera, letting you take photos at a slower shutter speed than normal. For manual lenses the camera you can set the focal length manually.
Pentax K-70 ISO test images
ISO Noise Performance - Noise is low from ISO100 up to ISO1600, with a very slight increase in noise at ISO3200. Noise becomes more noticeable at ISO6400, but results should still be usable. Noise increase again at ISO12800, but colour and detail remain reasonably good. It's at ISO25600 where there is a more noticeable drop in image quality and you might want to process these images further or resize them before using them, although the results are better than the 750D, D5500, and A68. ISO51200 and above are best avoided, however, it's worth noting that white text appears quite clear, so there may be some use for these settings in low-light.
Pentax K-70 White-balance test images
White Balance Performance - Auto White Balance (AWB) gives a warm result under tungsten light with the multi-area AWB giving a more accurate and less warm result. The tungsten preset gives the most accurate result. AWB gives good results under fluorescent lighting, with the multi-area AWB giving a slightly better result. There are four different fluorescent presets available, although most of them give a colour cast, and for more accurate results the use of manual white balance is recommended.
Using the Pixel Shift Resolution mode, raw file sizes are much larger as they contain 4 images, compared to the more normal 1 shot. Using this mode, the camera takes 4 shots at slightly different pixel positions and combines them so that you get a sharper image, with better colour detail, although there is the risk of ghosting with moving subjects (like tree branches). Olympus use a similar system for 40 / 50-megapixel images, and this too has issues with moving subjects.
Pentax K-70 Digital filters
Digital Filters - There are a number of different Custom image (colour) settings that can be customised including: Auto Select, Bright, Natural, Portrait, Landscape, Vibrant, Radiant, Muted, Flat, Bleach Bypass, Reversal Film, Monochrome, and Cross Processing.
There are also digital filters: Extract Colour, Replace Colour, Toy Camera, Retro, High Contrast, Shading, Invert Colour, Unicolor Bold, Bold Monochrome, with a few more available in playback when editing raw files. We've shown a number of different examples above. Another option is the Clarity setting which is off on default settings but has 4 levels from 1 to 4.
Video - The K-70 can record Full HD (1920x1080) video at a wide range of frame rates including 60i, 50i, 30p, 25p, and 24p, and HD (1280 x 720) video at 60p and 50p. It records using the MPEG4 AVC/H.264 (MOV) file format.
Auto Focus uses Hybrid AF (Image plane phase-matching and contrast detection), with Single AF (AF, S), or Continuous AF (AF, C). Focus Peaking is also available. Continuous AF is currently only available with a limited number of lenses (HD PENTAX-DA 55-300mm F4.5-6.3ED PLM WR RE or smc PENTAX-DA 18-135mm F3.5-5.6ED AL[IF] DC WR lens).
Sound is recorded using the built-in stereo microphone, and there is an external microphone input on the side. The recording sound level is adjustable. You can record up to 26 minutes or 4GB. Custom Image settings are available as well as the digital filters. Image stabilisation is available and appears to be quite effective, although sometimes struggled to keep the video completely stable when we were recording at 135mm handheld.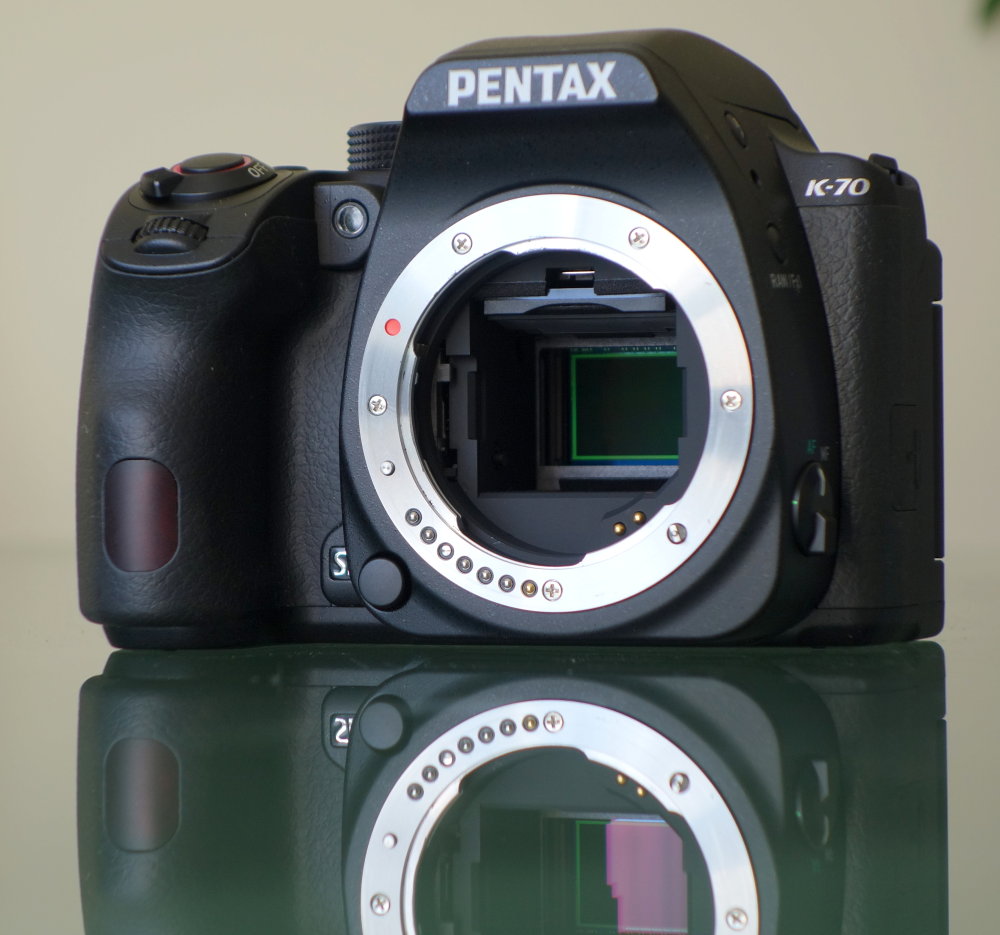 Value For Money
The Pentax K-70 is available for £559 body only, or £799 with 18-135mm lens, which makes it reasonably good value for money, although we would expect the price to drop over time. Alternatives to look at include the following DSLR and DSLR-style mirrorless cameras:
Canon EOS 750D - 24mp, 5fps, Wi-Fi, NFC, FullHD video, £529 body only
Nikon D5500 - 24mp, 5fps, Wi-Fi, FullHD video, £489 body only
Sony Alpha A68 (SLT) - 24mp, 5fps, FullHD video, £480 body only
Olympus OM-D E-M10 II (CSC)- 16mp, 8.5fps, Wi-Fi, FullHD video, £429 body only
Panasonic Lumix G7 (CSC) - 16mp, 8fps, Wi-Fi, 4K video, £379 body only
Fujifilm X-T10 (CSC) - 16mp, 8fps, Wi-Fi, FullHD video, £449 body only
Have a look at more APS-C DSLRs in our Top 10 Best APS-C DSLR Cameras, or have a look at DSLRs for beginners. You'll also need to buy a memory card and a case or bag to keep your camera safe and protected - have a look at our complete guide to camera bags.
Pentax K-70 Verdict
The Pentax K-70 offers a 24 megapixel APS-C CMOS sensor with excellent noise performance, as well as the ability to take extremely sharp detailed images thanks to Pentax' Pixel Shift Resolution feature. This is particularly impressive with still life, but can also be used for landscape photography. As is the case with most Pentax Digital SLRs, the K-70 offers more than your standard Digital SLR, with a shake-reduction sensor built-in, and an anti-aliasing filter simulator so that you have the best of both worlds, a sensor without the AA filter, as well as the ability to simulate it if moire could be a problem.
The camera offers a 3inch vari-angle screen and built-in Wi-Fi, although the remote control app could do with some improvement, as shooting options can feel a little limiting. Image quality is let down by the 18-135mm lens, which can give soft images, and a prime lens is recommended to get the best out of the camera. While the ergonomics of the K-70 have been improved over the K-S2, for those with large hands, and large lenses, the distance between the lens and grip may feel a little tight.
The Pentax K-70 offers the potential for excellent image quality, with impressive noise performance that rivals the competition, and the camera also offers some unique features that set it out as unique amongst Digital SLRs in this price range, including a weather-sealed camera body, AA filter simulator, and Pixel Shift Resolution. For those that have a preference for Pentax' range of lenses, the Pentax K-70 is highly recommended.
---