Pentax K-3 III Review
We review the new Pentax K-3 III DSLR from Ricoh Imaging, and take an in-depth look at the cameras new features, as well as look at image quality from the camera. Find out how the K-3 III performs.
26/07/2021 - 10:42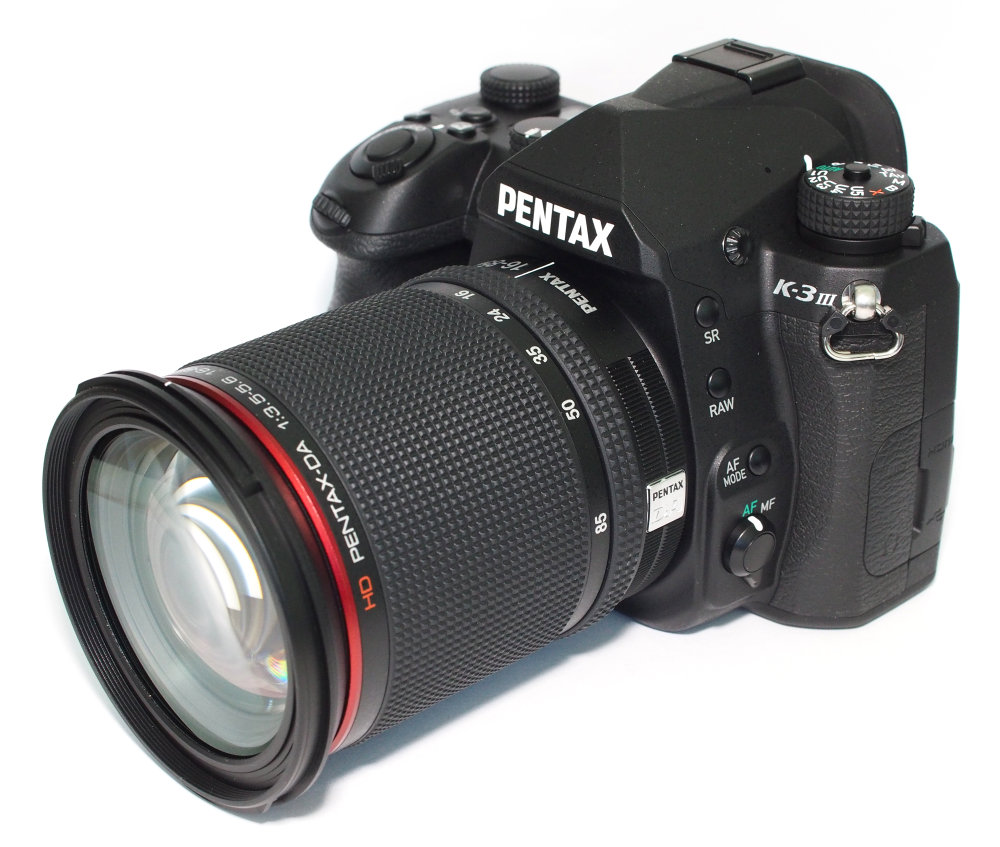 The Pentax K-3 III is the long-awaited update to the Pentax K-3 Mark II, released in 2015, Pentax's flagship APS-C sensor DSLR. The Pentax K-3 III is a 26mp DSLR, with a BSI CMOS sensor, and whilst the rest of the camera market has almost entirely switched to mirrorless cameras, Pentax believes "in the future of SLR photography" with the optical viewfinder being central to this experience.
Pentax K-3 Mark III Features
Looking at the Pentax K-3 III website, the first main point to come up is the optical viewfinder, which offers a 100% field of view, and approx 1.05x magnification (0.7x equivalent), making it one of the largest you'll find in an APS-C DSLR, and an improvement over the K-3 II (with 0.95x magnification) - Pentax say there's also a 10% increase in brightness. There's an eye-sensor to detect when you have the camera held up to your eye, and this will automatically switch the screen off when needed.
"This viewfinder also provides an almost 10-percent increase in brightness, thanks to the improved reflectance of the pentaprism, while also assuring a nearly 100-percent field of view. By incorporating a distortion-compensating optical element and optimizing the lens coatings, it provides natural, true-to-life image rendition with high-magnification observations." - Pentax

Another key update to be found in the Pentax K-3 Mark III can be seen in the new autofocus (AF) system, which now features 101 AF Points (SAFOX 13) when using the OVF-AF system, of these there are 25 cross-type AF points, and you can select 41 individually. The focus system will work down to -4EV with an f/2.8 (or brighter) lens, in the central AF area.
The camera features a new 25.7megapixel BSI CMOS sensor, without an anti-aliasing (AA) filter, to give improved detail and resolution capture. This makes it one of only few APS-C cameras available with a 25.7mp BSI CMOS sensor, with only Fujifilm also using a BSI CMOS sensor.
The K-3 III, like other Pentax DSLR cameras, features a SHAKE REDUCTION (SR) mechanism, SRII, which is an In-Body Image Stabilisation system, which moves the camera sensor in 5-axis, to give up to 5.5stops of stabilisation, by moving the sensor and compensating for camera shake caused by horizontal and vertical shift, roll, pitch and yaw. There is an Auto mode, as well as a panning mode option.
Using the shake reduction system, and the camera's ability to move the sensor, the camera has a Pixel Shift Resolution System, designed to give full-colour information at each pixel, by capturing 4 images of the same scene, but with the sensor slightly shifted. This is designed to work with the camera mounted on a tripod, and ideally with still scenes. However, there is a Motion Compensation feature that can be turned on to help with any motion in the scene. This gives you a 26mp image, with better colour, detail, as well as improved noise control.
There's also an AA (anti-aliasing) filter simulator so that you can reduce moire and false colour if this is an issue in your shots.
There's a new PRIME V image engine (processor) and "second-generation accelerator unit" (processor) to give high-speed performance, and this is said to improve the Pentax Real-Time Scene Analysis System, and autofocus system. Along with the new image processing engines, the camera has a new generation "Fine Sharpness" function that is on by default and is designed to improve the reproduction of detail more naturally and sharply.
Pentax says that the noise reduction system is designed to reduce noise, whilst maintaining detail in the outline of subjects, with Pentax claiming that "even at the top sensitivity of ISO 1,600,000, it delivers a natural, well-defined image with a sharp subject outline and vivid colours." We'll have to have a look at the results to see if this is true.
There's a new RGBIr AE sensor with approximately 307,000 pixels (0.3mp), which detects the subject in greater detail than before, and Pentax says that this is also used to detect the subjects face and eyes in viewfinder shooting. The Real-time Scene Analysis System uses this to provide exposure control and automatic selection of the focus point. This is also used to provide more accurate tracking of subjects in motion.
The K-3 Mark III camera has P, Sv, Tv, Av, TAv, M shooting modes, giving you full manual controls, along with B (Bulb), X (X-sync), 5 User modes, and Auto. The lag between shutter release and image capture has been improved, compared to the K-3 II, and the mirror and shutter drive mechanisms have also been upgraded. There's said to be minimised mirror bounce, and reduced weight of the main mirror unit, which reduces collision energy, and a new damper mechanism.
The K-3 III offers improved compatibility with classic lenses, saving the aperture value as Exif data when you set the aperture using the electronic dial, and you can set the focal length of the lens to make the most of Shake Reduction (SR). It also allows AE photography with the aperture closed-down for M-series lenses.
For continuous shooting, the camera offers 12fps continuous shooting (AF-S), and up to 11fps with continuous AF.
Custom Image control lets you choose from 13 different colour profiles, with options to adjust saturation, hue, high/low key adjustment, contrast, contrast (highlight), contrast (shadow), and fine sharpness.
The camera body features a 3.2inch touch-screen, that is fixed, and does not tilt. There are dual SD card slots, with one of these supporting UHS-II.
Wireless connectivity supports image transfer to a smartphone, and low-power Bluetooth can be used to transfer GPS data to the camera so that images are tagged with GPS location data.
The camera records 4K UHD video at 30 or 24fps, and FullHD video at 60, 30, 24fps, there is no 50/25fps option. When recording video the camera benefits from the shake reduction system, which will help stabilise video. There are mic and headphone sockets, and you can adjust the microphone level (or leave it on Auto), and adjust the headphone volume. You can use the touch-screen to set the focus point, and there are a number of other settings that can be adjusted using the touch-screen.
The camera supports the ASTROTRACER function, with an optional GPS unit. This lets you take astrophotographs, where the camera will move the sensor when needed for long exposure photographs.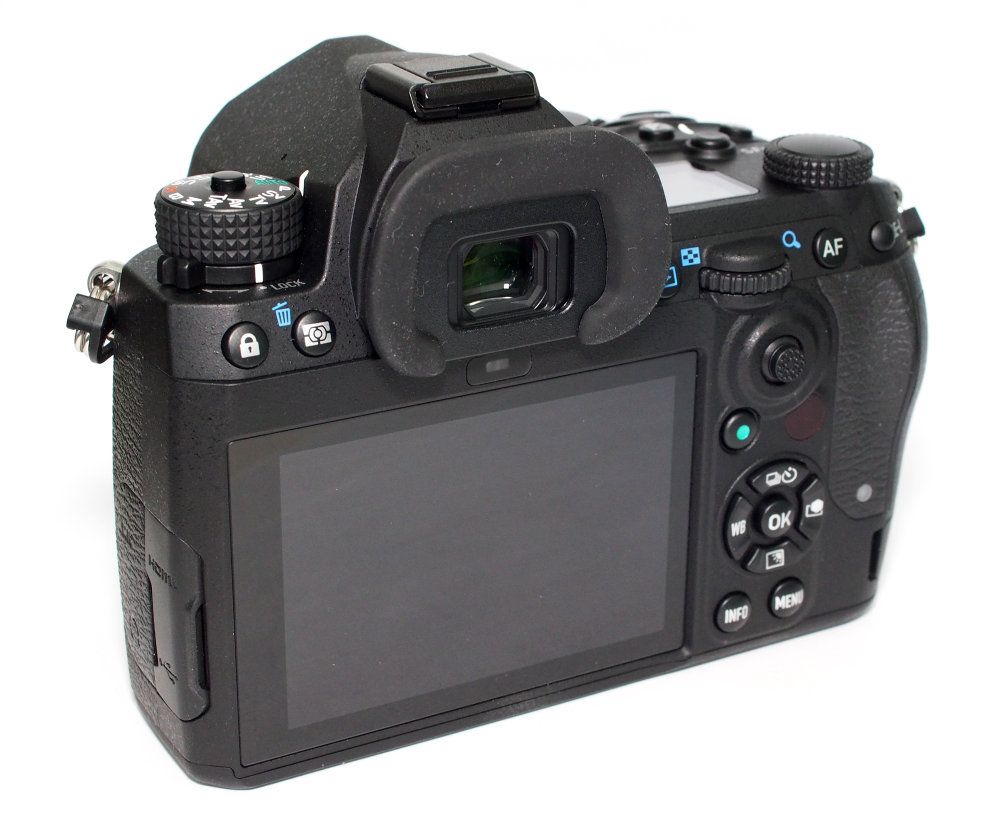 Key Features
25.7mp APS-C BSI CMOS sensor
Pentax K bayonet
In-Body Shake Reduction system, SR II (IBIS)
3.2inch touch-screen, with 1.62m dots
1.05x magnification TTL prism optical viewfinder, with 100%
101 AF Points (SAFOX 13), 25 cross-type
12fps continuous shooting (AF-S), 11fps AF-C
ISO100 to ISO1600000 available
Shutter life rating of 300,000 shots
4K video recording, UHD, 30 or 24fps
FullHD video recording at 60,30,24fps
Weather sealed magnesium alloy body
Wi-Fi and Bluetooth built-in
Available in Black or Silver
Pentax K-3 Mark III Handling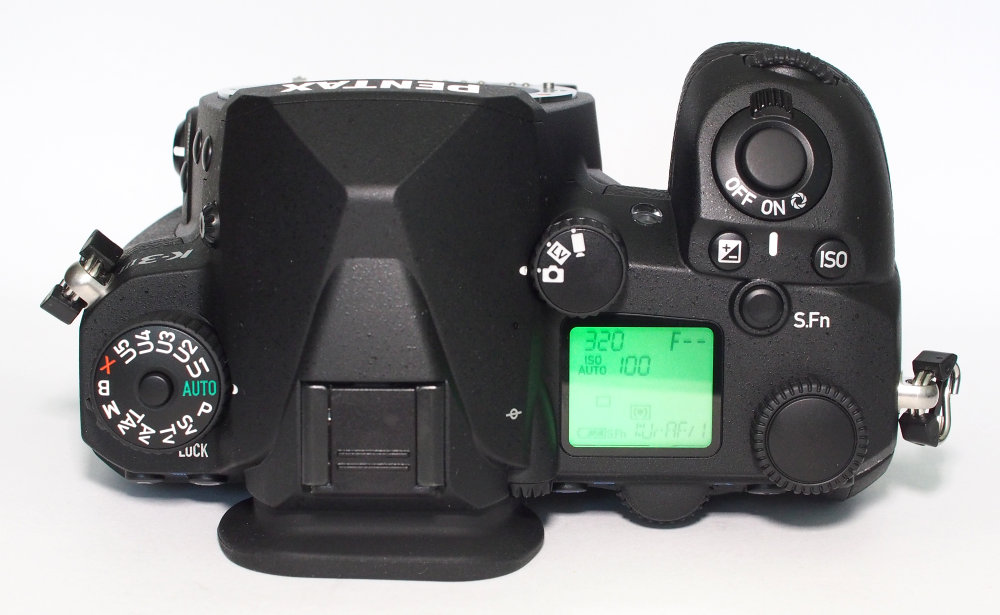 For those who like the feeling of holding a Digital SLR, the Pentax K-3 III has excellent ergonomics, with the grip being particularly comfortable and pleasing to hold. It has the same shutter release button mechanism as the Pentax K-1, using a leaf switch, and the shutter release button feels really nice to use
The body is made from magnesium-alloy, and this includes the top, bottom, front and rear panels. The camera is weather-sealed, and when an AW (All-Weather) or WR (Weather Resistant) lens is mounted, you have a completely weather-sealed camera system.
The top LCD panel provides you with the shutter, aperture, ISO speeds as well as additional information so you can quickly see the cameras settings, battery status, and memory card information, as well as AF information.
The top LCD screen is backlit, and on default settings, this illuminates when you switch the camera on, and when you press the shutter release button. It automatically switches off the illumination (on Auto settings), after a short period of inaction. You can set the screen to manual, and then set one of the custom buttons to switch it on and off when needed, or you can set it to be off at all times. It's unfortunate that there's not a button already dedicated to switch the illumination on and off. However, as there are 10 customisable buttons this is easily resolved.
The Pentax K-3 III features the expected front and rear control dials, plus a third, additional control dial (E-Dial) on the top. This can be used to change settings, such as AF type, or ISO speed, and this can be selected using the S.Fn (Smart Function) button on top of the camera. When you press this button you get to set what the third dial does, from a choice of 5 different things, and these 5 functions can be customised from 22 options. If you do use the E-Dial for ISO control, then it takes the camera out of Auto ISO, as expected, but trying to get back into Auto ISO can take a while - you can either press the ISO button and then the green button, or you can go back into the S.Fn button and switch to Auto ISO there - rather than being able to scroll through to Auto ISO like on other cameras.
It can take a little while to get used to the three control dials, and it's easy to accidentally use the third E-dial accidentally. You can set it so that it's switched off completely (in the menus), so this could be an option for those looking to simplify camera operation, however, it would be nice if you could set up the Smart Function so that you had say 4 options available, and a 5th option where the E-Dial was switched off.
---
Now for some Q&A: What's in the box?
There is no external battery charger provided - these are available separately, however, if you're upgrading from an earlier Pentax, it's likely you already have one.
Q&A: Where can I find the manual?
As there's no printed manual in the box, here's where you can find the manual to download from Ricoh / Pentax.
Q&A: Where can I find the software to use with the Pentax K-3 Mark III?
The provided software "Digital Camera Utility 5" is stored in the internal memory of the camera, and you can access this when you connect the camera to your computer and switch it on, however, make sure you've set the access to CD-ROM in the settings menus. Here are the instructions you'll need to follow:
The software can be installed by following the procedure below.
Set [USB Setting] to [CD-ROM] in the D4 menu.
Turn the camera off.
Connect the camera to a computer using a USB cable.
Turn the camera on. The camera is recognized as CD-ROM [S-SW177].
Open [S-SW177] on the computer. The [Win] or [Mac] folder appears.
Open the [Win] or [Mac] folder.
Double-click [setup32.exe] or [setup64.exe] for Windows, or [INSTPUT5.pkg] for Mac.For subsequent steps, follow the on-screen instructions.
Return [USB Setting] to [MTP] in the D4 menu.
Turn the camera off and back on.The [USB Setting] setting switches to [MTP].
With "Digital Camera Utility 5", you can develop RAW images, make colour adjustments, or check shooting information on the computer.
You'll find this vital piece of information in the full manual (or above, on this page), it would be nice if this information was provided on a piece of paper in the box, or alternatively why not just let users download it from the Pentax website? In answer to our own question, you can download it from Pentax's website, however, it informs you that you have to install the (original) software before installing the update on the Pentax website. We ignored this and installed the software from the website without any problems.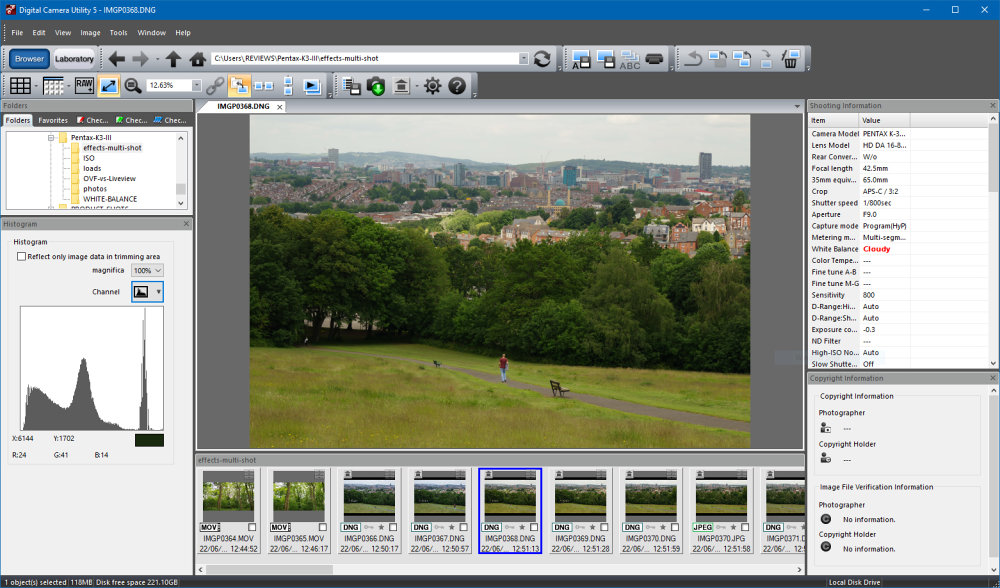 Pentax K-3 III - Digital Camera Utility 5
Q&A: Is Digital Camera Utility 5 the same as SilkyPix?
No, but it's based on SilkyPix software, so the interface and controls will be familiar to anyone who has used SilkyPix.
Q&A: Do I have to use Digital Camera Utility 5 / SilkyPix?
No, you can use any photo software compatible with Pentax K-3 III PEF raw files, or switch the camera to shoot AdobeDNG raw files, and then this will make it possible to open raw files on older software.
---
There are 101 AF points, vastly more than the 27 found on the K-3 II. You can select 41 of these points, and 25 are cross-type sensors (found in the central area of the image). You can select Auto area, Zone select, Select, Expanded select area, Select and Spot, and the joystick on the back lets you set the focus point more quickly. Focus works down to -4 EV, when using an f/2.8 lens. The 307,000 pixel RGBIr image sensor is used to provide tracking of subjects, includes faces and birds, to help the camera focus more accurately.
The optical viewfinder (OVF) overlay is a little difficult to see at times, indoors and outdoors mostly, and the focus points that light up red, are also quite dull, and disappear quickly. You'll also find that there isn't much of a protrusion, and we'd prefer it if the OVF extended further back out of the camera, so that your nose isn't so close to the camera body and camera screen. The camera settings such as shutter speed, aperture, ISO speed and other camera settings are shown clearly at the bottom of the OVF.
You can use the 3.2inch touch-screen to change settings and options, as well as scroll through the menus. When using the screen, there were often times when photos look overexposed on the rear screen, and in live-view images look brighter and whiter than they actually are, so if you're shooting product shots, the white background will look correctly corrected, and white, however, when you look at them on your computer, you'll find they will have a yellow tone (depending on your white balance settings).
If you're using live-view or video recording, then the lack of a tilting screen can be frustrating, and for the most part, you may want to use the optical viewfinder. However, if you're used to a fixed screen, then this may not be an issue for you.


Menus - The menu system found on the K3 III has been updated. You can choose the colour theme, we went for blue, however, the camera is also set up so that every section uses this colour theme, so the photo menus, the playback menus, the custom settings menus, and the setup menus are all the same colour. We much prefer different sections to have different colours, so you can quickly see where you are in the menus. If you're used to using an earlier Pentax camera, then it may take a while to get used to the new menu system. One really nice feature of the new menus is the built-in help system, which explains functions, options and settings in an easy to understand manner.


Battery life - Battery life is rated at 800 shots according to Pentax / CIPA test results, which is quite good but is likely to be less when using live view. The camera takes the same battery as previous Pentax cameras but does not include an external charger in the box. The battery is therefore charged in-camera using the USB Type-C connection, you can also use the camera whilst powering it over USB. There's an optional D-BG8 battery grip available.
Whilst you can shoot at up to 12fps, the number of shots is fairly low, with 36 JPEG (SF) shots / 27 RAW+JPEG shots possible, before slowdown/stopping. The camera has 2 SD card slots, however, only the first one is UHS-II.
Pentax K-3 Mark III Performance
The performance section is where we look at the image quality performance of the camera. Additional sample photos and product shots are available in the Equipment Database, where you can add your own review, photos and product ratings.
[HOOK]position_1[/HOOK]
Pentax K-3 III Sample Photos
Sample Photos - Photos taken with the K-3 Mark III show excellent colour reproduction on default settings, with bright saturated colours, and images look great. Images aren't as sharp as we would have liked to see with the 16-85mm kit lens we were provided, however, we suspect that ours was a poor example. On the subject of sharpness, JPEG images are soft, and better results can be achieved by converting raw images, and we've included examples below.
In use, if you switch to live view, you'll find that your camera settings (for example AF settings) are switched when you move over to Live view, and you lose access to the useful rear display control panel.
Face detection is designed to work in both when using the optical viewfinder, and liveview. We found the camera's face detection to work best in liveview mode.
Focus isn't as rapid as we were expecting, particularly in darker conditions, but was rapid in good lighting, when using the 16-85mm lens, which was provided for review with the K-3 III. The first sample of the 16-85mm lens provided was badly out of focus on the right-hand side of the image, which was disappointing, however, a replacement performed much better. It's likely that better results will be possible with an alternative lens, either a good kit lens, such as the 18-135mm lens we also used, or a prime lens.
Pentax K-3 III Lens test images
Lens Performance - We used the 16-85mm lens (the first version was faulty, with a decentred lens), a replacement 16-85mm lens performed much better, with sharper results, but with quite noticeable levels of chromatic aberrations (CA) despite CA correction being switched on. We also used an 18-135mm lens, that performed well for a kit zoom lens, with the added optical zoom being a welcome addition. You can read our Pentax 16-85mm, and Pentax 18-135mm lens reviews to see how these lenses perform in more detail. Lens correction options are built-in and include options for Lateral Chromatic aberration (CA), Distortion, Diffraction (at smaller apertures), and vignetting.
Hi-Res Multi-Shot Mode - This gives you a sharper more detailed JPEG image compared to the standard JPEG images.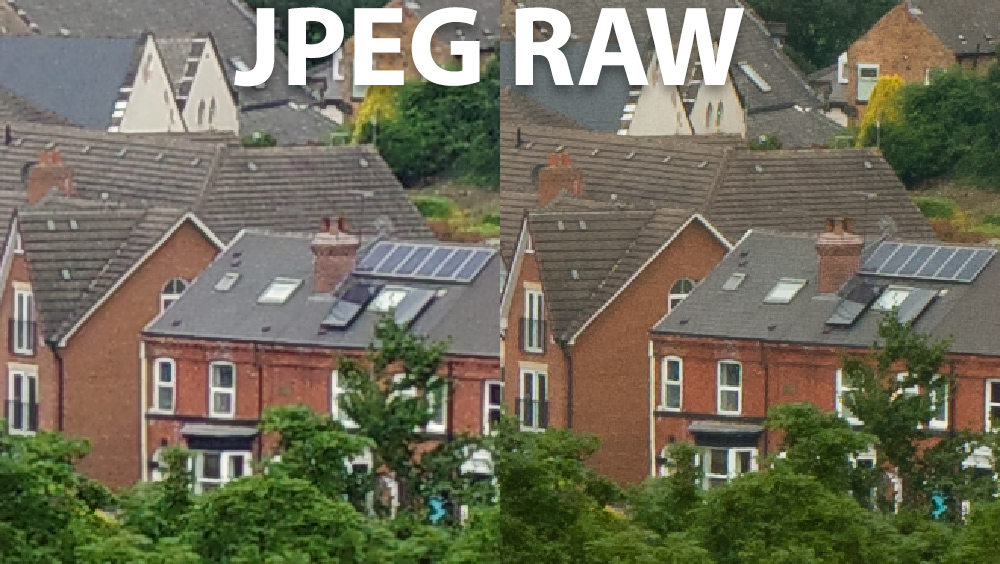 Standard shot (Bright Image settings, default), JPEG vs RAW, enlarged view (150%).
You can also get sharper, more detailed images, by opening normal raw files in Photoshop, with these looking considerably sharper than the JPEG images, as shown above, in this enlarged view.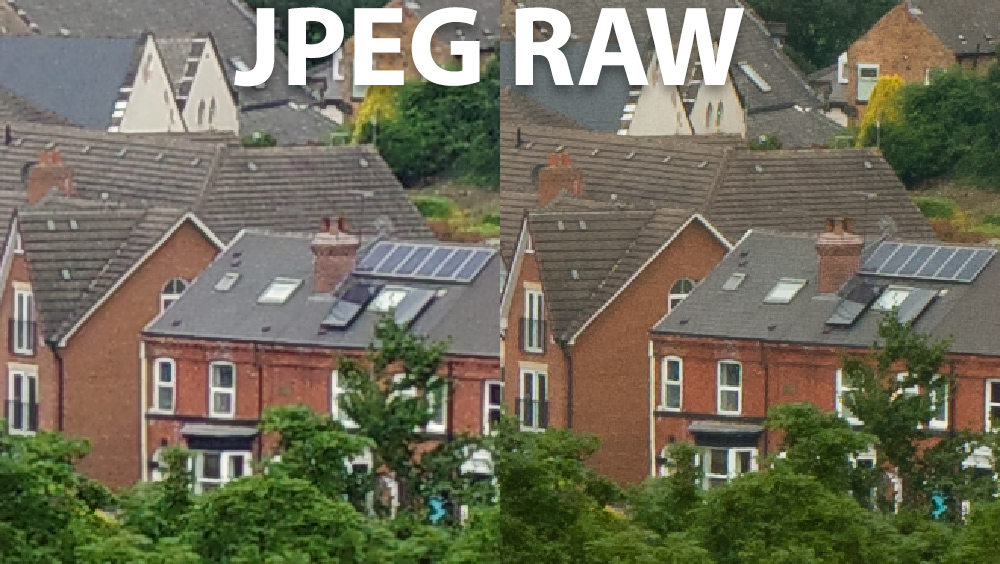 Multi-shot - Similarly, the multi-shot raw images are sharper than the JPEG versions, but the difference between a multi-shot image and a normal shot isn't as big as you might expect.
There are a wealth of image settings you can adjust in the camera to improve the JPEG image quality output from the camera, and on default settings, JPEG images come out looking soft compared to other cameras.
Pentax K-3 III ISO test images
ISO Noise Performance - Noise performance is good, and depending on the shooting situation, we'd be happy to shoot at some of the higher ISO speeds. However, as with all cameras, using the lower ISO speeds is going to get you more detail, and cleaner images. The lowest ISO speed, of ISO100, shows a reduction in dynamic range captured. Very fine detail starts to drop off at around ISO1600, but noise remains well controlled, up to about ISO12800 / ISO25600, where it becomes more damaging to the image. As the ISO speed is increased, noise also increases, but you could use ISO51200 and ISO102400 if you really needed to (and colour saturation remains good). Above this images look awful, and it's best to not use these higher ISO speeds. One thing that might be worth noting, is that even at the highest ISO speed of ISO1.6million, you can still read the white text of the test chart, so perhaps for night surveillance, this could be useful, depending of course, on your needs.
When we reviewed the K-3 Mark II, we said that ISO25600 and ISO51200 were best reserved for emergency use only. In comparison, the K3 III gives vastly improved noise performance at ISO25600 and above. However, we still wouldn't recommend using ISO51200 or above, unless it's the only way you'll be able to capture the shot.
There are a variety of noise reduction options including slow shutter speed noise reduction, High ISO noise reduction options of Auto, Low, Medium, High, and Off, as well as Custom settings for this, letting you adjust the noise reduction amount for each individual ISO speed. We took these shots on Auto settings.
Pentax K-3 III White-balance test images
White Balance Performance - White balance options include all the usual presets, plus CTE (Colour Temperature Enhancement), 3 manual settings, and 3 Kelvin settings. There's an option to "Auto adjust for source" plus the option to set Auto White Balance correction for Tungsten lighting to High or Low.
As you can see, under Tungsten lighting, all of the Auto White Balance options gave a warm image, even with correction set to High (there was minimal difference between high and low correction). Using Live-view the images looked correctly corrected (which a white background), so couldn't be trusted as a totally accurate guide for white balance settings (in this indoor shooting situation). The Tungsten preset gave a more corrected result under Tungsten lighting. Under mixed lighting, the camera gives a warm result. The camera's AWB performs well under fluorescent lighting, and the Fluorescent preset we chose does a good job here. AWB performs well under daylight (window light), and outdoors in other shots.
The multi-shot pixel shift "high-resolution" mode gives an image with slightly more detail, and improved noise performance, thanks to combining 4 images, taken with full RGB colour information for each pixel.
Pentax K-3 III Digital filters
Digital Filters - The camera gives you a number of Custom Images to choose from, including Auto, Bright, Natural, Portrait, Landscape, Vibrant, and more. Each of these can be customised, with options to adjust saturation, hue, high/low key adjustment, contrast, contrast (highlight), contrast (shadow), fine sharpness, with additional options available when shooting monochrome images (including toning, and filter effects).
Video - There is a crop when recording 4K video, and you can record resolutions up to 4K UHD 30p. Whilst the Pentax K-3 III is not likely to be your first choice when recording video, as you may want 4K 60p video at this price point, it does have microphone and headphone sockets, which will benefit those interested in video recording. There is also a flat profile available (but no "Log" profile). The lack of a tilting screen is likely to be a drawback for video - particularly vlogging.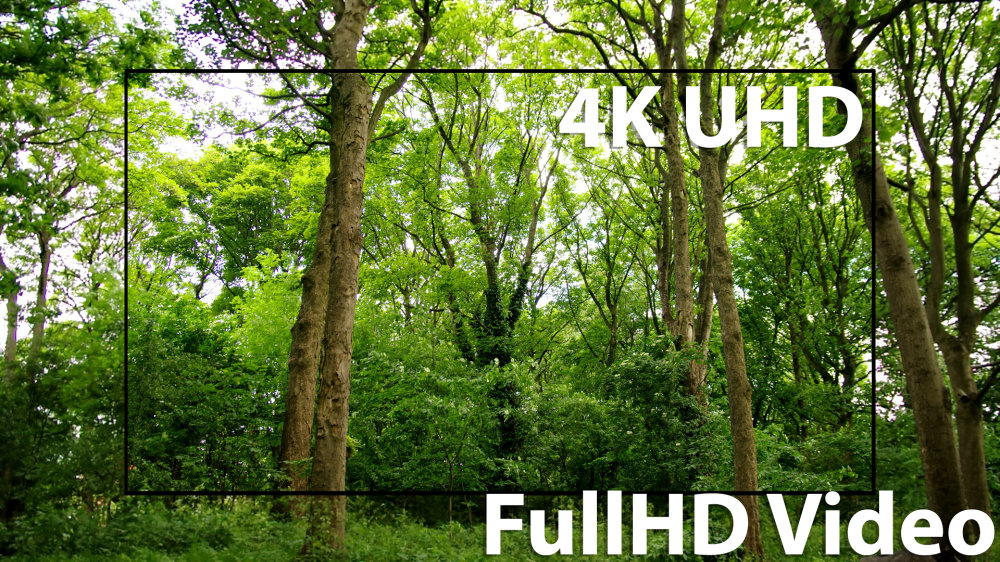 Video Crop FullHD Vs 4K UHD Crop
The in-camera shake reduction (SR) system can help keep video steady but does struggle when panning handheld. We recorded the following video with wind reduction switched on, however, this didn't entirely reduce wind noise. We also found the Auto setting for microphone level left us with audio that was too loud, with too much gain in quieter recordings, so you'd be wise to manually set the audio level.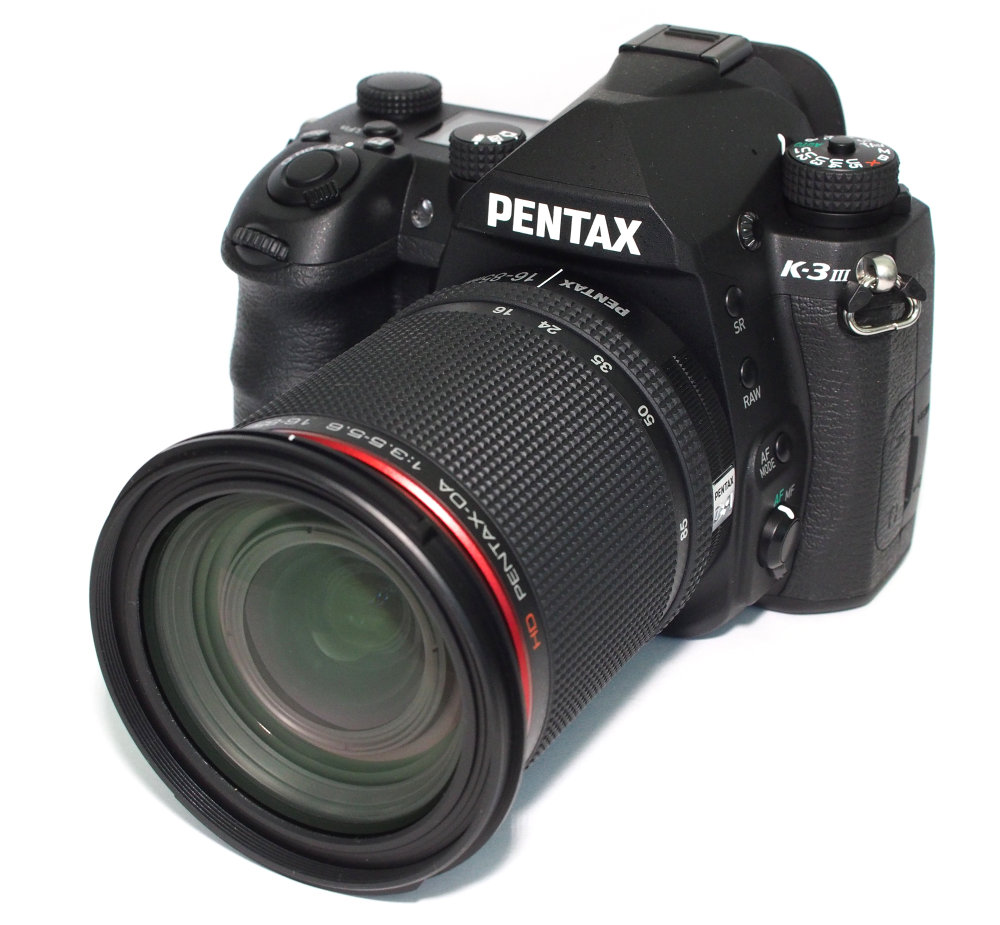 Value For Money
The Pentax K-3 Mark III is available for £1899 body only. This makes it quite an investment, and a massive contrast to the price of the Pentax K3 II when first introduced (around £769 body only). At a similar price, you can also buy the 36mp full-frame Pentax K-1 II for much less (£1649 body only), another alternative would be the Nikon D500 (20mp, 10fps, 4K video, tilting screen), which is available for £1479 body only, or the 32mp Canon EOS 90D (10fps, 4K video, vari-angle screen), available for around £1249 body only. However, this could all be considered a moot point, if you're a Pentax user, and have a range of Pentax lenses to use with the system.
[HOOK]position_1[/HOOK]
Have a look at more options: Best Full-Frame DSLRs, Best APS-C DSLRs or have a look at the mirrorless options available: Top 20 Best Premium Mirrorless (with EVF), Best Full-Frame Mirrorless Cameras. You'll also need to buy a memory card and a case or bag to keep your camera safe and protected - have a look at our complete guide to camera bags.
Pentax K-3 Mark III Verdict
For those looking for a DSLR, then the Pentax K-3 III is one of the best APS-C DSLRs available, with a 25.7mp APS-C BSI CMOS sensor and Shake Reduction (SR) system, giving great image quality, with low levels of noise, and excellent colour reproduction. There's a good size 3.2inch touch-screen, and a large 1.05x magnification optical viewfinder.
However, there are things we wish were different, including the screen, which doesn't tilt, making low or high-angle shooting more difficult. Another thing we think could have been better is the positioning of the optical viewfinder eye-cup, as the design of the camera means you feel like you're literally putting your whole face up to the camera to use the optical viewfinder, and this makes it difficult to avoid your nose touching the camera. Whilst not very deep, the soft rubberised eyecup is quite comfortable, and you could always change the eyecup if you wanted.
It's also hard to argue with the excellent ergonomics of a DSLR design, with a large comfortable handgrip, and controls that are easily within reach. There are the usual front and rear command dials, plus a third dial that can be customised to your own tastes.
There are a number of minor niggles, that we wish were different, but these are things you could easily get used to or workaround. The tilting screen could be a deal-breaker for some, but for others, it could be the price that puts this camera out of reach. For sports photography, 12fps continuous shooting is impressive, 11fps with continuous AF, however, the small number of shots possible is a shame. For the price, we think the omission of an external battery charger is disappointing. We also found it difficult to find the software, as it's stored on the camera's own internal memory, but there is no leaflet or note in the box to tell us this, and no printed manual, although hopefully a "Quick Start" note will be included in future.
If you own a Pentax camera already and own Pentax lenses, then the Pentax K-3 III is an excellent option, with the highest resolution APS-C sensor Pentax has ever used, giving you the best image quality possible from an APS-C Pentax DSLR. You also benefit from the new AF system, faster continuous shooting, built-in Wi-Fi and Bluetooth, a larger optical viewfinder, and of course the Pentax Shake Reduction system.
Own this product? Let us know what you think of it in the EQDB.
Here's where you can find the manual to download from Ricoh / Pentax.
Spotted a mistake? Let us know in the EQDB.
---