Pentax K-1 Hands-On Preview
We go hands-on with the new full-frame Pentax K-1 Digital SLR, with a weather sealed body and unique tilting screen.
17/02/2016 - 22:19
The Pentax K-1 is Pentax's long-awaited full-frame Digital SLR, and it brings all of Pentax's technology such as weather-sealed camera bodies, shake-reduction sensor, pixels shift resolution and more to the camera community. Compatible with all Pentax K mount lenses since the mid 1970s, the K-1 has a 36 megapixel full-frame sensor and to get the best results from this camera Pentax FA and other full-frame lenses are recommended.
The Pentax K-1 will be released in April for £1599 body only, with a number of new full-frame lenses, including a new 15-30mm ultra wide-angle lens and a 28-105mm standard zoom lens.
Pentax K-1 Features
The Pentax K-1 is designed to be the full-frame Digital SLR Pentax owners have been long asking for, and with a competitive price point, it may tempt users of other camera systems. The heart of the Pentax K-1 is a 36 megapixel full-frame CMOS sensor with an ISO range of ISO100 to ISO204800. The camera can focus down to -3EV and has 33 AF points, with 25 of these cross-type points.
A unique feature of the K-1 can be found on the back with a "Flextilt" 3.2inch tilting / rotating screen, with 1037k dot resolution and a gapless design for better outdoor viewing. This can be tilted left and right, as well as down, and up 90 degrees, or moved away from the camera body, and the system that holds the screen is strong enough to support the weight of the camera if you were to accidentaly hold the camera using the screen. The camera features a weather-sealed camera body, and for low-light use, there are a number of lights to assist operation, including a light that will illuminate the lens mount so you can still change lenses in low-light.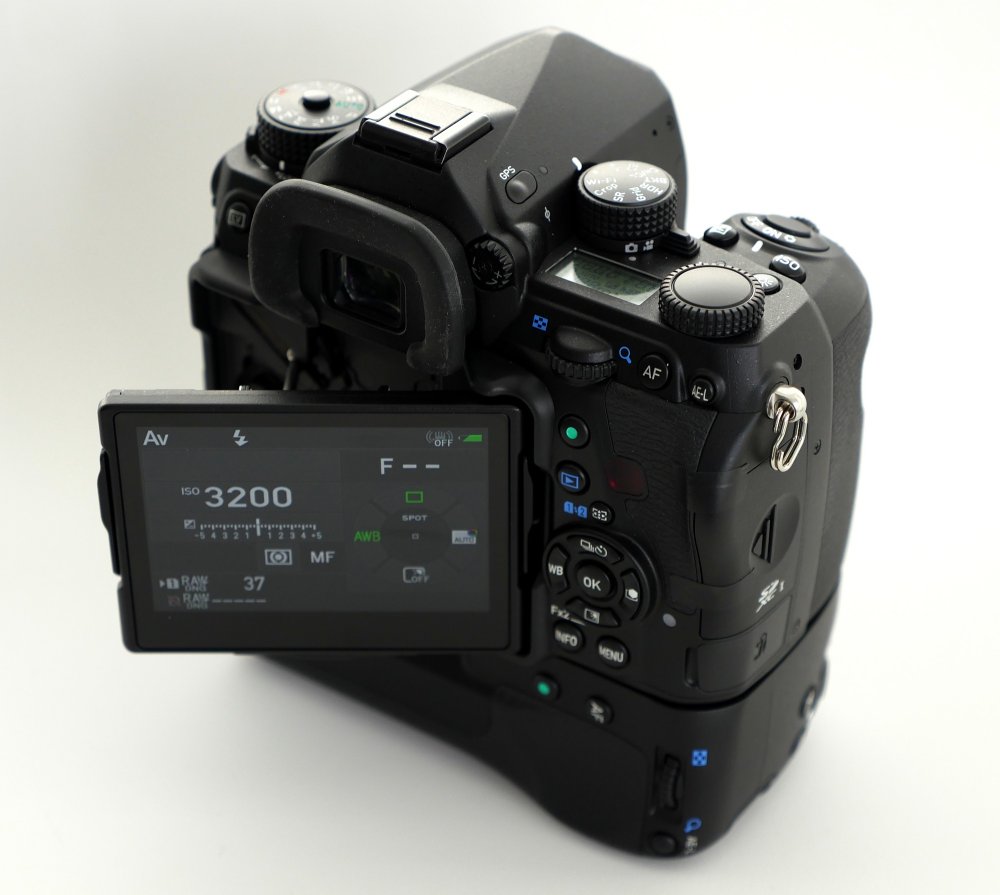 The camera features in-camera image stabilisation - 5-axis image stabilisation using Pentax's Shake Reducation II (SR II) system, for up to 5 stops of image stabilisation. The system also has built in panning detection. Like the Pentax K-3 II, this can be used for Pentax's pixel shift resolution technology which increases the image resolution and colour accuracy by taking a number of images and combining them. Pixel shift resolution is designed to be used on a tripod with non-moving subjects, however there is also pixel shift motion correction for when there are moving subjects in the shot.
A floating mirror system reduces the size of the camera's mirror box so that the camera's depth is kept to a minimum, at 86mm compared to the Pentax K-3 II 76mm depth, and the camera weighs 960g without battery and SD memory card, or 1010g with.
Pentax K-1 Key Features
36.4MP 35mm Full-frame CMOS Sensor
Prime IV 14-Bit Image Processor
3.2inch Flextilt gapless screen, 1037K dots
SRII: In-built Shake Reduction, 5-axis, 5stops
ISO100 up to 204,800
300,000 shutter rating, 1/8000s shutter speed
Pixel Shift Resolution Motion Capture
AA Filterless with AA Simulator
100% Field of View Pentaprism Viewfinder, 0.7x magnification
4.4fps full-frame JPEG L (70 frames, 17 raw)
6.5fps APS-C JPEG L (100frames, 50 raw)
33-AF points -3 EV, 25cross type
Weather Resistant with Magnesium Alloy Body
Wi-Fi connectivity built in
FullHD Video 60i,50i,30p,25p,24p
GPS, Electronic Compass, Astrotracer
Operation assist light
Lightroom plugin for tethered shooting (Image transmitter 2 is optional extra for live view tethered shooting)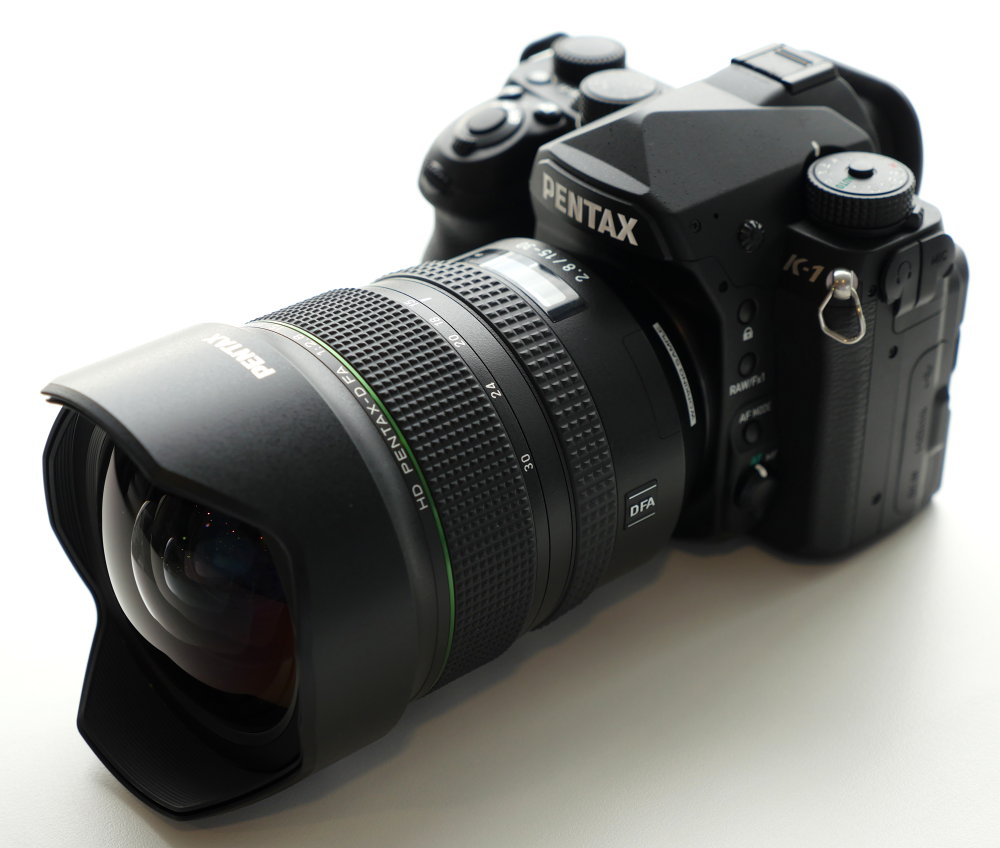 The Pentax K-1 works with all Pentax K mount lenses from 1975, and all FA lenses will work with the camera using the full-frame. DA lenses will work in cropped mode automatically, producing a 15mp image (can be manually turned on/off as necessary). AF points cover almost all of the APS-C area. The Pentax K-1 is introduced with a new ultra wide-angle 15-30mm WR lens (shown above, along with a 28-105mm WR lens. The K-1 will also work with the recently launched full-frame 24-70mm f/2.8 (shown below), 70-200mm f/2.8, and 150-450mm f/4.5-5.6 lenses.
Pentax K-3 Video Features
Full HD Movie Recording
60i/50i/30p/25p/24p
Up to 25 minutes or 4GB
4K Timelapse
Multiple custom image and digital filter options
Built in stereo mic
External microphone and headphone jack
Pentax K-1 Handling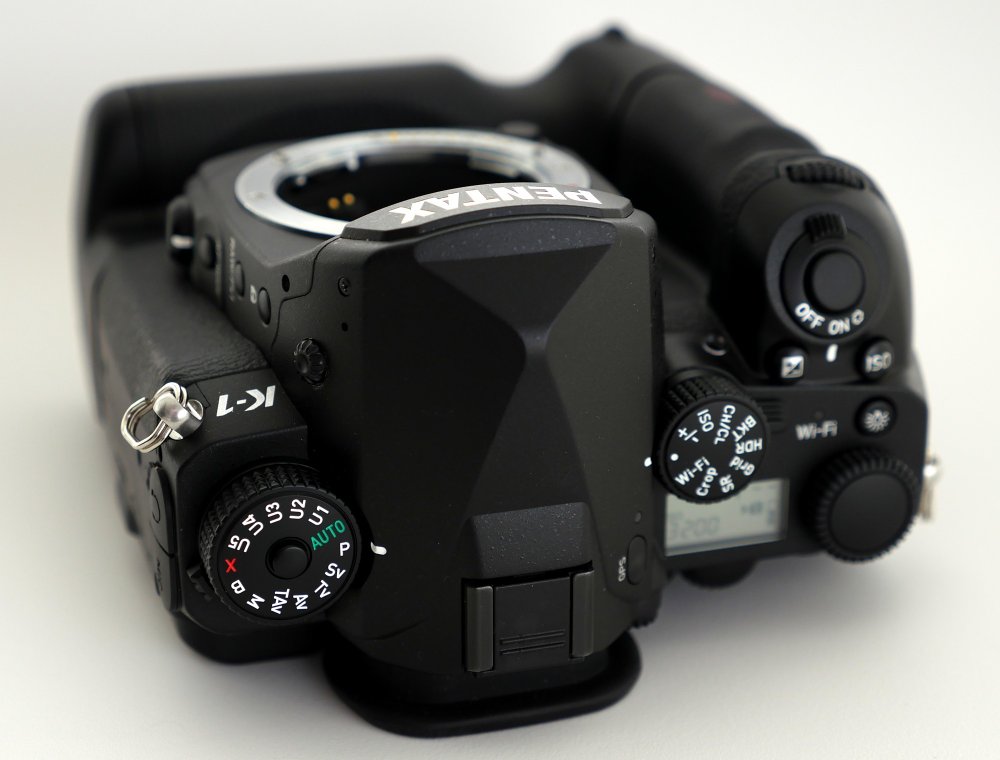 The top mode dial has all the usual modes you come to expect with Pentax cameras, plus 5 custom modes. The locking mode dial can be locked and unlocked with a switch, and when it is locked you simply press the middle button to change the mode. A new top dial, on the right, lets you set the new command wheel operation on the very right of the camera - so for example you could set the dial to ISO and then have direct and quick access to change the ISO settings. The screen is clear and easy to see, and is designed to work outdoors, with a bright display mode option. There is also a customisable Info screen, to give you quick access to settings. The menus appear to have had a slight refresh, and are clear and easy to read.
When using the Pentax K-1, the 33 focus points are quite central, with 25 cross-type focus points. There is a reason for the focus points being in the central area of the frame, and that is so that they are all available when shooing with an APS-C lens, and the 33 focus points cover most of the APS-C image area.
The K-1 has a solid feel and premium design, along with excellent build quality and a toughness that you come to expect with weather-sealed Pentax DSLR cameras. There is an optional battery grip that is also weather-sealed. The camera has a battery life that is rated at 760 shots, although this can be extended with the optional battery grip. The K-1 feels extremely solid, and with a new pentaprism and a top design that features bold PENTAX lettering, we think it has the look of a Pentax K-3 II mixed with the medium-format Pentax 645Z.
The camera has a top LCD display that can be illuminated, and operation assist lights show you the buttons, lens mount, sd card slot, and remote release socket, so you can use the camera in the dark.
Due to the Pentax K-1 being an early sample, we weren't able to capture images with the camera at the time of the preview but once a production version of the camera becomes available we will be putting the camera through its paces for a full review. For more information have a look at the Pentax K-1 announcement.
Pentax K-1 Hands-On Photos of Equipment
---