Pentax K-1 Full Review
Read our full review of the new full-frame 36 megapixel Pentax K-1 Digital SLR, with a weather sealed body and unique tilting screen.
29/04/2016 - 14:00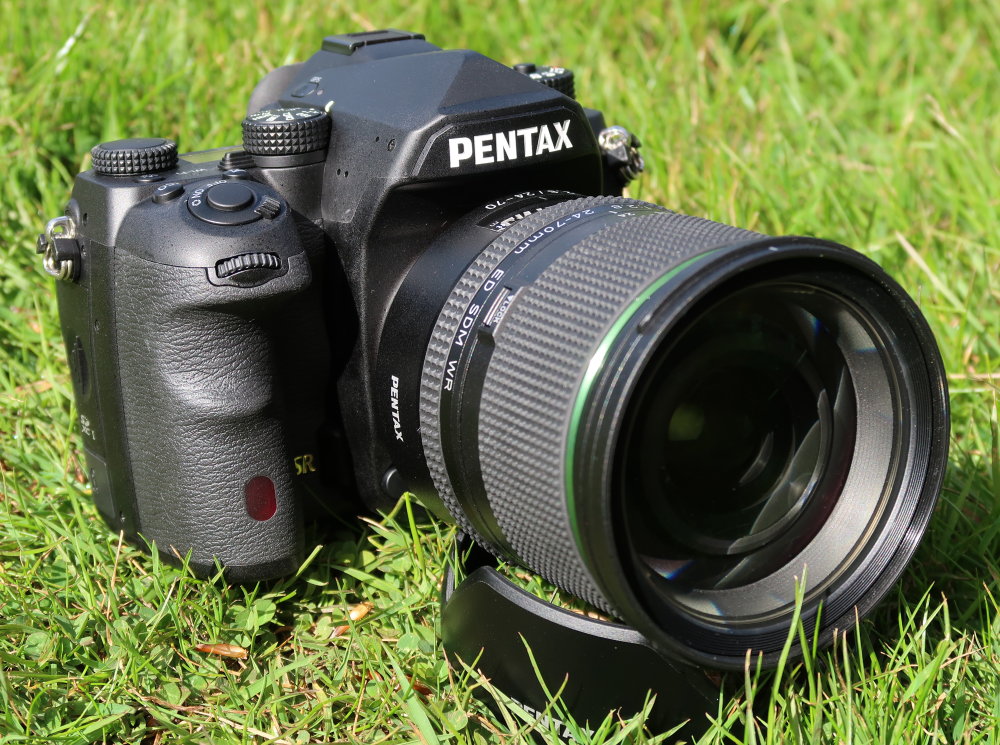 The Pentax K-1 is Pentax's long-awaited full-frame Digital SLR, and it brings all of Pentax's technology including weather-sealed camera bodies, shake-reduction sensor, pixel shift resolution and more to the camera community. Compatible with all Pentax K-mount lenses since the mid-1970s, the K-1 has a 36-megapixel full-frame sensor and to get the best results from this camera Pentax FA and other full-frame lenses are recommended.
The Pentax K-1 is available for £1599 body only, with a number of new full-frame lenses being released with the camera, including a new 15-30mm ultra wide-angle lens and a 28-105mm standard zoom lens.
Pentax K-1 Features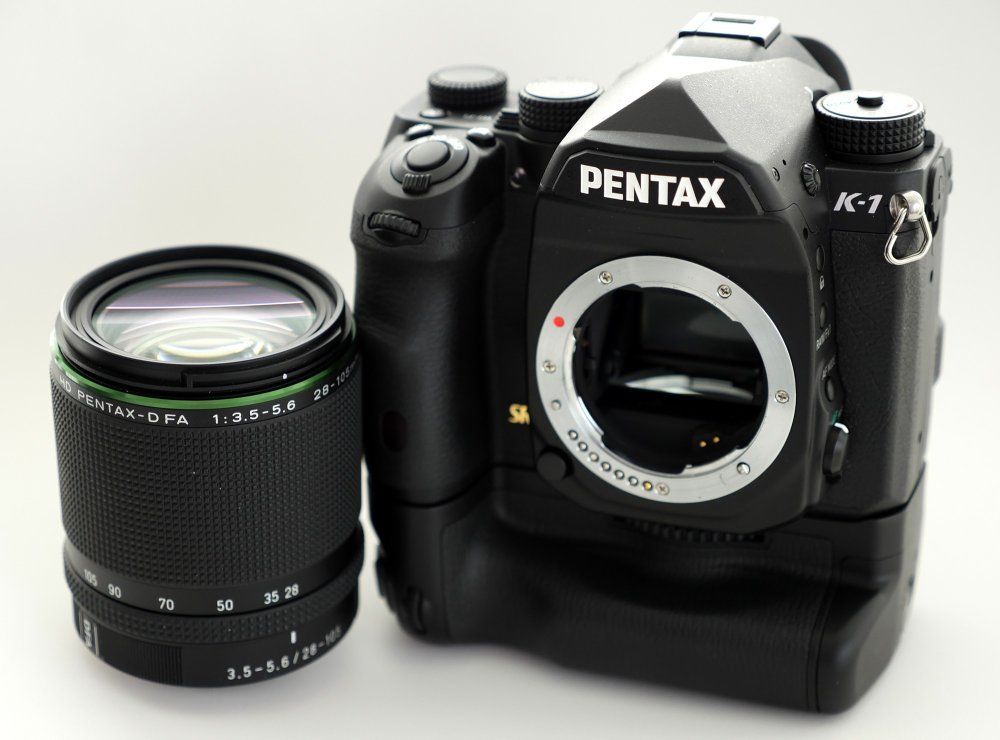 The Pentax K-1 is designed to be the full-frame Digital SLR Pentax owners have been long asking for, and with a competitive price point, it may tempt users of other camera systems. The heart of the Pentax K-1 is a 36 megapixel full-frame CMOS sensor with an ISO range of ISO100 to ISO204800. The camera can focus down to -3EV and has 33 AF points, with 25 of these cross-type points.
The heart of the Pentax K-1 is a 36 megapixel full-frame CMOS sensor with an ISO range of ISO100 to ISO204800.
A unique feature of the K-1 can be found on the back with a "Flextilt" 3.2inch tilting / rotating screen, with 1037k dot resolution and a gapless design for better outdoor viewing. This can be tilted left and right, as well as down, and up 90 degrees, or moved away from the camera body, and the system that holds the screen is strong enough to support the weight of the camera if you were to accidentally hold the camera using the screen. The camera features a weather-sealed camera body, and for low-light use, there are a number of lights to assist operation, including a light that will illuminate the lens mount so you can still change lenses in low-light.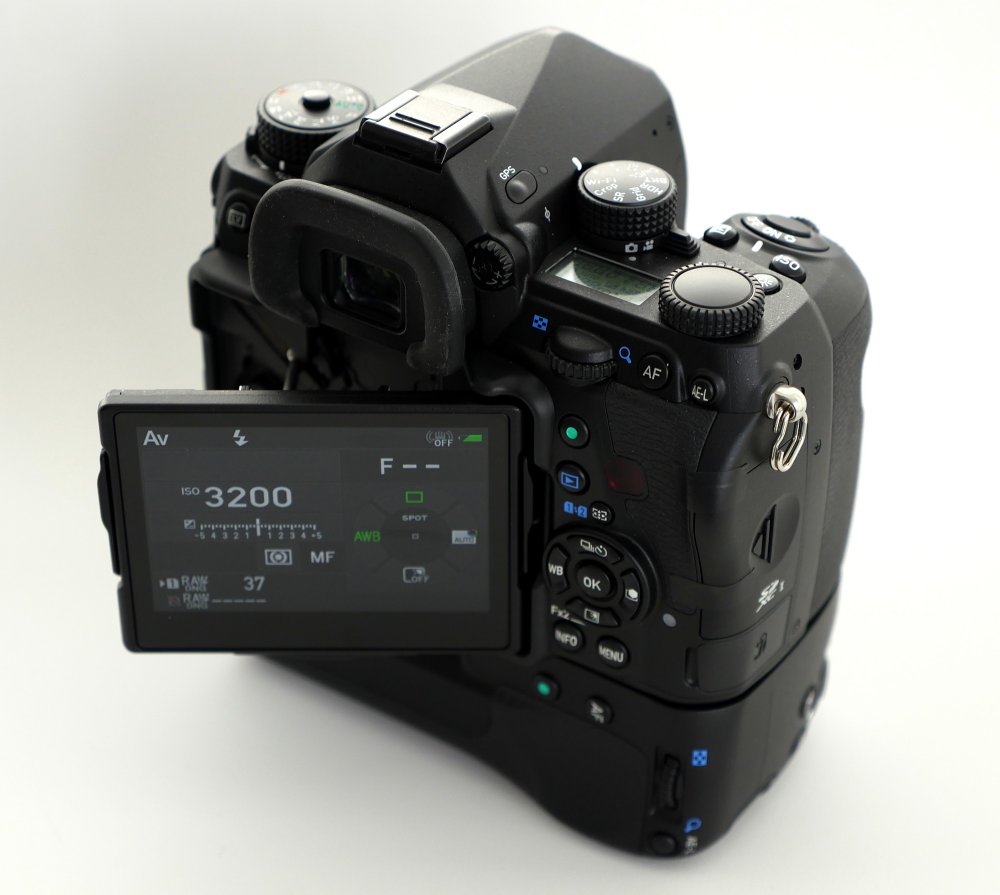 The camera features in-camera image stabilisation: a 5-axis image stabilisation system using Pentax's Shake Reduction II (SR II), for up to 5 stops of image stabilisation. The system also has built-in panning detection. Like the Pentax K-3 II, this can be used for Pentax's pixel shift resolution technology which increases the image resolution and colour accuracy by taking a number of images and combining them. Pixel shift resolution is designed to be used on a tripod with non-moving subjects, however there is also pixel shift Motion Correction (MC) for when there are moving subjects in the shot.
The main competitors are the Nikon D810, which is a 36 megapixel full-frame camera, and the Canon EOS 5D Mark III and Canon EOS 5DS / 5DS R, and also available is the mirrorless Sony A7R Mark II. Here we compare some of the main features, and highlight the best in each:
| | | | | |
| --- | --- | --- | --- | --- |
| Nikon D810 | Pentax K-1 | Canon 5D III | Canon 5DS / 5DS R | Sony A7R II |
| 36.3mp FF | 36.4mp FF | 22.3mp FF | 50.6mp FF | 42.4mp FF |
| Lens based IS | Sensor based IS | Lens based IS | Lens based IS | Sensor based IS |
| No OLPF | AA filter less** | OLPF | With / Cancellation OLPF | No OLPF |
| 3.2inch | 3.2inch flex-tilt | 3.2inch | 3.2inch | 3inch tilting |
| 0.70x OVF | 0.70x OVF | 0.71x OVF | 0.71x OVF | 0.78x EVF |
| ISO32-ISO51200 | ISO100-ISO204800 | ISO50-102400 | ISO50-ISO12800 | ISO50-102400 |
| 51 AF points | 33 AF points | 61 AF points | 61 AF points | 399 AF points |
| -2 EV | -3 EV | -2 EV | -2 EV | -2 EV |
| 5fps | 4.4fps | 6fps | 5fps | 5fps |
| FullHD video | FullHD video | FullHD video | FullHD video | 4K video |
| 900 shots | 760 shots | 950 shots | 700 shots | 340 shots |
| N/A | GPS / Wi-Fi | N/A | N/A | Wi-Fi |
| 980g inc bat/SD | 1010g inc bat/SD | 950g body only | 845g body only | 625g inc bat / SD |
| £1899 body only | £1599 body only | £1999 body only | £2599 / £2799 body | £2499 body only |
Nb. OLPF = Optical Low Pass Filter aka AA (Anti-aliasing) Filter. ** The K-1 offers AA filter simulation options.
The Pentax K-1 is the most affordable high resolution (36mp+) full-frame DSLR camera available currently, with only lower resolution full-frame cameras available for less, for example, there is the 24 megapixel Sony Alpha A99 (£1479), Nikon D750 (£1389), and Nikon D610 (£999), and 20 megapixel Canon EOS 6D (£1119). There is the mirrorless Sony Alpha A7R, with 36 megapixel sensor, however this does not feature in camera image stabilisation.
A floating mirror system reduces the size of the camera's mirror box so that the camera's depth is kept to a minimum, at 86mm compared to the Pentax K-3 II 76mm depth, and the camera weighs 960g without battery and SD memory card, or 1010g with.
Pentax K-1 Key Features
36.4MP 35mm Full-frame CMOS Sensor
Prime IV 14-Bit Image Processor
3.2inch Flextilt gapless screen, 1037K dots
SRII: In-built Shake Reduction sensor, 5-axis, 5stops
ISO100 up to 204,800
300,000 shutter rating, 1/8000s shutter speed
Pixel Shift Resolution with Motion Correction
AA (OLP) Filterless with AA Simulator
100% Field of View Pentaprism Viewfinder, 0.7x magnification
4.4fps full-frame JPEG L (70 frames, 17 raw)
6.5fps APS-C JPEG L (100frames, 50 raw)
33-AF points -3 EV, 25cross type
Weather Resistant with Magnesium Alloy Body
Wi-Fi connectivity built in
FullHD Video 60i,50i,30p,25p,24p, built in stereo mic
GPS, Electronic Compass, Astrotracer
Operation assist light
Lightroom plugin for tethered shooting (Image transmitter 2 is optional extra for live view tethered shooting)
The Pentax K-1 works with all Pentax K mount lenses from 1975, and all FA lenses will work with the camera using the full-frame. DA lenses will work in cropped mode automatically, producing a 15mp image (can be manually turned on/off as necessary). AF points cover almost all of the APS-C area. The Pentax K-1 is introduced with a new ultra wide-angle 15-30mm WR lens (shown above, along with a 28-105mm WR lens. The K-1 will also work with the recently launched full-frame 24-70mm f/2.8 (shown below), 70-200mm f/2.8, and 150-450mm f/4.5-5.6 lenses.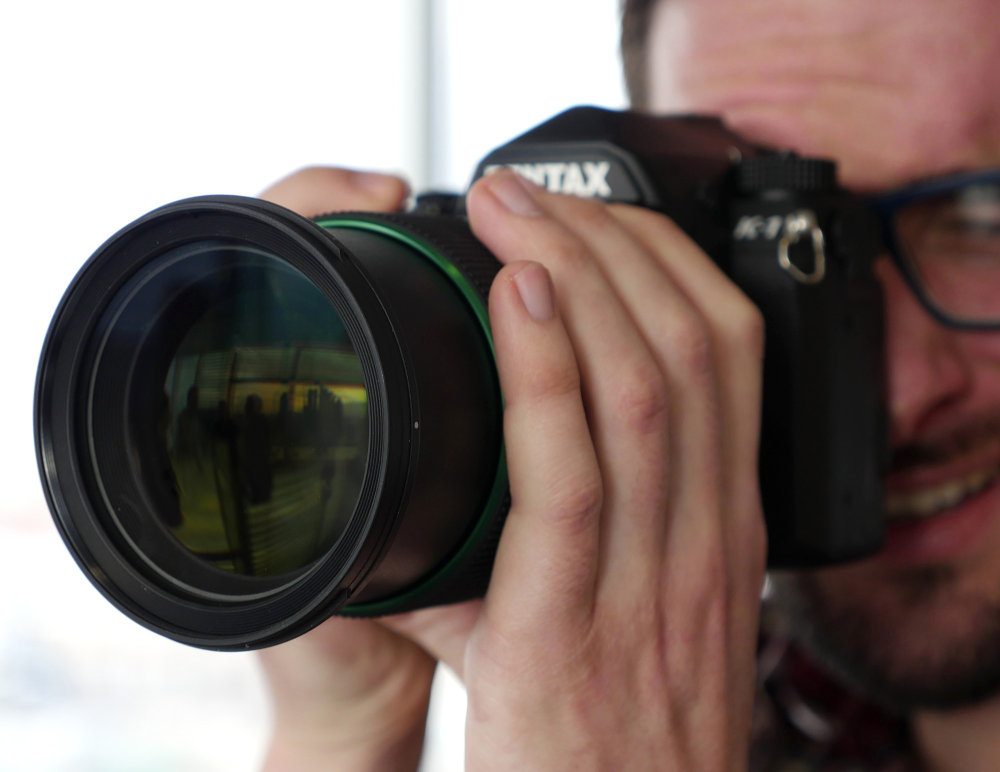 Pentax K-3 Video Features
Full HD Movie Recording
60i/50i/30p/25p/24p
Up to 25 minutes or 4GB
4K Time-lapse movie creation
Multiple custom image and digital filter options
Built in stereo mic
External microphone and headphone jack
Pentax K-1 Handling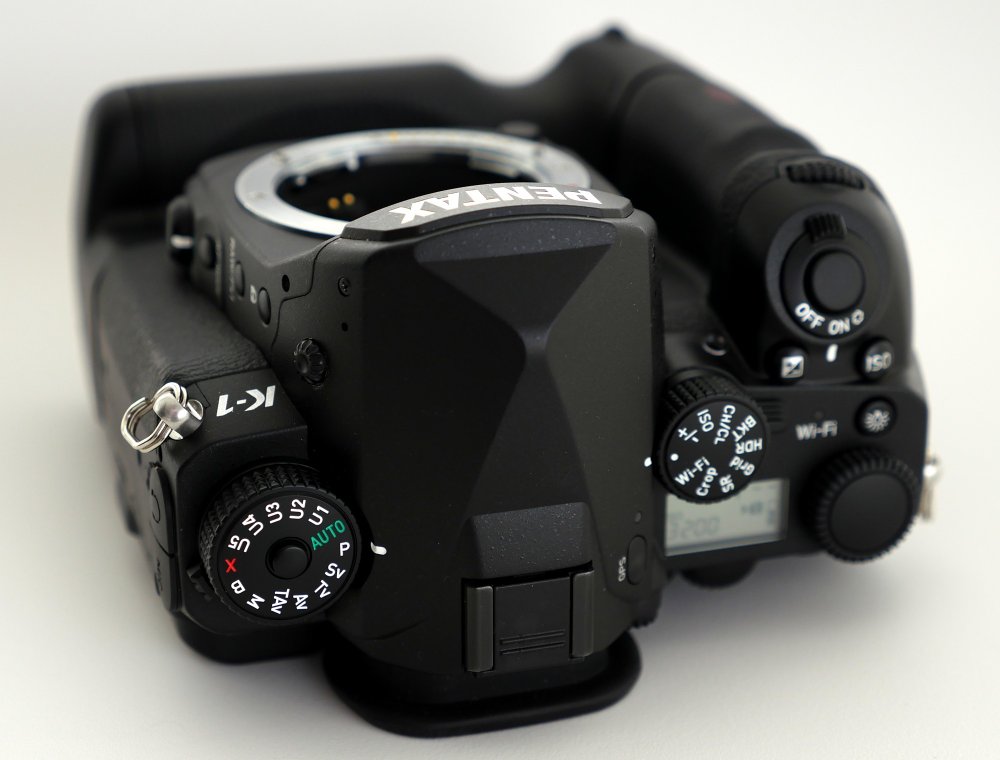 The top mode dial has all the usual modes you come to expect with Pentax cameras, plus 5 custom user modes. The locking mode dial can be locked and unlocked with a switch, and when it is locked you simply press the middle button to change the mode. A new top dial, on the right, lets you set the new command wheel operation on the very right of the camera - so for example you could set the dial to ISO and then have direct and quick access to change the ISO settings. The layout of controls should be very familiar to anyone who has used other Pentax Digital SLRs, with the layout being very similar to the K-3 II.
The K-1 has a solid feel and premium design, along with excellent build quality and a toughness that you come to expect with weather-sealed Pentax DSLR cameras. There is a rubber grip hand grip on both sides of the camera, and there is a rubber grip on the rear for your thumb with a good sized lip giving you a firm area to hold onto, which gives you confidence when you are holding the camera with one hand, even with a large lens such as the Pentax 70-200mm f/2.8 lens.
There are Dual SD (UHS-I) memory card slots, these can be used sequentially, save to both, separate RAW/JPG, and image copy between slots is possible.
There is an optional battery grip that is also weather-sealed. The camera has a battery life that is rated at 760 shots, although this can be extended with the optional battery grip. The K-1 feels extremely solid, and with a new pentaprism and a top design that features bold PENTAX lettering, we think it has the look of a Pentax K-3 II mixed with the medium-format Pentax 645Z.
There's a clever "Program Line" option built in to the camera that works in P or Sv modes, and it lets you choose how exposure is controlled, and by default this is set to Auto, but you also have the option of:
Normal: All-round mode
Hi-speed priority: Prioritises high shutter speeds
DOF priority (Deep): Closes the aperture to a deep depth of field
DOF priority (Shallow): opens the aperture for a shallow depth of field
MTF priority: Sets the sharpest aperture of the attached lens when a D FA, DA, DA L, FA, or FA J lens is used
The optical viewfinder (OVF) is quite large, and is clear, with a good level of information visible, including dual-axis spirit levels, and a display of the focus points in use. There is dioptre adjustment, which will be of benefit to anyone with eye-sight that is less than perfect.
The 3.2inch flex-tilt screen is clear and easy to see, with good viewing angles, and looks great. The screen is designed to work outdoors with a bright display mode option. Using the flex-tilt screen you can tilt the screen up, and down, as well as tilt it left and right. The ribbon cable that goes to the screen is protected by a rubber shield, and due to the way that it is exposed when the screen is out, we'd recommend keeping the screen closed when moving the camera.
There is also a customisable Info screen, to give you quick access to settings. The menus appear to have had a slight refresh, and are clear and easy to read, and there is some built in help for some of the options, although it would be good if every option had built in help. You can view the menus, in our video below:
Holding the camera from the screen like this is not recommended in the manual, but is strong enough to support the camera and a lens!
When using the Pentax K-1, the 33 focus points are quite central, with 25 cross-type focus points. There is a reason for the focus points being in the central area of the frame, and that is so that they are all available when shooing with an APS-C lens, and the 33 focus points cover most of the APS-C image area. The camera can focus down to -3 EV.
The K-1 uses TTL phase detection focus, with a SAFOX 12 focus sensor. There are a number of modes including Single AF (AF.S), Continuous (AF, C), and AF point selection options include: Spot, Select, Expanded Area (S, M, L), Zone select, Auto (33AF Points). Live view focusing modes include face detection, AF tracking, multiple AF points, select and spot, and uses contrast detection focus. Focus peaking is available, and you can magnify the screen up to 16x.
The camera has a top LCD display that can be illuminated, and operation assist lights show you the buttons, lens mount, dual SD memory card slot, and remote release socket, so you can use the camera in the dark. To illuminate the rear controls you need to pull the screen away from the camera, as the LEDs are located in the back of the screen. By default, these options are switched off, and you can choose which ones you want to have switched on.
| | |
| --- | --- |
| | |
| Ricoh Image Sync Playback | Ricoh Image Sync Remote Shooting |

To control the Pentax K-1 over Wi-Fi you need to install Ricoh Image Sync, available for iOS and Android devices. Connecting to the camera's Wi-Fi network is a little bit more difficult than it is on other cameras, as you have to enter the password from the camera to connect. But once connected you can remotely control the camera and change settings, as well as use the touch-screen of the smartphone to set the focus point. You can also download images from the camera to your smartphone.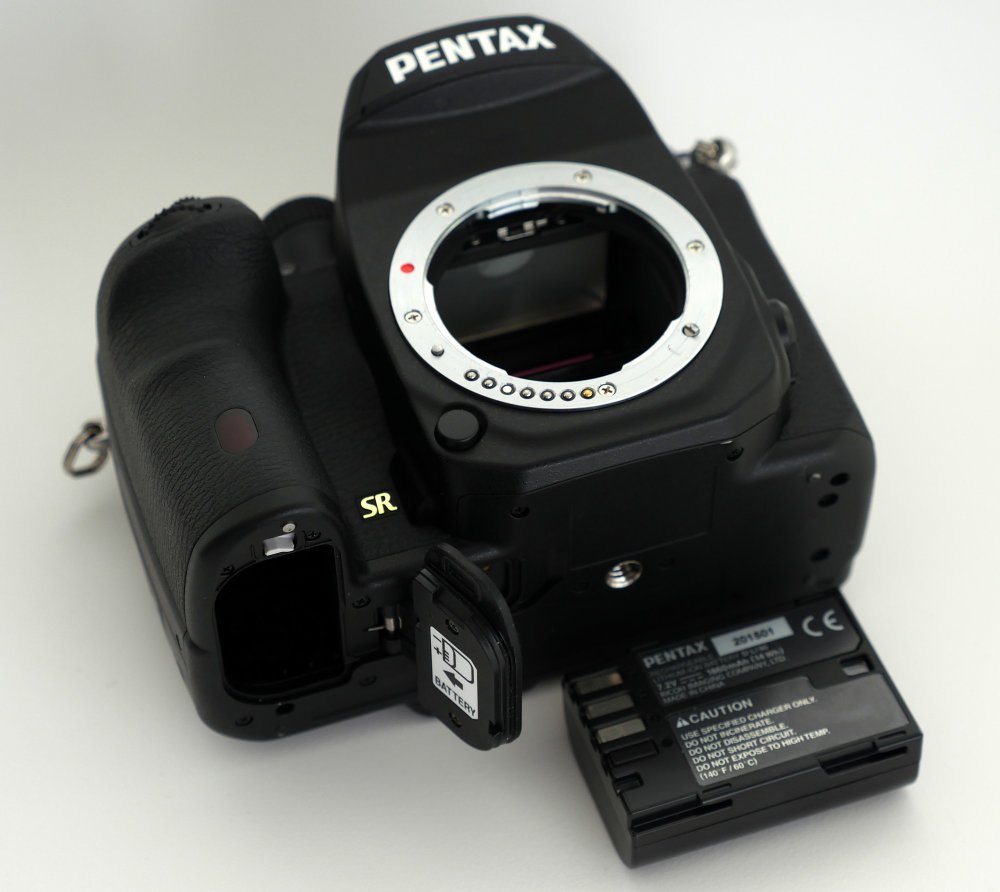 Battery life - Battery life is rated at 760 shots according to Pentax/ CIPA test results, which is quite good for a Digital SLR without the optional battery grip attached. For comparison, the Nikon D810 offers 900 shots, and the Canon EOS 5DS offers 700 shots.
Pentax K-1 Performance
The performance section is where we look at the image quality performance of the camera. Additional sample photos and product shots are available in the Equipment Database, where you can add your own review, photos and product ratings.
Speed - We took a number of shots to test the camera's responsiveness, from switch on to first photo, shot to shot, focusing speed etc. We take a number of shots and then use the average to ensure accurate and consistent tests, making it easy to compare with other cameras.

Tested with the 24-70mm f/2.8 lens. The camera can shoot at 4.4fps (JPEG) and 4.6fps (raw), although we only managed 29 JPEG (Fine) shots, and 14 raw (DNG) shots before the camera slowed down, which is less than the Pentax specified 70 (JPEG) and 17 raw. You can choose between recording PEF (Pentax raw files), or Adobe DNG raw files.
Pentax K-1 Sample Photos
Sample Photos - Photos taken with the Pentax K-1 show very good colour with good levels of saturation, and we used the camera on the "Natural" mode. Images could benefit from slight sharpening if we were being picky, although this could easily be corrected by adjusting the in camera settings. Exposure was reliable and there were a number of options to expand dynamic range recording. The options include D-Range compensation: highlight correction, shadow correction. You can also shoot HDR images handheld, with a variety of options including: auto, HDR1, HDR2, HDR3, advanced HDR, exposure bracket value adjustable, and automatic composition correction function. There are Skin tone options: Off / Type 1 / Type 2 and using these the camera smooths skin after you've taken the image.
Pentax K-1 Lens test images
Lens Performance - The camera has built in lens correction options for: distortion correction, peripheral illumination correction (vignetting), lateral chromatic aberration correction, and diffraction correction. We took photos with just diffraction correction and lateral chromatic aberration correction switched on. We were impressed by the performance of the new Pentax-D FA (full-frame) lenses, and with the 15-30mm f/2.8, 24-70mm f/2.8 and 70-200mm f/2.8 there is a good zoom range, with a constant f/2.8 aperture available.
The image stabilisation (IS) system uses sensor-shift shake reduction (SRII), and works with any lens attached to the camera, letting you take photos at a slower shutter speed than normal. For manual lenses the camera you can set the focal length manually. There is also a 5-axis electronic level function which is displayed in the optical viewfinder (OVF) and on the LCD screen (Horizontal and vertical).
There are a fairly wide range of full-frame Pentax lens options available to purchase, and APS-C lenses working in crop mode on the K-1. You can use any K mount lens from Pentax, including old and discontinued lenses that were released before digital cameras existed.
Using the Pixel Shift Resolution mode, you end up with a 160-180MB raw (PEF) file compared to the more normal 40-55MB for raw (PEF) files, JPEGs are around 15-20MB. Using this mode, the camera takes 4 shots at slightly different pixel positions and combines them so that you get a sharper image, with better colour detail, although there is the risk of ghosting with moving subjects (like tree branches). Olympus use a similar system for 40 / 50 megapixel images, and this too has issues with moving subjects.
Pentax K-1 ISO test images
ISO Noise Performance - The camera's ISO range goes from ISO100 to ISO204800. Noise is low from ISO100 to ISO3200, with some more noise creeping in at ISO6400. At these lower ISO settings, you may want to use the custom noise options to set the camera to lower noise reduction to retain as much detail as possible. However, we'd still be happy using the camera at ISO12800, as noise is quite grainy (and some would say film-like), with very few red, green and blue dots spoiling the image. Noise performance at ISO12800 is reasonably good, with a slightly better result from the Pentax K-1 when compared to the Nikon D810 (with the D810 showing more red, green and blue noise). At ISO25600 noise becomes stronger and we'd recommend avoiding this setting and higher, unless you were going to process the raw files yourself or resize the images for use on the web. ISO51200 may still provide a usable result (just about) if you processed the image further, but noise gets quite unpleasant at ISO102400, and at ISO204800.
Noise options include show shutter speed NR (for slower than 1 second): Auto, On, Off, and High-ISO NR: Auto, Low, Mid, High, Custom, Off. Custom lets you choose how much noise reduction is applied at each individual ISO setting, and the options are Off, Low, Mid, High.
Pentax K-1 White-balance test images
White Balance Performance - Auto White Balance (AWB) gives a warm result under tungsten light with the multi-area AWB giving a more accurate and less warm result. The tungsten preset gives the most accurate result. AWB gives good results under fluorescent lighting, with the multi-area AWB giving a slightly better result. There are four different fluorescent presets available, although most of them give a colour cast, and for more accurate results the use of manual white balance is recommended. Alternatively you can adjust the auto white balance settings yourself. We left the AWB in tungsten light set to strong correction, there is also the option for subtle correction.
Pentax K-1 Digital filters
Digital Filters - There are a number of different Custom image settings including: Auto Select, Bright, Natural, Portrait, Landscape, Vibrant, Radiant, Muted, Flat, Bleach Bypass, Reversal Film, Monochrome, Cross Processing (Random, Preset 1-3, Favorite 1-3). You can also customise these, and the camera lets you adjust saturation, hue, high/low key, contrast, highlight, shadow, and sharpness (with additional options for fine sharpness or extra sharpness). Another option is the Clarity setting which is off on default settings, but has 4 levels from 1 to 4.
There are also digital filters: Extract Color, Replace Color, Toy Camera, Retro, High Contrast, Shading, Invert Color, Unicolor Bold, Bold Monochrome, with a few more available in playback when editing raw files. We've shown a number of different examples above. There's also the option to adjust the composition: ±1.5mm up, down, left or right (1mm when rotated); 1 degree of range. There is a Colour Moire correction option in playback that can be used to reduce colour moire in images, although we did not notice the need for this in our shots.
Video - There is a built-in stereo microphone, although if you want to record higher quality sound, you can use the mic and headphone sockets on the side of the camera. There are options for setting the recording sound level, wind noise reduction and headphone volume. ISO100 to ISO12800 is available, and you can choose between recording using the full-frame or using an APS-C crop for FullHD video recording. In the video mode you have access to the custom image settings, and there is a "Flat" option available which will be of interest to those that want to adjust video later. Video quality was good, and the built in image stabilisation did a good job keeping video steady, even when recording handheld.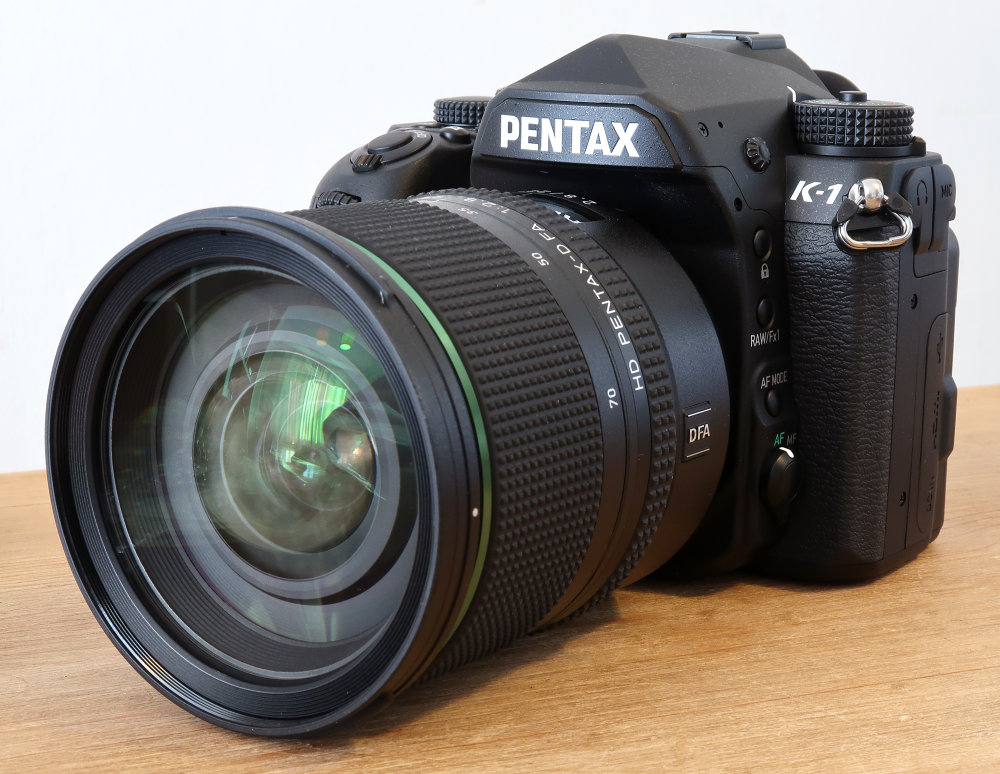 Value For Money
The Pentax K-1 is available for £1599 body only which makes it very good value for money for a high resolution full-frame Digital SLR, and the competition offering this resolution or higher is more expensive:
Nikon D810, 36mp, 5fps, ISO32-51200, FullHD video, £1899
Sony Alpha A7R II, 42mp, 5fps, ISO50-102400, 4K video, £2499
Canon EOS 5DS / 5DS R, 50mp, 5fps, ISO50-ISO12800, FullHD video, £2599
Have a look at more full-frame DSLRs in our Top 10 Best Full-Frame Digital SLRs. You'll also need to buy a memory card (or two) and a case or bag to keep your camera safe and protected - have a look at our complete guide to camera bags.
Pentax K-1 Verdict
Offered at a lower price than competitors with a high resolution full-frame sensor (36mp +), the K-1 offers a number of features that are unique to Pentax Digital SLRs, in the form of Pixel Shift Resolution, and in camera image stabilisation. Unique to the Pentax K-1 is the illuminated controls, and you'd have to pay much more for this on another DSLR, such as the Nikon D5 which would set you back around £5000. You also get GPS and Wi-Fi built in, and the GPS can be used for its Astrotracer facility, which gives you additional options for astro photography, including star trails.
With Pentax's 5-axis sensor based image stabilisation every lens attached to the camera can benefit from image stabilisation, including older lenses. Pentax's Pixel Shift Resolution mode gives improved image quality, as we have seen on the Pentax K-3 II previously, but this time the camera has a 36 megapixel sensor, this is very effective for producing extremely detailed images, which will be particularly useful for still life and detailed product shots.
The range of full-frame compatible lenses will grow over time, but something that can be used right now on the Pentax K-1 and take full advantage of the full-frame sensor, is the wide range of Pentax K mount lenses, such as the Pentax SMC-A 50mm f/1.7, and others. If you have a collection of Pentax lenses, or want an affordable, high resolution Digital SLR, then the Pentax K-1 offers an extremely compelling offering.
Pentax are known for producing some of the more compact Digital SLRs, although many have caught up with them in entry level cameras, and the K-1 offers a fairly compact full-frame Digital SLR, with shorter width and height compared to most. This is quite impressive considering the features and functionality on offer, including the flex-tilt LCD screen. Whilst some may say the screen has been over-engineered, we were instead impressed by the screen quality and construction, along with the flexibility provided by also having the ability to tilt the screen left and right, which will be of use when shooting in portrait mode at different heights.
After the long wait for a full-frame DSLR, Pentax has hit the ground running with the Pentax K-1. With a 36 megapixel full-frame sensor and a host of unique features including built in GPS, Wi-Fi, and 5-axis image stabilisation sensor, at an extremely competitive price, the Pentax K-1 offers the best bang-per-buck of any current Digital SLR.

---