Pentax HD Pentax-D FA 70-210mm f/4 ED SDM WR Review
John Riley reviews the new Pentax-D FA 70-210mm f/4 ED SDM WR lens for full-frame and APS-C Pentax DSLRs. Find out how this lens performs with the K-1 II.
25/03/2020 - 09:56
Pentax has always been known for producing compact, elegantly designed lenses and it is only with the advent of the K-1 series of full-frame DSLRs that the size of the lenses has started to become significant and somewhat out of step with that ethos. The current 70-200mm f/2.8 is a good example of this, so it is interesting that now we have a new, significantly smaller and lighter 70-210mm lens, in fact around half the weight. The loss is the maximum aperture, reduced from f/2.8 to f/4, and for many, this will be an equation that favours the travel photographer in particular. An attractive reduction in weight, an attractive reduction in price, so all that remains is to see if the performance is maintained and the lens delivers the goods. Armed with the Pentax K-1 II full-frame body, we set off on our journey of discovery.

HD Pentax-D FA 70-210mm f/4 ED SDM WR Handling and Features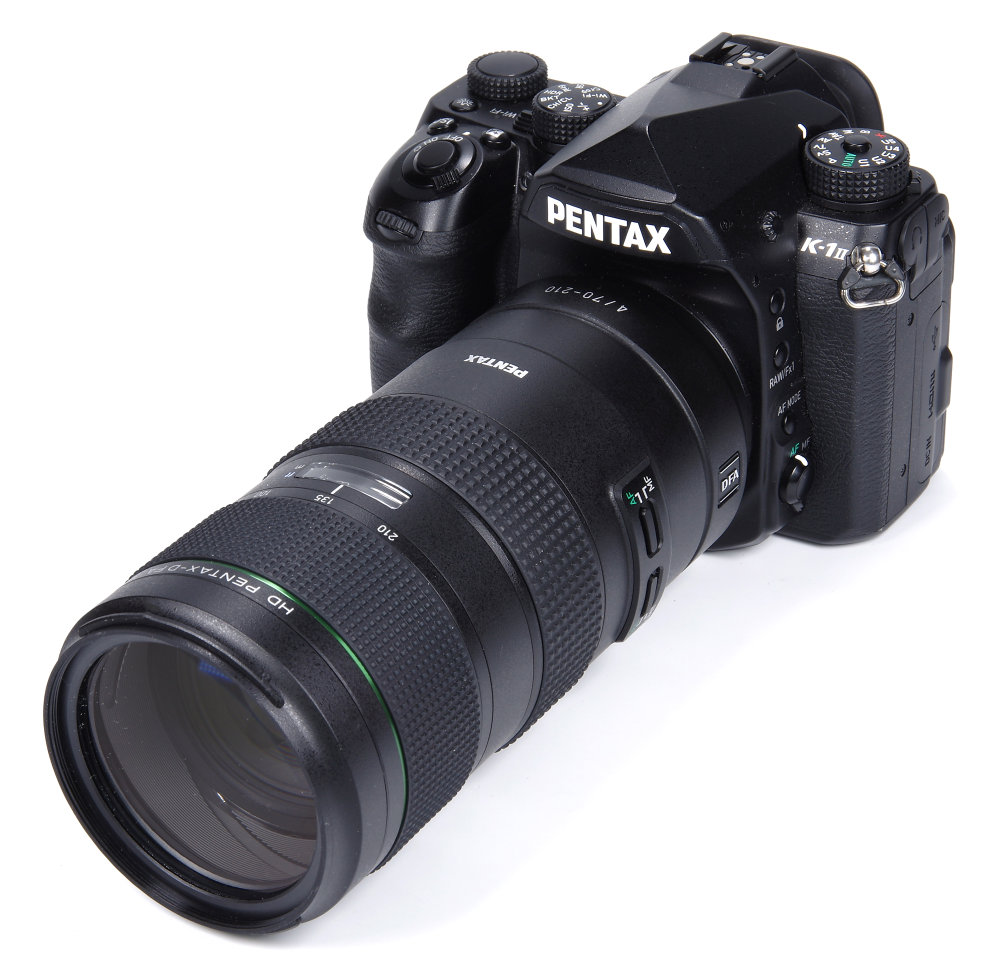 First impressions see a very well made lens, with smooth controls and an excellent finish to the high-quality plastics used in the construction. There is a provided petal lens hood that bayonets securely into place. There is no retaining catch, but the hood stays put and shows no tendency to be prone to being dislodged. Within the bayonet is a standard 67mm filter thread.
The weight is a fairly modest 819g or 859g with the hood attached. This is, as mentioned above, less than half the weight of its f/2.8 big brother and the lens sits well and balances well on the K-1 or K-1 II full-frame DSLRs. If one of the APS-C format crop sensor DSLRs is used the "35mm-format equivalent" field of view becomes 107-322mm. The lens still balances well even on the smaller camera bodies.
The zoom ring is at the front of the lens and has no effect on the overall length of the lens. There are clear and accurate markings of 70mm, 100mm, 135mm and 210mm. Even in 2020, the marking of 135mm reveals a photographic heritage that harks back to the Leica rangefinder cameras, a seemingly illogical length that is the tipping point beyond which rangefinders were no longer accurate enough and the SLR was better for focusing accuracy. AF, of course, renders this somewhat academic, but the focal length still lingers on. The zoom action is smooth and positive.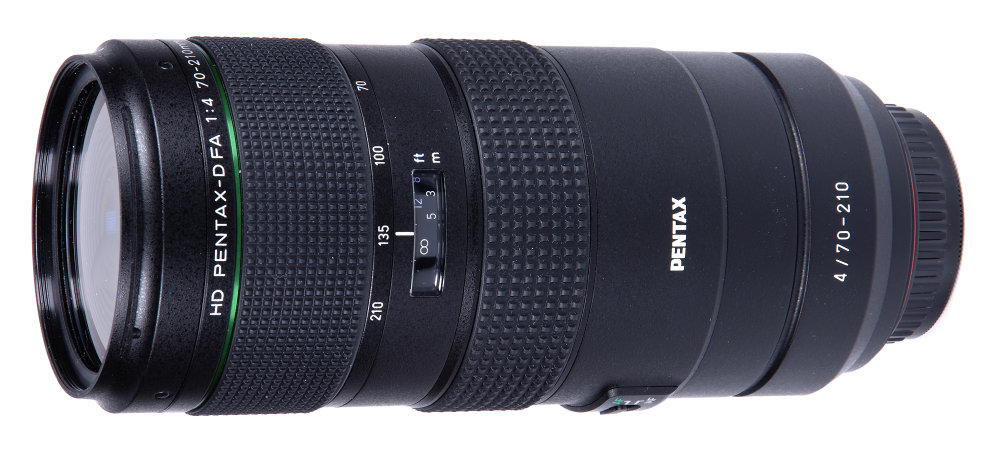 Behind the zoom ring, a small plastic window reveals the focus scale, clearly marked in both feet and metres. There is no provision for depth of field scales with this design of zoom. We then come to the manual focus ring, which is fully usable in both AF and MF settings via Pentax's QuickShift system. The grip we take on the lens needs to take account of the focusing being live during AF, otherwise with fingers on the zoom control we could catch the MF ring accidentally. This is a consequence of the wide MF ring being closer to the camera body, but with the right technique in holding then, this should not be a major problem. Focusing is down to 0.95m, or 3.1 feet, giving a maximum magnification of 0.32x. The close focusing is very useful and especially so at 210mm which gives huge potential for close shooting from a good working distance, so ideal perhaps for insects and small creatures.
There are two lens switches, the AF/MF one being self-explanatory and the limiter limiting the AF focusing range to 2m to infinity. AF is via an SDM motor, silent and fast in operation and a huge advance on the original SDM system. There is no hunting and the AF is not only crisp but also accurate.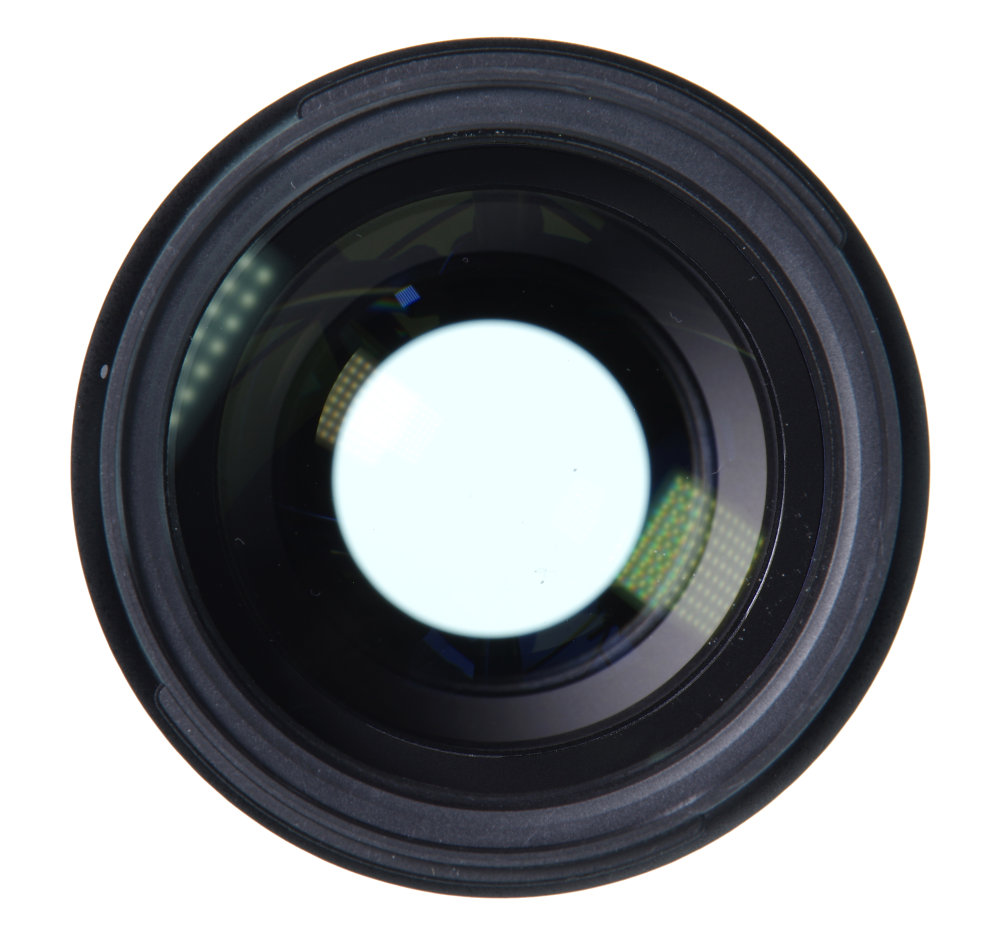 Optical construction is 20 elements in 14 groups. The diaphragm has 9 rounded blades, which offer a circular aperture from f/4 to f/9.5. Lens coatings are the new Pentax HD (High Definition) multi-coating, offering even better flare suppression than the previous SMC coatings. The front element has a Fluorine SP (Super Protect) coating to repel dust, moisture and grease. The lens is also weather-resistant, one of the most advantageous improvements to lenses in general in the past few years.
The well-made metal lens mount is designated KAF 4, indicating that there is an electromatic diaphragm. This means that some earlier Pentax bodies will not be able to stop down the lens, but all recent ones will be fine. The Ricoh website has a list of compatible bodies.
There are rarely any handling quirks with Pentax cameras and lenses, which are straightforward and slick in operation. The lens is a great example of a well designed and highly functional photographic tool.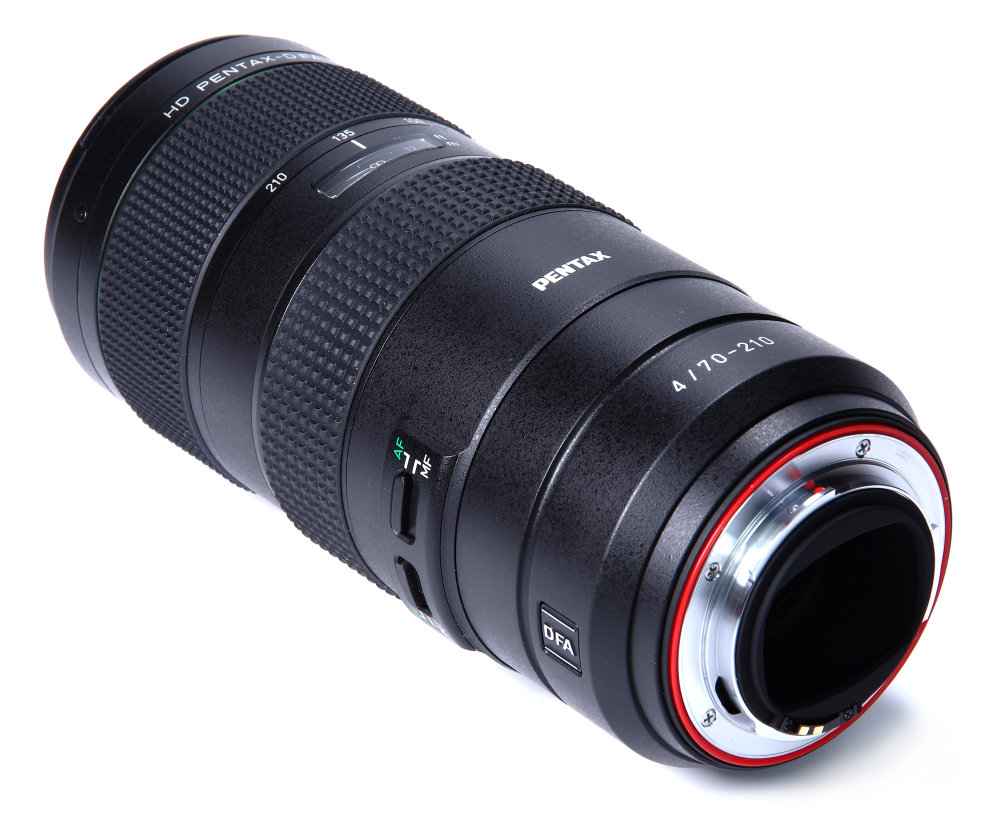 HD Pentax-D FA 70-210mm f/4 ED SDM WR Performance
First the resolution figures, and at 70mm central sharpness is very good from f/4 all the way through to f/22, only becoming really affected by diffraction at f/32 which is just fair. The edges are very good from f/4 to f/16, good at f/22 and fair at f/32.
At 100mm, sharpness centrally is very good from f/4 to f/22 and good at f/32. The edges are very good from f/4 to f/16, good at f/22 and fair at f/32.
135mm sees the sharpness centrally as very good from f/4 to f/16, good at f/22 and fair at f/32. The edges are good at f/4 and f/5.6, very good at f/8 and f/11, good at f/16 and f/22 and fair at f/32.
At 210mm, central sharpness is good at f/4, very good from f/8 to f/16, good at f/22 and fair at f/32. The edges are fair at f/4, good at f/5.6 and f/8, very good at f/11, good at f/16 and fair at f/22 and f/32.
Performance is actually very similar to the f/2.8 version, perhaps just a whisker below in terms of sharpness, but still notable for its evenness from centre to edge and its character. The resolution isn't the highest ever recorded, but it is very good and it retains the indefinable quality that Pentax lenses show in general. That is where the balance of lens properties lies and is part of the lens maker's art, going beyond having just the ability to separate black and white lines on a photographic chart. Very few of us spend our lives shooting test charts.
Pentax HD Pentax-D FA 70-210mm f/4 ED SDM WR MTF Charts
How to read our MTF charts
The blue column represents readings from the centre of the picture frame at the various apertures and the green is from the edges.

The scale on the left side is an indication of actual image resolution and sharpness as LW/PH and is described in detail above. The taller the column, the better the lens performance.

For this review, the lens was tested on a Pentax K-1 II using Imatest. Want to know more about how we review lenses?

CA (Chromatic Aberration) is very well handled, even with the in-camera corrections switched off. Central CA is extremely low, and although there is some edge fringing it is far less than many other zoom lenses and can be corrected in software if desired.
Pentax HD Pentax-D FA 70-210mm f/4 ED SDM WR Chromatic Aberration Charts
How to read our CA charts
Chromatic aberration (CA) is the lens' inability to focus on the sensor or film all colours of visible light at the same point. Severe chromatic aberration gives a noticeable fringing or a halo effect around sharp edges within the picture. It can be cured in software.

Apochromatic lenses have special lens elements (aspheric, extra-low dispersion etc) to minimize the problem, hence they usually cost more.

For this review, the lens was tested on a Pentax K-1 II using Imatest.
Distortion is also very low for a zoom lens, showing -1.18% barrel at 70mm, +0.38% Pincushion at 100mm, +1.11% pincushion at 135mm and +1.57% pincushion at 210mm.
Bokeh, the quality of the out of focus areas, is very smooth and ideal for portraiture or any other application where smooth gradation is wanted in the out of focus areas.
The new Pentax HD coating does its job well and there is virtually no sign of flare even in quite difficult conditions such as strong backlighting.
| | | | | |
| --- | --- | --- | --- | --- |
| Aperture | 70mm | 100mm | 135mm | 210mm |
| f/4 | -1.4 | -0.9 | -1.3 | -1.3 |
| f/5.6 | -1.2 | -0.7 | -1.1 | -1.1 |
| f/8 | -1.1 | -0.6 | -1 | -1 |
| f/11 | -1 | -0.6 | -0.9 | -0.9 |
| f/16 | -1 | -0.6 | -0.9 | -0.9 |
| f/22 | -1 | -0.5 | -0.9 | -0.9 |
| f/32 | -0.9 | -0.5 | -0.9 | -0.9 |

Vignetting is modest and is not particularly obvious in most images.
Pentax HD Pentax-D FA 70-210mm f/4 ED SDM WR Sample Photos
Pentax HD Pentax-D FA 70-210mm f/4 ED SDM WR Aperture range
You can view additional images in the Equipment Database, where you can add your own review, photos and product ratings.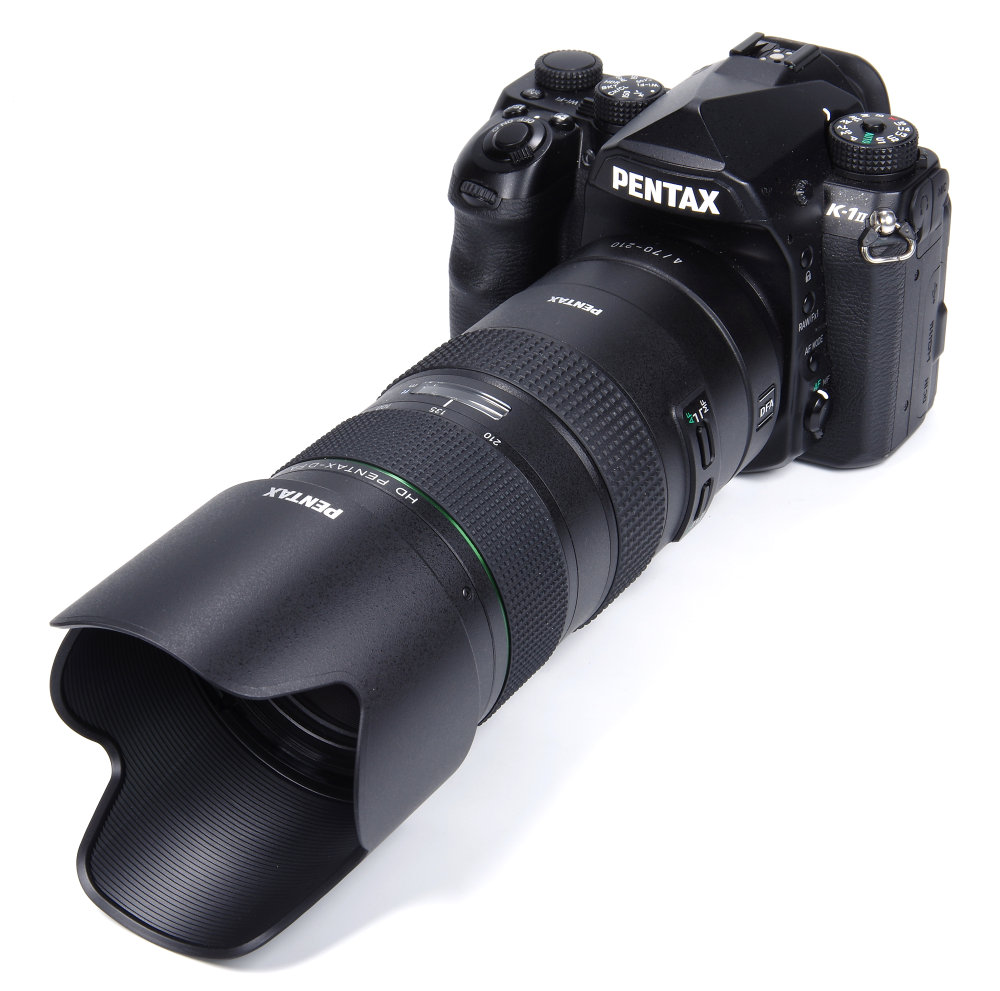 Value For Money
The HD Pentax-D FA 70-210mm f/4 ED SDM WR lens is priced at £1199. The alternative for Pentax users is the HD Pentax-D FA* 70-200mm f/2.8 ED DC AW lens at £1699. This latter price is somewhat lower than the introductory one, so the f/4 lens may, of course, settle in time. For now, it offers a saving in cost of £500.
There being no other Pentax options, to gauge value for money we could look at the costs that other marques pay for similar optics:
Nikon AF-S Nikkor 70-200mm f/4 ED VR, £1349
Canon EF 70-200mm f/4L IS II USM, £1299
Canon EF 70-200mm f/4L IS USM, £999
Sony FE 70-200mm f/4G OSS, £1149
Tamron 70-210mm f/4 Di VC USD, £549
Compared to what the cost would be of a similar marque lens with shake reduction, the Pentax does look good value for money.
For more options have a look at the Top 26 Best Pentax Lenses, Third Party Lenses for Pentax.
HD Pentax-D FA 70-210mm f/4 ED SDM WR Verdict
There has been a tendency for many lenses to get bigger and heavier and it is a welcome change to have a smaller, lighter and less costly option. Although we sacrifice one stop with the f/4 maximum aperture, for many applications this is not really a problem. Current cameras have excellent high ISO performance, and this can more than make up for a slightly slower aperture. We do of course lose out on depth of field control and for some, this will mean the f/2.8 lens will be the one of choice, but where this is not an issue the f/4 versions will offer a trimmer product that is less onerous to carry around, provided of course that there is no penalty in terms of performance.
The f/2.8 lens is actually one of Pentax's star range of superior optics, but in fact, this f/4 version is not very far behind. The figures for resolution are very slightly lower, but the difference is not a deal-breaker by any means. It is even possible to make satisfactory images at f/32 where, although diffraction will certainly take the edge off the fine detail, if depth of field is the main requirement then it is a good thing that the smallest aperture is available.
Of course, what we can't measure is that indefinable "something" that makes an image glow and this lens does have some of that quality. It can't be given a quantity, but I can say that the Pentax-D FA 70-210mm f/4 ED SDM WR lens is now on my own shopping list and it comes Highly Recommended.
Own this lens? Let us know what you think of it in the EQDB.
Spotted a mistake? Let us know in the EQDB.
---