Pentax HD FA* 70-200mm f/2.8 ED DC AW Review
Gary Wolstenholme reviews the new Pentax HD PENTAX-D FA* 70-200mm f/2.8 ED DC AW lens for full-frame and APS-C cameras.
21/04/2015 - 09:55
Handling and Features
Performance
Verdict
Specification


This 2.9x telephoto zoom lens covers the popular 70-200mm range on a 35mm camera and provides a focal length roughly equivalent to a 107-307mm range when used with Pentax APS-C DSLRs. It's interesting that Pentax/Ricoh have chosen to release this lens with full frame coverage, as currently, none of their DSLRs have a full frame sensor. This will add credence to recent announcements that a full frame DSLR will be available by the end of this year. It sports a relatively fast f/2.8 maximum aperture throughout the zoom range, silent focusing, weather sealing and two different types of exotic anti-reflective lens coating. These high level features result in a high end price, with this lens being priced at around £1850. In this review, we'll take a look at how this lens performs on an APS-C Pentax DSLR, and it will be interesting to see how the lens performs in the future on a full frame camera, when one is finally released.
Pentax HD PENTAX-D FA* 70-200mm f/2.8 ED DC AW Handling and Features
The metal build of this lens inspires confidence that it will be able to handle the rigours of daily professional use, as it is sealed against dust and moisture too, it should be able to cope in a wide range of conditions. It's certainly not a lightweight lens, tipping the scales at just under 1.8 kilogrammes, even so, it balances very well with the Pentax K-3 body used for testing.
Focusing and zoom are performed internally. As a result, the filter thread does not rotate, which makes it perfect for use with polarising and graduated filters. A deep petal-shaped hood is supplied with the lens that attaches to the front via a bayonet fitting and a removable tripod mount can also be clipped to a rotating section on the lens.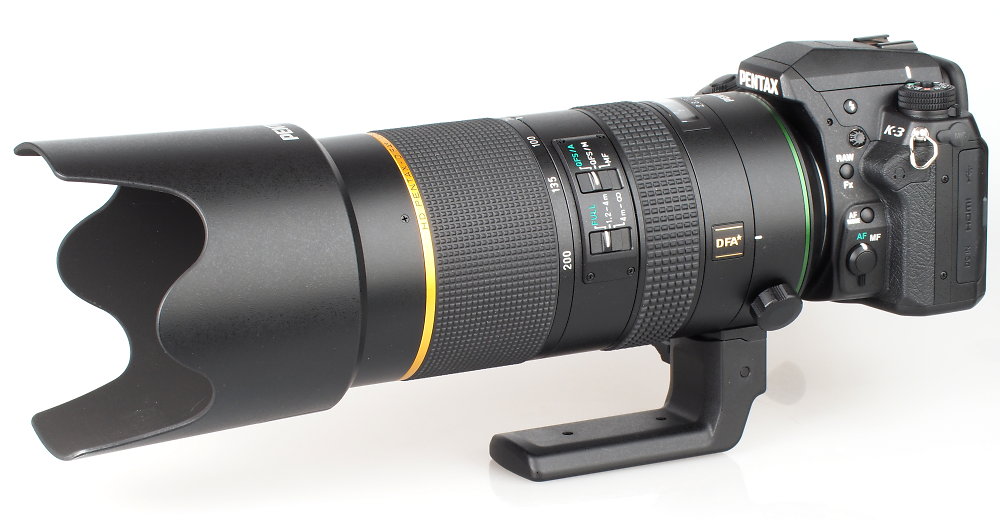 The manual focusing ring doesn't rotate during auto-focus and manual adjustments can be applied at any time. Manual focusing action is very smooth and there is enough damping to make applying adjustments a pleasure. The silent focusing motor results in reasonably quick autofocus, although not as quick as can be found on some equivalent lenses from other camera manufacturers. Focus accuracy with phase detection could be a little hit and miss, so care may need to be taken, especially when shooting erratic, moving and difficult subjects. The minimum focus distance of 1.2metres is fairly typical for a lens of this type.
Pentax HD PENTAX-D FA* 70-200mm f/2.8 ED DC AW Performance
At 70mm, sharpness levels are just a shade below excellent in the centre of the frame, with performance towards the edges reaching good levels. Stopping down to f/5.6 results in outstanding sharpness in the centre and excellent sharpness towards the edges of the frame at this focal length.
Zooming to 135mm, sharpness drops to very good levels in the centre of the frame, with performance towards the edges of the frame remaining good. Peak performance is achieved between f/5.6 and f/8 where sharpness is outstanding in the centre of the frame and excellent towards the edges.
Finally, at 200mm, the way this lens performs similarly to the way it does at 135mm, but at slightly reduced levels of sharpness overall. At maximum aperture sharpness is good in the centre, but only fairly good towards the edges of the frame. Sharpness is excellent in the centre between f/5.6 and f/8 and very good towards the edges of the frame between f/5.6 and f/11.
Chromatic aberrations may become visible under certain circumstances, with fringing exceeding 1.25 pixel widths at 200mm and f/2.8. Although this is a still a reasonably low level of fringing, it may become visible along high contrast regions of images on close inspection. Chromatic aberrations are well controlled throughout much of the rest of the zoom range.
Falloff of illumination towards the corners of the frame is well controlled. At 70mm the corners are only half a stop darker than the centre of the frame and at 200mm the corners are only 0.9 stops darker. Visually uniform illumination is achieved with the aperture stopped down to f/5.6 or beyond throughout the zoom range.
Distortion is very well controlled at both ends of the zoom range. Imatest detected 0.9% barrel distortion at 70mm, which is replaced by 0.2% pincushion distortion at 200mm. The distortion pattern is uniform across the frame, which should make it relatively easy to apply corrections in image editing software afterwards if absolutely straight lines are necessary.
During testing, this lens proved itself very resistant to flare and contrast levels are good, even when shooting into the light, thanks to the combination of Pentax HD and the new Aero Bright optical coatings, which give reflections on optical surfaces a red hue, similar to what you may have seen on binoculars of a certain vintage. The petal-shaped hood does a good job of shading the lens from extraneous light that may cause issues.
Pentax HD PENTAX-D FA* 70-200mm f/2.8 ED DC AW Sample Photos
Value For Money
Being priced at around £1850, this lens does cost more than equivalent optics available for Canon and Nikon camera systems, by around £300.
There is very little competition from third party manufacturers left as Sigma have discontinued their current Pentax mount version of their 70-200mm f/2.8.
Tamron's 70-200mm f/2.8 Di LD IF is currently pretty much the only equivalent lens available for Pentax at the moment. It may lack weather sealing, fancy optical coatings and even silent focusing, but it is substantially less expensive, being available for around £470.
Pentax HD PENTAX-D FA* 70-200mm f/2.8 ED DC AW Verdict
As you might expect, this lens is a highly competent, highly specified lens, with all the bells and whistles you'd expect from a high end manufacturer's own lens.
Features like weather sealing, metal build, silent focusing and exotic optical coatings all add to the appeal of this optic and there is enough there to keep almost anyone happy. The performance of this lens is good, but maybe not good enough to support a £300 premium over similar lenses from other camera marques. Of course, the appeal of this optic will also largely depend on the appeal of the forthcoming Ricoh/Pentax full frame SLR, when that is finally available.
---