HD Pentax-DA Fish-Eye 10-17mm F/3.5-4.5 ED Lens Review
John Riley has been taking a wider look at the world with the help of the HD Pentax-DA Fish-Eye 10-17mm F/3.5-4.5 ED lens.
02/11/2022 - 14:49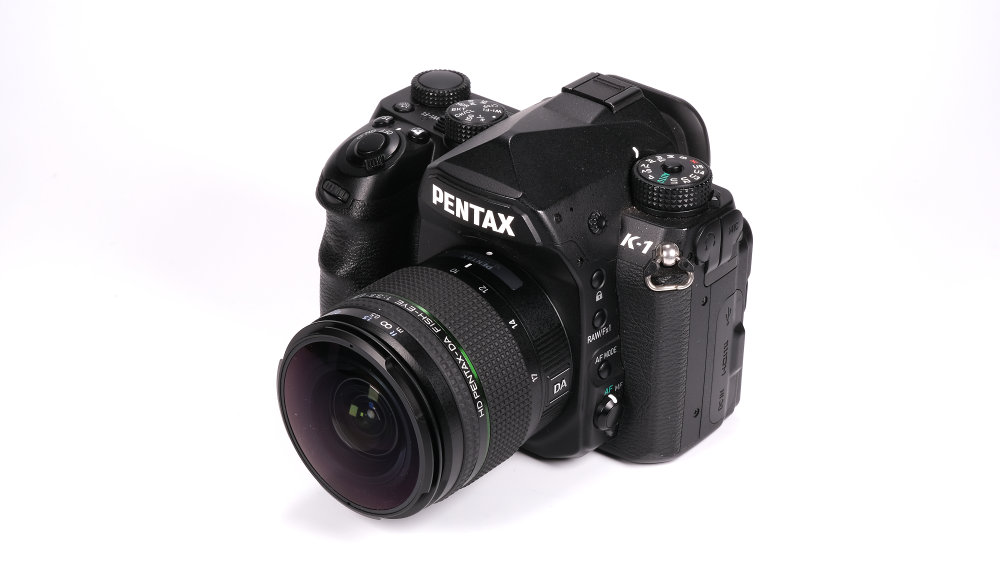 Way back in the golden years of 1962-3 the Asahi Optical Co introduced a revolutionary new fish-eye lens for its Pentax SLR cameras. The breakthrough was a retrofocus design that allowed enough space behind the lens for the SLR mirror to operate without needing to be locked up. Contemporary lenses from Nikon, for example, needed the SLR mirror to be safely locked up as the rear element extended right into the mirror box. An accessory viewfinder was also needed as reflex viewing was not possible. Asahi freed photographers from this restriction and, taken up immediately by fashion photographers and Carnaby Street, the swinging sixties discovered the fish-eye lens. Pentax has continued to offer ever-improving fish-eye lenses over many years, and then in 1995 they went a huge step further and introduced the unique Fish-Eye zoom. The first zoom was the 17-28mm for full-frame cameras, followed by the APS-C format 10-17mm zoom in 2006 and now the second generation 10-17mm, suitable mainly for APS-C but also, as we shall see, usefully compatible with full frame as well. Armed with all three of the Pentax Fish-eye zooms and the K-3 II (APS-C) and K1 (full frame) Pentax DSLR cameras, let's see how this foray into the wide, wide world works out.
HD Pentax-DA Fish-Eye 10-17mm F/3.5-4.5 ED Handling and Features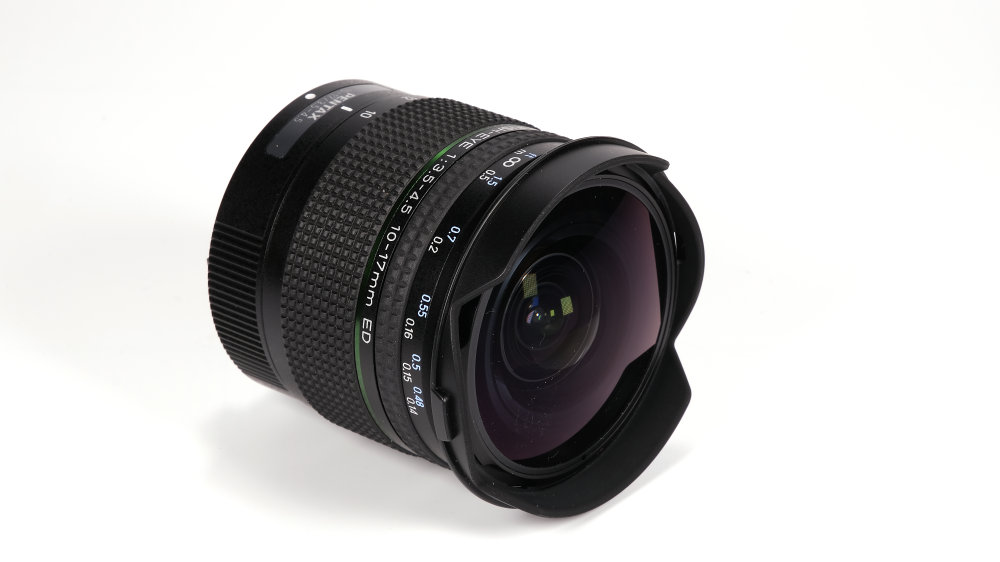 The first question is of course what is a fish-eye lens and the second one might be why would we want one. A fish-eye lens is one that gives a 180-degree field of view (or greater) either as a circular image within the sensor format or as a full frame image with the diagonal measuring 180 degrees. This is another meaning for "full frame", meaning an image that fills the whole format area as opposed to the circular one that occupies the centre of the frame with a black surround. The Pentax fish-eye lenses are, in this context, all full-frame. There is an exception when the lens is used on a full-frame DSLR, having removed the lens hood of course, where a part circular image results. It is disappointing that this could not be a complete circle, but the effect is interesting anyway. The result of all this is that something has to give optically and that something is barrel distortion, which is thrown out of the window, leaving straight lines to bend as much as they need to. With the circular fish-eye barrel distortion is -100%, with the full-frame fish-eye we can measure it. Why we would want one is creativity. The fish eye offers a new and fantastic view of the world and used creatively it can produce startlingly unique images.
Before our tour of the latest version of the lens, let's see first a comparison table showing the evolution of the Fish-eye zoom.
| | | | |
| --- | --- | --- | --- |
| Manufactured | 1995-2004 | 2066-2019 | 2019-Present |
| Format | Full Frame | APS-C | APS-C & Full-Frame |
| Aperture Ring | Yes | No | No |
| Elements/Group | 9/7 | 10/8 | 10/8 |
| Diaphragm Blades | 6 | 6 | 6 |
| Min Focus | 45cm | 14cm | 14cm |
| Magnification | 0.07x | 0.39x | 0.39x |
| Quick Shift | No | Yes | Yes |
| Weight | 355g | 320g | 323g |
| Lens Cap | Plastic | Metal | Metal |
Looking now at the newest version, the HD Pentax-DA Fish-eye 10-17mm f/3.5-4.5 ED, the lens is very compact for such a wide angle, measuring just 67.5mm x 70mm, and weighs in at a modest 323g. The lens hood on this version is now detachable, reducing the weight by 6g, but more importantly, this now enables use on full-frame cameras, giving a substantial part of a circular image, with the circle being cropped top and bottom of the frame. The lens cap is worth a mention as it is beautifully engineered in Aluminium, as in the previous version, but now features lugs that mean there is only one way for the cap to fit. Whatever the reason for this, the hood is worthy of a Limited lens. With the hood removed the front element does become rather more vulnerable and can not be fitted to the lens. The hood is so slim its use in preventing flare is equally slim.
The thin focusing ring has a clear distance scale but no depth of field scale. After AF is locked, further adjustments can be made manually at any time thanks to the Pentax Quick Shift feature. Focusing is internal, so the lens does not change dimensions, but it does rotate when focusing, so fingers should be kept out of the way. Focusing is down to 14cm, for a maximum magnification of 0.39x, which is impressively close and should make possible some very dramatic effects. AF is quite noisy but blisteringly fast. It is also accurate.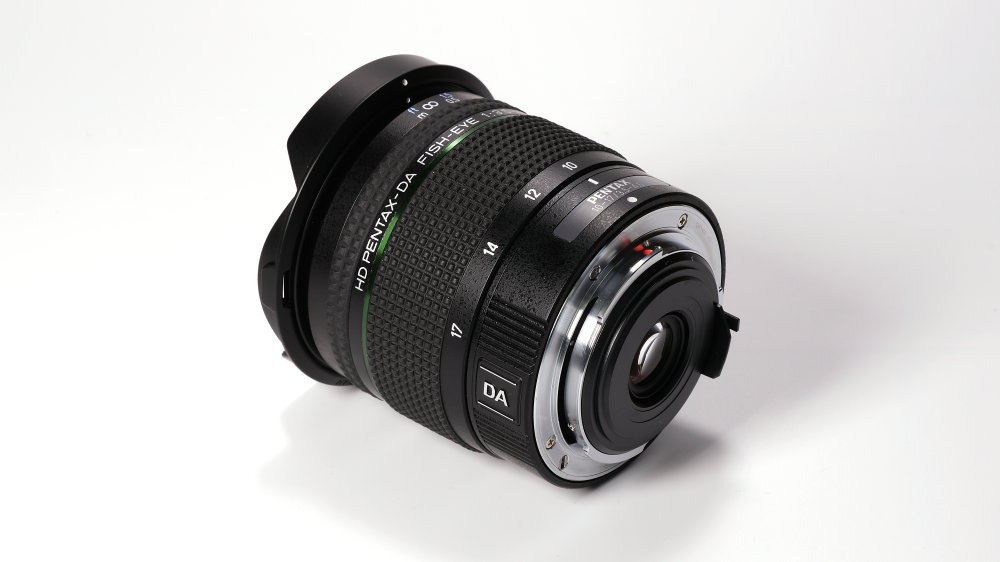 The zoom ring is clearly marked at 10mm, 12mm, 14mm and 17mm. The full fish-eye effect is gained at 10mm, and thereafter the amount of distortion gradually reduces as we zoom towards 17mm. This means that with care the lens can be used for more normal wide-angle uses, not forgetting that, if required, software can be used to mitigate some of the edge distortion. Zooming marginally increases the length of the lens but does not affect the balance.
The metal lens mount is beautifully engineered and the fit on the camera body is smooth and secure. There is no weather sealing but in this case, it may not be necessary as using the lens in the rain would soon cover the exposed front element with streams of water. The hood offers virtually no protection against this and is more to protect physically the very convex front element. This element does have Pentax's SP (Super Protect) coating, which will repel grease, water and dirt, making it easier to clean.
Optical construction is 10 elements in 8 groups, including 1 ED (Extra Low Dispersion). The diaphragm comprises 6 blades, so bokeh is not the main concern here as there is likely to be a huge amount of depth of field. This latest version of the lens also has the HD (High Definition) multi-coating.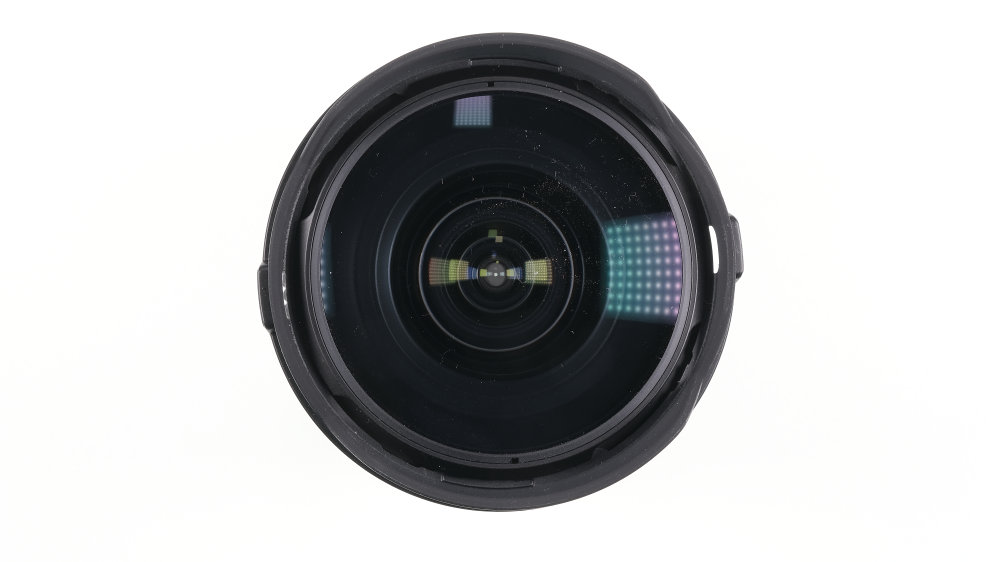 Looking back at the previous SMC Pentax-DA 10-17mm review, not done by myself, it can be seen that I made a comment that showed I was not totally convinced, had used the lens and had sold it on. However, after a while, I found I looked more closely at the images that had been shot and felt motivated to buy a new one, which since then has been a regular lens in constant use. So I learned to love the fish-eye zoom, which has the huge advantages of being compact to carry and being more or less of a fish-eye effect as we zoom. If the horizon should pass through the centre of an image it can look just like an ultra-wide with no fish-eye effect at all, particularly on a landscape. Perhaps not for architecture though. Portraits? Environmental portraits are absolutely no problem, keeping the person in the centre of the frame and including as much of the environment as needed. Having said all that, it is a specialist lens and other lenses may be needed first, but for those photographers who find it gels with their view of the world, then it is a very versatile tool, easy to use, but of course less easy to use well.
HD Pentax-DA Fish-Eye 10-17mm F/3.5-4.5 ED Performance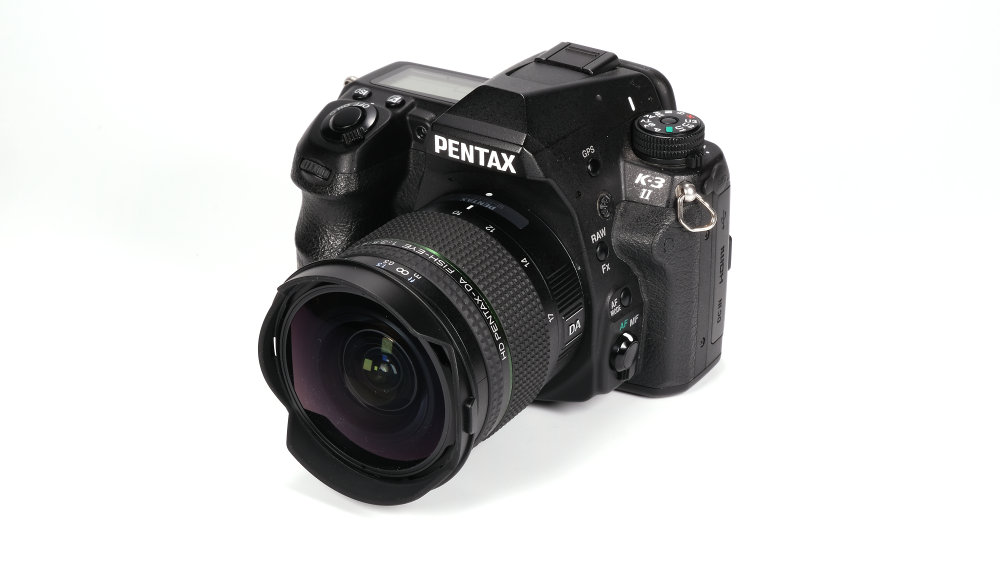 Fish-eye lenses are not that easy to test using Imatest, which can be a bit temperamental with all those curved lines, but it is possible and the results are interesting.
At 10mm, central sharpness is very good from f/3.5 all the way through to f/16 and is still good at f/22. The edges are good from f/3.5 to f/5.6, very good at f/8 and f/11, good at f/16 and fair at f/22.
At 12mm, central sharpness is very good from f/4 to f/16 and good at f/22 and f/29. The edges are very good from f/4 to f/16 and good at f/22 and f/29.
At 14mm, central sharpness is very good from f/4 to f/16 and good at f/22 and f/29. The edges are very good from f/4 to f/22 and good at f/29.
At 17mm, central sharpness is very good from f/4.5 to f/22, rising to excellent at f/8 and only dropping to fair at f/32. The edges are very good from f/4.5 to f/22 and fair at f/32.
That is actually a very impressive result, as there is no way a Fish-eye zoom lens is intended to photograph flat lens charts. It bodes well for really good sharp images out in the field.
Pentax HD Pentax-DA 10-17mm F/3.5-4.5 Fish-Eye ED MTF Charts
How to read our MTF charts
The blue column represents readings from the centre of the picture frame at the various apertures and the green is from the edges.

The scale on the left side is an indication of actual image resolution and sharpness as LW/PH and is described in detail above. The taller the column, the better the lens performance.

For this review, the lens was tested on a K1

using

Imatest. Want to know more about how we review lenses?
CA (Chromatic Aberration) is measured with any in-camera corrections switched off, as far as we can know anyway. At 10mm central CA is all but banished, but the edges show plenty of colour fringing. This could be mitigated using software if desired, although it may not be a problem with many images. Branches against bright sky show it up very much. The good news is that as we zoom in the CA drops away and becomes relatively insignificant.
Pentax HD Pentax-DA 10-17mm F/3.5-4.5 Fish-Eye ED Chromatic Aberration Charts
How to read our CA charts
Chromatic aberration (CA) is the lens' inability to focus on the sensor or film all colours of visible light at the same point. Severe chromatic aberration gives a noticeable fringing or a halo effect around sharp edges within the picture. It can be cured in software.

Apochromatic lenses have special lens elements (aspheric, extra-low dispersion etc) to minimize the problem, hence they usually cost more.

For this review, the lens

was tested on on a

K1

using

Imatest

.
Distortion measurements prove to be fun, and so they should be. Measured on an APS-C K-3 II, barrel distortion rules the day, giving -33.4% at 10mm, -27.5% at 12mm, -21.0% at 14mm and -14.8% at 17mm.
Bokeh is the smoothness of the out-of-focus areas in an image, and it is not the forte of Fish-eye lenses. However, whatever defocused areas there may be look smooth enough and do not detract from images.
The lens hood provided in both APS-C versions is so thin that it does little apart from offering a small degree of physical protection to the highly convex front element. Fortunately, the new HD coating is highly effective and there is virtually no flare to be seen, even with bright light sources right on the edge of the frame.
Vignetting is present in modest amounts at 10mm, but zoom in and we have one of the best results ever measured for any lens.
| | | | | |
| --- | --- | --- | --- | --- |
| Aperture | 10mm | 12mm | 14mm | 17mm |
| f/3.5 | -1.1 | | | |
| f/4 | -1.1 | -0.5 | -0.5 | |
| f/4.5 | | | | -0.4 |
| f/5.6 | -0.9 | -0.4 | -0.4 | -0.3 |
| f/8 | -0.9 | -0.3 | -0.3 | -0.2 |
| f/11 | -0.8 | -0.3 | -0.3 | -0.2 |
| f/16 | -0.8 | -0.3 | -0.3 | -0.2 |
| f/22 | -0.8 | -0.3 | -0.3 | -0.2 |
| f/29 | | -0.3 | -0.3 | |
| f/32 | | | | -0.2 |
Pentax HD Pentax-DA 10-17mm F/3.5-4.5 Fish-Eye ED Sample Photos
Pentax HD Pentax-DA 10-17mm F/3.5-4.5 Fish-Eye ED Aperture range
You can view additional images in the Equipment Database, where you can add your own review, photos and product ratings.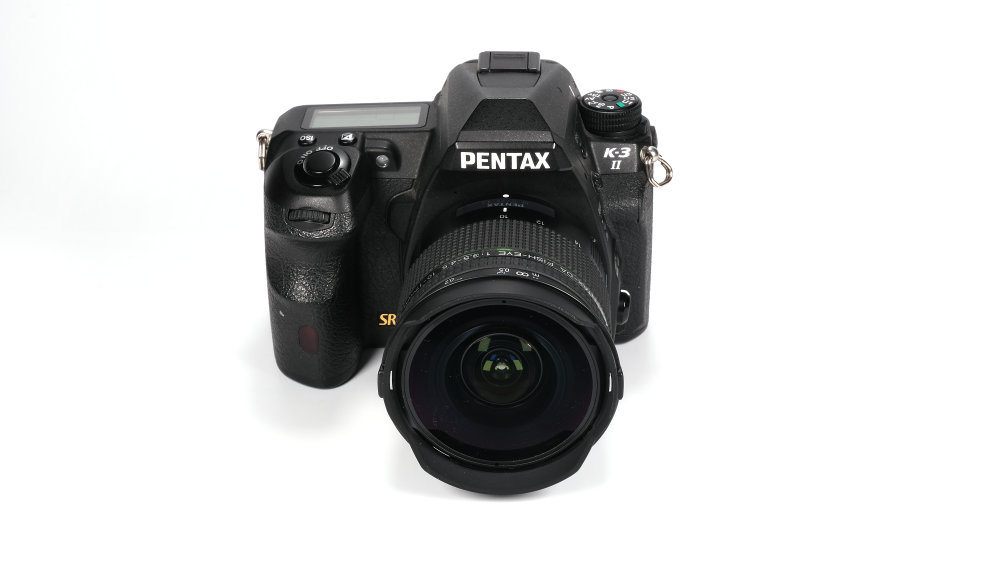 Value For Money
The HD Pentax-DA Fish-eye 10-17mm f/3.5-4.5ED lens is priced at £499.00.
To put that in perspective, Canon and Nikon users have their own Fish-eye zooms and they would cost:
Canon EF 8-15mm f/4L USM Fish-eye, £1269
Nikon AF-S Nikkor 8-15mm f/3.5-4.5 E ED Fish-eye, £1449
There are quite a few prime Fish-eye lenses available, but for Pentax DSLR I just found the following:
Samyang 12mm f/2.8 ED AS NCS Diagonal Fish-eye, £429
Sigma 15mm f/2.8 EX DG Diagonal Fish-eye, £599
This makes the Pentax zoom look like excellent value for money.
For more lens options, have a look at our lens top lists which feature optics we've reviewed and compiled into easy-to-read lists so you can make more informed decisions.
[HOOK]position_1[/HOOK]
HD Pentax-DA Fish-Eye 10-17mm F/3.5-4.5 ED Verdict
Your reviewer admits to having owned the previous model of this lens twice and now uses it routinely as an ultra-wide angle as well as for its Fish-eye credentials. The new lens is better, being sharper and less prone to flare. In fact, its technical performance is impressive indeed.
The lens is capable of fantastic, unrealistic effects, or these can be reduced by careful composition. Certain landscapes can be shot with little or no bending of lines apparent, albeit probably with an ultra-wide look. The trick is to make sure the horizon goes right through the middle of the field of view.
Even fashion shots are not only possible but can look fantastic and the images can look classy and different. Those wanting to mimic the look of the swinging sixties can use the lens to recreate that era, and those wanting something new can experiment with angles and close-ups.
It's a creative tool, it's a functional aid to getting it all in if space is cramped, and it also has the potential to be enormous fun.
A splendid lens at a reachable price, and an 'Editor's Choice'.
A special thank you to Chris Harland at SRS Microsystems Ltd for providing the lens for review.
Own this lens? Let us know what you think of it in the EQDB.
Spotted a mistake? Let us know in the EQDB.
---