HD Pentax-DA 55-300mm f/4.5-6.3 ED PLM WR RE Review
John Riley reviews the compact and weather-sealed 55-300mm telephoto zoom lens for Pentax DSLRs.
13/04/2017 - 10:35
Handling and Features
Performance
Verdict
Specification


Here we have the third 55-300mm lens from Pentax, covering the APS-C format, which equates to a "35mm equivalent" of 84.5-460mm. This is also the third Pentax lens to offer a retractable construction, making the barrel shorter for carrying and storage. (The first two were the Q series 15-45mm zoom and the 18-50mm that came with the Pentax K-S2 body.) This time we have a new optical formula and the first Pentax lens with an electromagnetic diaphragm. This results in a new variant of the lens mount designated KAF4. This has other implications, as we shall see. So let's delve under the surface and look at the details of this new optic.
HD Pentax-DA 55-300mm f/4.5-6.3 ED PLM WR RE Handling and Features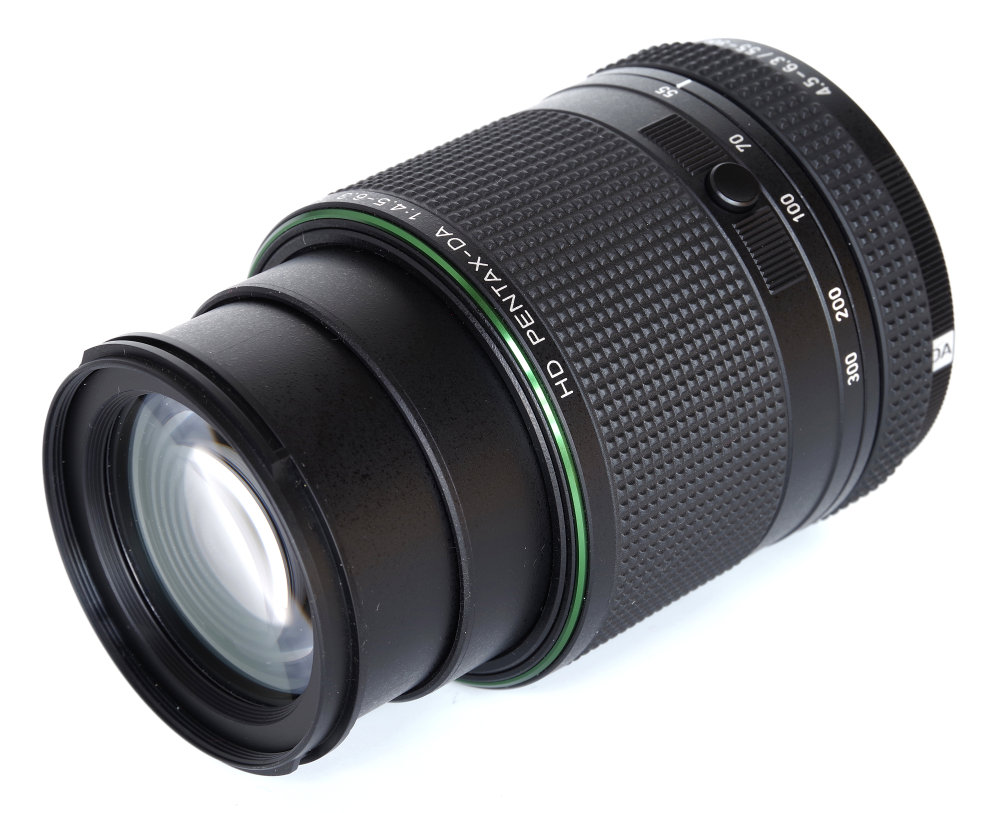 The overall appearance and feel are quite similar to the 18-50mm retractable lens that we have already seen. A single easily operated button releases the lens barrel so that the zoom ring can be used. If the camera is switched on whilst the lens is retracted, the shutter release is disabled and a warning message appears on the rear screen. The release of the zoom ring is, like the first lens, quite jerky and stiff in operation, hardly smooth. However, the standard of assembly of the lens, in general, is high, and things do ease up a little once the lens is in use. In contrast, the manual focus ring, which lies closest to the body, is as smooth as silk from the start, operating electronically and also offering QuickShift, where manual focusing can be used to tweak the AF position focused on.
There is little else to see on the lens. The front element is surrounded by the 58mm filter thread and also the bayonet for fixing the provided round lens hood. The hood has a removable slot that allows filters such as a polariser to be rotated without removing the lens hood. The HD coatings reduce flare and the front element is also given an SP (Super Protect) coating to repel grease, dirt and water. The diaphragm has 9 rounded blades to improve bokeh. Weight is 442g or 471g with hood. This is virtually the same as the previous 55-300mm lenses.
Maximum apertures run from f/4.5 to f/6.3, depending on the amount of zoom, with minimum aperture varying from f/22 to f/32. There are 14 elements in 11 groups, including an ED (Extra Low Dispersion) glass. Minimum focus is excellent at 0.95m, which is significantly closer than previous versions. Maximum magnification becomes 0.30x. This is really useful, especially for subjects such as flower studies, where single blooms can be zoomed in on even if at the back of wide borders.
Focusing is via a rear focus system, meaning that the front element does not rotate and the lens remains the same length regardless of the focus position. Zooming does alter the length. A New PLM (Pulse Motor) ensures silent and fast focusing. Obviously the faster the better for a lens that may well be used for wildlife, although the difference seems subjectively to be relatively small at the telephoto end. Weather Resistance is a huge benefit and this gives us considerable freedom to continue shooting in bad weather conditions.
When we come to the mount, we have the standard basic K mount, but with critical modifications that make this version KAF4 and only compatible with the K-70 or later straight out of the box. There is a limited list of other bodies where downloading a firmware update will allow use of the new electromagnetic diaphragm. This applies to the Pentax K-1, K-3 II, K-S2 and K-S1. For the purposes of this review, I updated my almost new K-3 II and there were no problems, apart from locating the firmware on the Ricoh websites, some of which listed it and some not. In the end, the Japanese site was the source.
Handling-wise, the new diaphragm is of no major advantage to stills photography, but I can see that videographers may well appreciate its silent and smooth operation.
There are of course two other 55-300mm lenses, so how does the new optic compare? The original SMC Pentax-DA 55-300mm f/4-5.8 is still an excellent lens, although no longer available new. Its successor, the HD Pentax-DA 55-500mm f/4-5.8 WR adds weather resistance and the new HD coating and is quite possibly the version of choice. The new lens may be slightly more compact when retracted but is little different when in use. The KAF4 mount also limits its usefulness considerably, and I wonder how many people will buy it to find their body is not compatible. However, for those who shoot video, the new silent diaphragm may well be the game changer and this PLM version may well be their natural choice.
HD Pentax-DA 55-300mm f/4.5-6.3 ED PLM WR RE Performance
Sharpness at 55mm is centrally very good from f/4.5 to f/16, becoming soft at f/22. The edges are soft at f/4.5, good at f/5.6, very good at f/8 and f/11, good at f/16 and soft at f/22.
100mm shows very good central sharpness from f/4.5 through to f/16, with f/22 being quite soft. The edges are very good from f/4.5 to f/11, good at f/16 and soft at f/22.
200mm sees a slight drop, centrally being very good from f/5.6 to f/16 and soft at f/22 and f/29. The edges are a good standard from f/5.6 to f/16 and soft at f/22 and f/29.
Sharpness drops off again at 300mm, being centrally good at f/6.3, very good at f/8, good at f/11 and f/16 and dropping to soft at f/22 and f/32. The edges are generally soft but offer good sharpness at f/8.
When we say sharpness, what we are measuring is resolution and the lens does not resolve the finest detail as it is zoomed in towards 300mm, but it does show excellent contrast and as a consequence offers nice, punchy images. It is debatable whether the smallest aperture, be it f/22 or f/32 is of much value, but then again the option is there and some subjects may well suit the overall softness at those settings.
This also ties in with the bokeh, and without a doubt, the quality of the out of focus areas is extremely smooth. The effect for portraits and flower studies, for example, is very pleasing.
Pentax HD Pentax-DA 55-300mm f/4.5-6.3 ED PLM WR RE MTF Charts
How to read our MTF charts
The blue column represents readings from the centre of the picture frame at the various apertures and the green is from the edges.

The scale on the left side is an indication of actual image resolution as LW/PH and is described in detail above. The taller the column, the better the lens performance.

For this review, the lens was tested on a Pentax K-3 II using Imatest.
CA (Chromatic Aberration) is very well controlled at the centre of the field at all focal lengths, especially the widest. The edges are best at 100mm in this respect but overall are well corrected. There is visible CA at the edges, but it can be sorted in software if desired. JPEG shooters can simply switch on the camera's built--in correction.
Pentax HD Pentax-DA 55-300mm f/4.5-6.3 ED PLM WR RE Chromatic Aberration Charts
How to read our CA charts
Chromatic aberration (CA) is the lens' inability to focus on the sensor or film all colours of visible light at the same point. Severe chromatic aberration gives a noticeable fringing or a halo effect around sharp edges within the picture. It can be cured in software.

Apochromatic lenses have special lens elements (aspheric, extra-low dispersion etc) to minimise the problem, hence they usually cost more.

For this review, the lens was tested on a Pentax K-3 II using Imatest.
Flare is not an issue as none was observed. The relatively new HD coating serves well and there is no loss of contrast and no sign of any artefacts.
Distortion starts off at 55mm with -1.78% barrel. At 100mm we see +0.88% pincushion, after which it's pincushion all the way, +1.41% at 200mm and +1.30% at 300mm. These figures are good for a zoom lens and, as always, correction can be applied in-camera or in software.
Pentax HD Pentax-DA 55-300mm f/4.5-6.3 ED PLM WR RE Sample Photos
Value For Money
The HD Pentax-DA 55-300mm f/4.5-6.3 EDPLM WR RE can be found at £379. The previous version is the HD Pentax-DA 55-300mm f/4-5.8 ED WR, still available at £269.
Sigma offers three alternatives, the Sigma 70-300mm f/4-5.6 APO Macro Super DG (£179), the Sigma 70-300mm f/4-5.6 Macro DG (£169), and the Sigma 18-300mm f/3.5-5.6 DC Macro HSM (£499).
Unless the retractable lens body, the electromagnetic diaphragm or the faster PLM focusing are the deal makers, then the previous Pentax lens looks to be a very attractive proposition at £269.
For more options have a look at the Top 26 Best Pentax Lenses.
HD Pentax-DA 55-300mm f/4.5-6.3 ED PLM WR RE Verdict
The HD Pentax-DA 55-300mm f/4.5-6.3 ED PLM WR RE lens has some interesting and useful features. Weather resistance, superb bokeh, good sharpness ay most focal lengths, electromagnetic diaphragm and retractable construction. However, the previous version is also as good and also slightly brighter, being f/4-5.8 as opposed to f/4.5-6.3. It is certainly considerably less expensive.
The new lens is a reliable choice for Pentax APS-C cameras but does compromise compatibility with many cameras. There was a time when all Pentax lenses were 100% compatible with all bodies, and this has held well, up to now. Here we see the first lens that is specific to a few models and this may well be the price of progress as technology inexorably marches onwards.
---