HD Pentax-D FA* 85mm F/1.4 Lens Review
John Riley teams the Pentax K-1 DSLR with the HD Pentax-D FA* 85mm f/1.4 ED SDM AW lens for a day of photography to find out just how well it can perform.
16/08/2022 - 10:02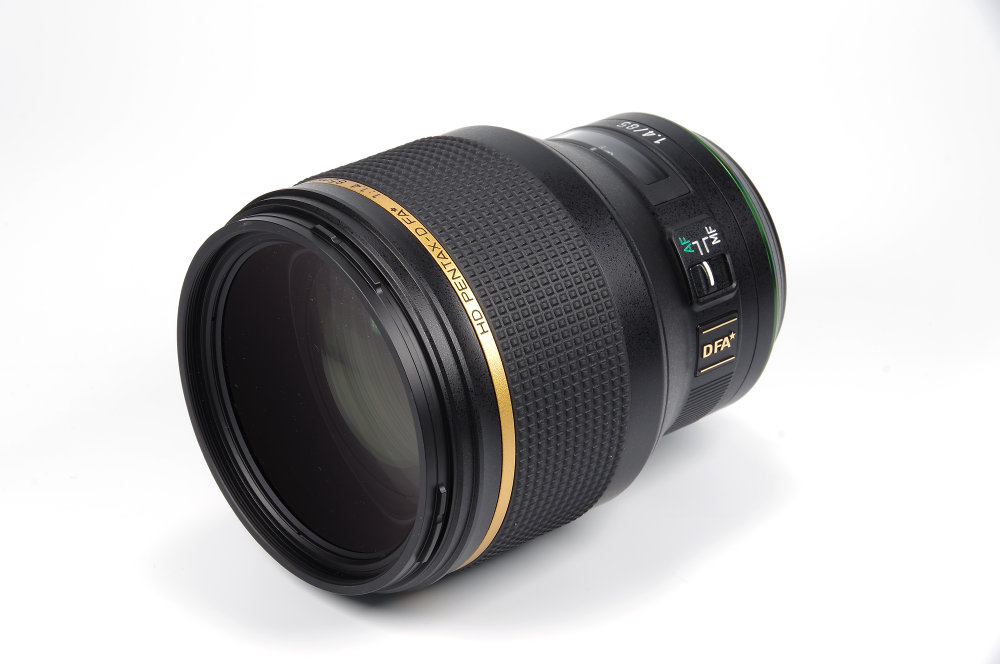 Matching its sibling, the HD Pentax-D FA* 50mm f/1.4 SDM AW, this new lens has the same finish, the same appearance and the same bulk. This is a departure in a sense for Pentax, who for decades have been well known for high-quality but also compact lenses. Now it seems there are two lines in the Pentax setup – the small primes and the relatively bulky full-frame zooms and primes for the K-1 and K-1 II full-frame bodies. However, the choice is there, and it seems Pentax are committed to continuing support for the DSLR cameras and completely bypassing the mirrorless revolution. New lenses continue to appear, so this is an ongoing policy in a world where Canon and Nikon are discontinuing DSLR lenses in droves. Whether or not this will pay dividends for Pentax remains to be seen, but the new optics are here and we now look at the HD Pentax-D FA* ED SDM AW using the 36MP K-1 body. Let's see if it lives up to its star range aspirations.
HD Pentax-D FA* 85mm F/1.4 Handling and Features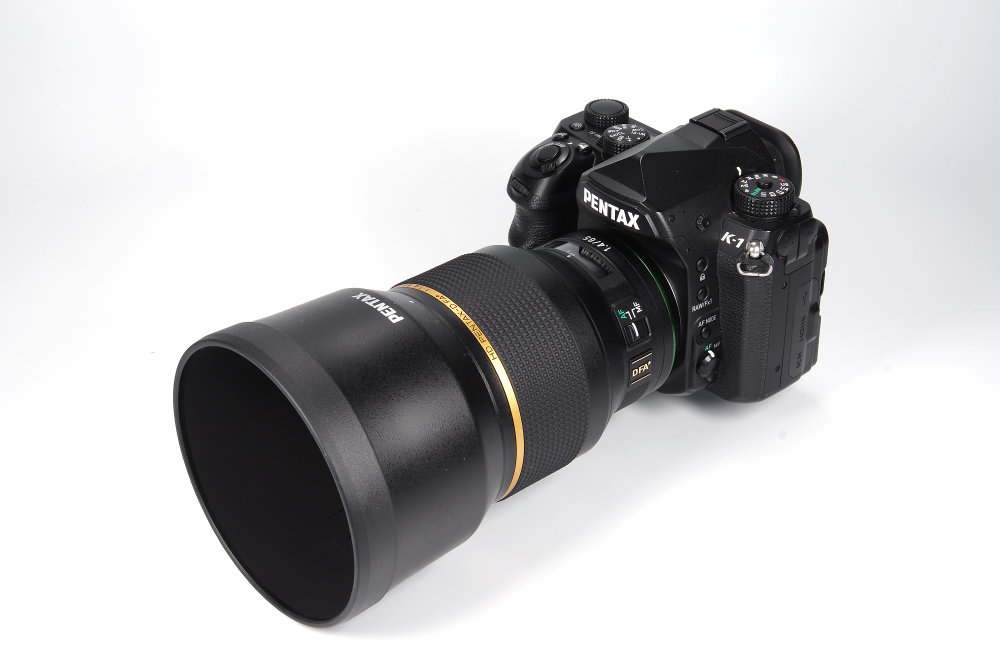 First impressions are of a very well-made, large and quite heavy lens, weighing in at 1255g without a hood and 1355g with. Measuring 123.5mm long and 95mm in diameter, although quite bulky the lens does balance well with the K-1 body. It is also compatible with Pentax APS-C bodies, where the "35mm format" field of view will be around 130mm.
A large round hood is provided which has rubber edges which are intended to reduce the possibility of scuff marks when the camera/lens is placed down on a surface. The hood also has the usual Pentax filter window, which when opened allows a PL or graduated filter to be rotated with the hood still in place. The hood bayonets cleanly and positively into place and shows no tendency to become loose in use. No locking catch is provided, nor is one needed. Within the bayonet fit for the hood is a standard 82mm filter thread.
There is a wide manual focus ring that is nicely damped so that it gives a good tactile feel to manual focusing. The ring is also active during AF operation, provided a half pressure is maintained on the shutter release. This Quick Shift mechanism allows tweaks to the AF position. AF has to drive quite a hefty rear group of elements, so uses a new ring-type ultrasonic motor that has 1.3x the torque of the one used in the 50mm f/1.4. The only control on the lens barrel is the AF/MF switch, which is self-explanatory. Focusing is down to 0.85m (2.8 feet) for a maximum magnification of 0.12x. This is about what might be expected from an 85mm lens and although it does provide quite a good close-up for portraits we could always wish for something that focused a bit closer.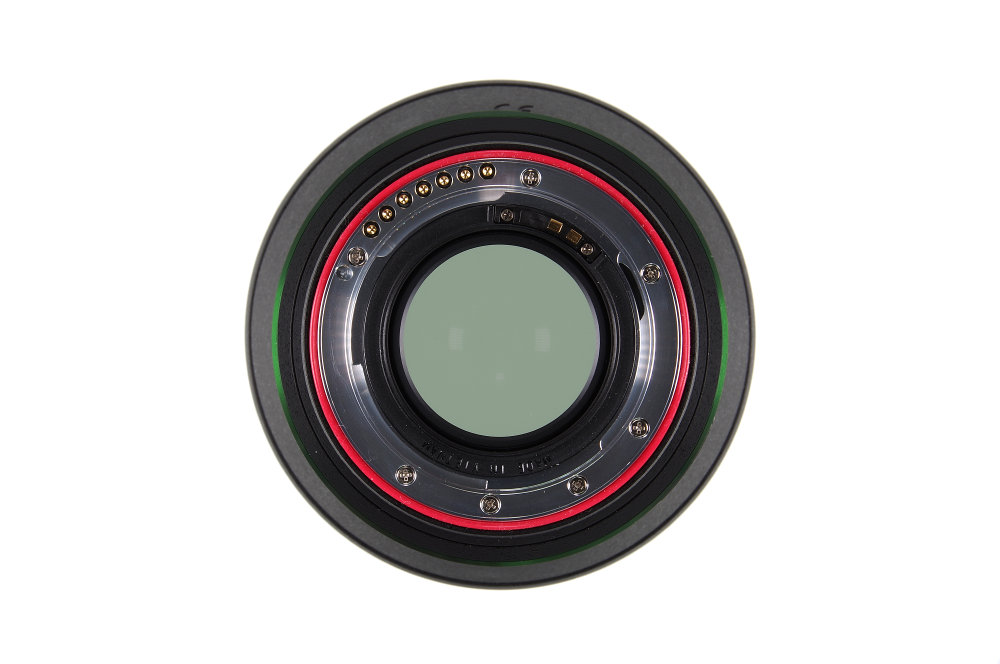 Optical construction is 12 elements in 10 groups, including 3 Super ED and 1 Aspherical. Considerable research went into reducing flare in particular and the concave front element, the 3 Super ED elements and the design of internal components to reduce reflections are all part of this. The lens does not use the Aero Bright II coating of the 50mm f/1.4 but uses enhanced HD coatings that reduce reflections to 50% of those when using conventional multi-coating techniques. The diaphragm comprises 9 blades that offer a completely rounded aperture from f/1.4 to f/2.8. There is also Super Protect coating on the front element to help repel dust, grease and moisture. The lens has an AW (All Weather) designation and is dustproof and water resistant.
Finally, the high-quality metal lens mount is type KAF4, meaning that it utilises an electromagnetic diaphragm. This is smooth, silent and offers accurate, repeatable apertures, so is ideal for both stills and video. Earlier Pentax DSLR bodies may not be compatible. Compatible bodies are the K-1, K-1 II, K-3, K-3 II, K-3 III, KP, K70, K-S1 and K-S2. Other models will only be able to use the lens at an open aperture.
It's a beast of a lens when coupled with the K-1, the overall weight being 2330g, but it still handles well, proving itself to be a very likeable bit of kit. Everything rests on its performance, so let's see how it fares.
HD Pentax-D FA* 85mm F/1.4 Performance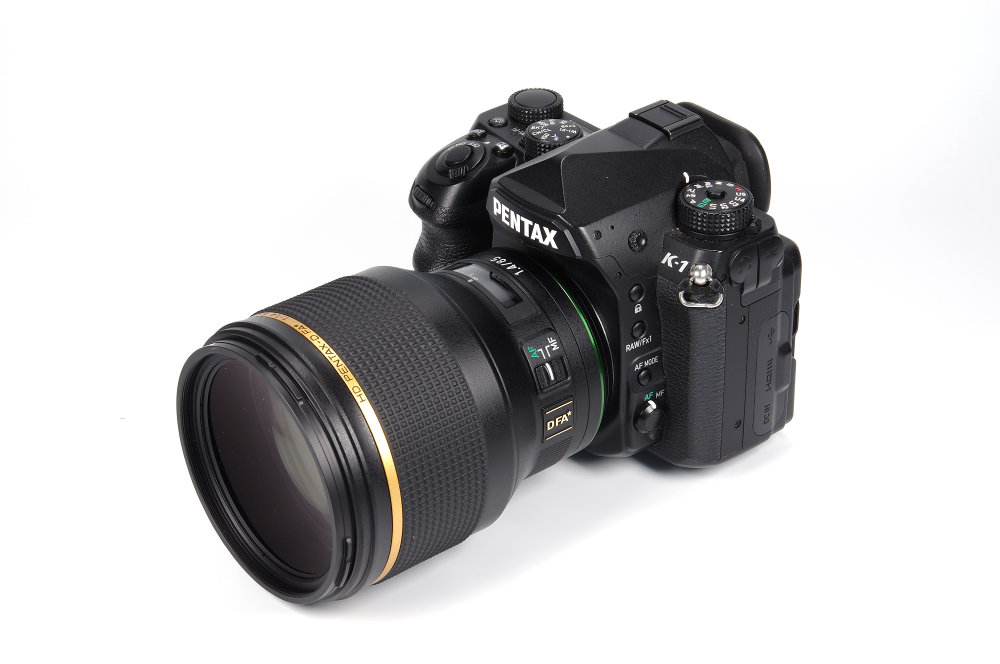 Central sharpness is excellent from f/1.4 to f/5.6, very good at f/8 and f/11 and good at f/16. The edges match that, being excellent from f/1.4 to f/5.6, very good at f/8 and f/11 and good at f/16. Not only that, but the edge figures almost exactly match the central figures, giving an impressively even performance.
Pentax HD Pentax-D FA* 85mm f/1.4 MTF Charts
How to read our MTF charts
The blue column represents readings from the centre of the picture frame at the various apertures and the green is from the edges.

The scale on the left side is an indication of actual image resolution and sharpness as LW/PH and is described in detail above. The taller the column, the better the lens performance.

For this review, the lens was tested on a K-1 body. using Imatest. Want to know more about how we review lenses?
CA (Chromatic Aberration) is very well controlled, both centre and edge, and for most subject matter is unlikely to result in colour fringing. Of course, further corrections can always be made in software if desired.
Pentax HD Pentax-D FA* 85mm f/1.4 Chromatic Aberration Charts
How to read our CA charts
Chromatic aberration (CA) is the lens' inability to focus on the sensor or film all colours of visible light at the same point. Severe chromatic aberration gives a noticeable fringing or a halo effect around sharp edges within the picture. It can be cured in software.

Apochromatic lenses have special lens elements (aspheric, extra-low dispersion etc) to minimize the problem, hence they usually cost more.

For this review, the lens was tested

on a

K-1

body using

Imatest.
Distortion is virtually zero, measuring just -0.03% barrel. That is really as close to rectilinear as we could hope for, being even better than many macro lenses.
Bokeh is lovely, smooth, and fluid and enhances portraits, flower studies and no doubt many more subjects. It goes a long way towards making the lens one that could be described as a keeper.
Flare resistance is remarkable and against the light shots are easy, with the lens seeing right through the bright backlight and maintaining contrast and sharpness. The test shot places a square security light just in the corner of the frame and the lens is still able to define the square shape of the light, something which no other lens has yet been able to do.
There is a degree of vignetting but this is really very modest for such a fast lens.
| | |
| --- | --- |
| Aperture | Vignetting |
| f/1.4 | -1.4 |
| f/2 | -1.2 |
| f/2.8 | -1 |
| f/4 | -1 |
| f/5.6 | -0.9 |
| f/8 | -0.7 |
| f/11 | -0.7 |
| f/16 | -0.7 |
Pentax HD Pentax-D FA* 85mm f/1.4 Sample Photos
Pentax HD Pentax-D FA* 85mm f/1.4 Aperture range
You can view additional images in the Equipment Database, where you can add your own review, photos and product ratings.
Value For Money
The HD Pentax-D FA* 85mm f/1.4 ED SDM AW is priced at £1799.
To put that in perspective, let's look at what other marques have available. Although none of these will fit Pentax, they will help to put the pricing into perspective.
Canon EF 85mm f/1.4L IS USM, £1719
Nikkor 85mm f/1.4, £1699
Samyang AF FE 85mm f/1.4 II, £767
Sigma 85mm f/1.4 DG DN Art, £999
Sony FE 85mm f/1.4 GM, £1499
Zeiss 85mm f/1.4 Milvus, £1549
Zeiss 85mm f/1.4 Otus, £3419
Zeiss 85mm f/1. T*, £1099
Of course, there is no choice for Pentax users if they want an 85mm f/1.4 lens, apart from looking out for an offer, but the new Pentax lens does deliver the quality.
For more options have a look at our lens top lists which feature optics we've reviewed and compiled into easy-to-read lists so you can make more informed decisions.
HD Pentax-D FA* 85mm F/1.4 Verdict
The lens delivers the highest quality, unfortunately at the highest price in its group as well. However, the quality cannot be denied, so if that is what is required the answer is clear. It is large and heavy, there is no escaping that, but there is a clear reason for it in the construction detail that has gone into the end product. To be as good as it is, it needs to be a big, heavy lens.
We are always looking for that "pixie dust" in a lens as well, that magical quality that cannot be measured but which we know when we see it. These lenses are the keepers, the ones that don't get swapped about, and once a Pentax user has the HD Pentax-D FA* 85mm f/1.4 ED SDM AW lens in their hands I very much doubt that they will want to give it up. 'Highly Recommended'.
A special thank you to Chris Harland at SRS Microsystems Ltd for providing the lens for review.
Own this lens? Let us know what you think of it in the EQDB.
Spotted a mistake? Let us know in the EQDB.
---