Ricoh has updated the GR compact camera range with the introduction of the Ricoh GR IIIx with a newly developed GR lens with a 40mm angle of view in 35mm format.
Posted: 13/09/2021 - 12:03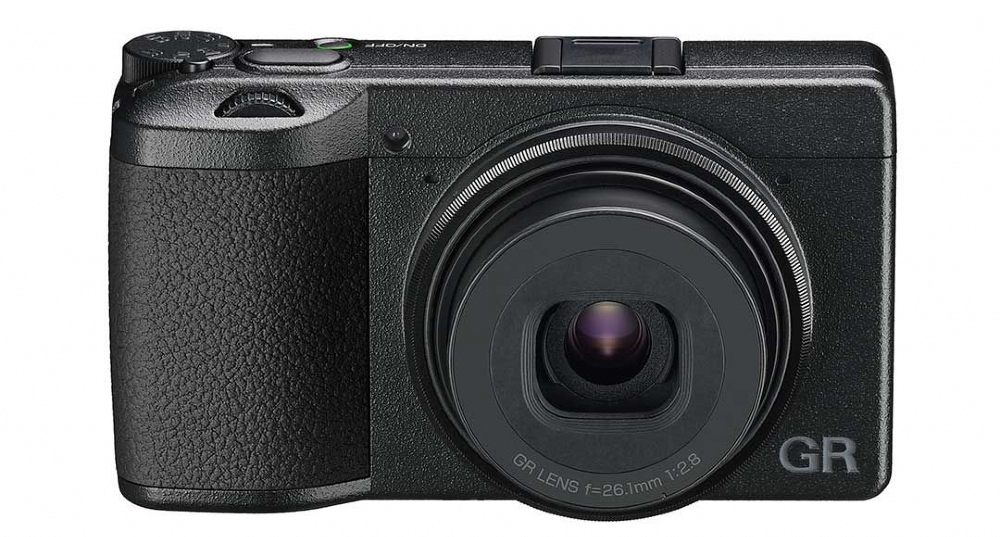 The Ricoh GR IIIx joins the GRX III in the Ricoh premium compact line-up of cameras that are great for street photography.
Design-wise, nothing much has changed with the camera remaining a pocketable APS-C camera but there is a new lens, exchanging the Ricoh GRX III's 23mm equiv lens for a 40mm one.
The GR III was released in 2019 so it's been a few years since Ricoh fans have seen an update to the popular camera, with Ricoh introducing the Ricoh GR IIIx in response to user requests.
Software-based innovations will later be available for the GR III with a firmware update.
The main features of the RICOH GR IIIx at a glance:
26.1 mm high-performance lens (40mm equiv.) With aperture F2.8 and macro function (approx. 1:4 at 12-24 cm focusing distance). Consists of seven elements in five groups, with two aspherical lens elements.
24.2 megapixel APS-C sensor with Shift Shake Reduction sensor with an exposure reliability of up to 4 exposure levels, low-pass filter simulation, filter simulator and dust cleaning function
Image processor GR 6 with an accelerator unit for fast image processing
Sensor sensitivity ISO 100 to 102400
Hybrid autofocus
Fast start-up time of 0.8 seconds
3-inch monitor with touchscreen and low light reflection for good image reproduction even in direct sunlight
Intuitive camera control using many buttons and switches with clear menu navigation
Multiple options for individual key assignment
"Image Control" function for different film simulations
Various trigger functions (series shots, multiple exposures, interval shots, bracketing, camera control via app)
Wireless communication via WLAN and Bluetooth
Compact and high-quality housing design made of magnesium alloy
Battery charge in the camera
Various accessories
Pricing & Availability: The RICOH GR IIIx will be available from September 2021 with an RRP of £899.99.
From Ricoh Imaging:
RICOH IMAGING COMPANY, LTD. is pleased to announce the launch of the RICOH GR IIIx. This premium digital compact camera features a newly developed GR lens with a 40mm angle of view in 35mm format, while harmonising professional-grade image quality with a compact, lightweight body perfect for street photography.

The RICOH GR IIIx has been developed in response to user requests for a new GR series camera that will add a new perspective to the highly acclaimed RICOH GR III. The GR III was released in March 2019, featuring a 28mm wide-angle lens and designed to further enhance the essential values of the GR series: optimising image quality, snapshot capabilities whilst still being able to fit in the pocket. The newly designed 26.1mm GR lens provides a 40mm angle of view in 35mm format, which is close to the photographer's own field of view. Depending on the way the lens is used, this versatile angle of view can create different image perspectives: you can capture an image similar to those taken at a 30mm semi-wide angle, or create a completely different visual expression as if taken at a 50mm standard angle. The camera also provides a range of new and upgraded editing functions to adjust the images to the photographer's preference.

The new RICOH GR IIIx is a camera that harmonizes all the benefits of the ever-evolving RICOH GR series with a new, innovative perspective perfect for dramatic, inspiring street photography.

Main features of the RICOH GR IIIx

1. Newly designed, high-resolution GR lens
The RICOH GR IIIx incorporates a newly developed 26.1mm F2.8 GR lens, which harmonises exceptional image quality with a compact design. Unlike past GR models which featured a 28mm wide angle of view for exaggerated perspective, this lens provides a 40mm standard angle of view in the 35mm format, delivering images with a more natural perspective and a more truthful sense of depth for a completely different type of street photography. The newly designed optics incorporates two aspherical optical elements at the most effective positions to reduce distortion and keep chromatic aberration to a minimum, while effectively minimizing flare and ghost images when shooting against backlight. In macro photography, the camera allows the user to move in on a subject to as close as 12 centimeters from the front of the lens. Coupled with the standard focal length, it captures close-up images with a natural perspective, set against a beautifully defocused background. It also comes equipped with an ND (Neutral Density) filter, which closes the aperture down by two stops to capture high-contrast, high- resolution images with a variety of scenes and subjects and under varying shooting conditions. Its nine-blade diaphragm mechanism creates a natural bokeh (defocus) effect and a truthful sense of depth at open and larger apertures, while capturing beautiful light beams at closed- down apertures.

2. High-quality, high-resolution images
The GR IIIx incorporates a large APS-C-format CMOS image sensor with an anti-aliasing (AA) filterless design and a newly developed GR ENGINE 6 imaging engine to optimize its image resolving power. With approximately 24.24 effective megapixels, this image sensor assures super-high-resolution images rich in gradation. It is also compatible with multi-tone 14-bit RAW image recording. The camera also features the RICOH-original accelerator unit designed to optimize the image data delivered by the image sensor, and provides a top sensitivity of ISO 102400 for super-high-sensitivity photography.

3. Hybrid AF system for high-speed, high-precision autofocus operation
The GR IIIx features a hybrid AF system combining a contrast-type AF mechanism, superior in focusing precision with a phase-detection-type AF mechanism assuring high-speed focusing operation. During autofocus shooting, this AF system can detect the subject's face or eyes with precision*, focuses on it, and indicates the in-focus position on the LCD display using the AF frame. When the camera detects multiple faces, it automatically distinguishes the main subject from secondary ones and indicates this on the focus frame. Photographers can also change the main subject with simple touch-screen operation.
* A firmware upgrade for the RICOH GR III will be provided soon. GR III users are advised to update the camera's firmware to use this function.

4. RICOH-original SR mechanism
• Three-axis, four-step* shake reduction: The RICOH-original SR (Shake Reduction) mechanism means that the GR IIIx effectively compensates for camera shake at the time of shutter release. The three-axis mechanism minimizes the adverse effects of camera shake caused by pitch, yaw and roll by as much as four shutter steps. Since the SR mechanism shifts the image sensor to the ideal position horizontally and vertically, the camera lets the user take advantage of the Auto Horizon Correction function to effortlessly optimize image composition.
* Measured in conformity with CIPA standards.
• RICOH-original AA Filter Simulator*: By applying microscopic vibrations with sub-pixel precision to the image sensor unit during exposure, the camera's AA (anti-aliasing) Filter Simulator provides the same level of moiré reduction as an optical AA filter. This innovative simulator allows the user not only to switch the AA filter effect on and off, but also to adjust the effect to the level best suited for a given subject.
* This function is available at shutter speeds slower than 1/1000 second.

5. Compact, lightweight design
Despite the incorporation of the large APS-C- image sensor and the newly developed optics with a longer focal length, the GR IIIx is designed to be extremely compact, functional and portable, in keeping with the GR-series camera concept of being a pocketable imaging tool or a handy picture-taking tool. It also provides a host of user-friendly features - such as a short start-up time of approximately 0.8 seconds, control dials conveniently positioned next to the four-way controller, and effortless touchscreen operation - to enhance operation and allow the user to swiftly react to once-in-a-lifetime shutter opportunities. The exterior frame is made of highly rigid magnesium alloy to improve reliability and durability while being carried or stored.

6. High-definition LCD monitor with intuitive touchscreen operation
The GR IIIx features a 3.0-inch high-definition LCD monitor with approximately 1,037,000 dots. Its touchscreen operation provides swift, intuitive control of various camera functions, such as AF frame shift, menu selection, and image advance/magnification during playback. It also features an air gapless construction, in which special resin is inserted between the LCD touchscreen monitor and a protective cover made of reinforced glass, to effectively reduce the reflection and dispersion of light for improved visibility. The Outdoor View Setting allows the user to instantly adjust the monitor's brightness to the desired level for greater visibility in difficult lighting conditions.

7. Image Control function to produce desired visual effects
The GR IIIx features a creative Image Control function, which integrates effect modes into conventional image setting operations. Using 11 basic Image Control modes, the user can easily adjust various parameters, such as saturation, hue, key, contrast and graininess, to the desired level and create their preferred finishing touch. A set of adjusted parameters can be added as a custom setting to the Image Control function menu.

8. Advanced image editing
The GR IIIx provides built in RAW development, while allowing the user to edit a captured image as desired by adjusting parameters such as recoding size, aspect ratio, white balance, Image Control setting, and exposure compensation factor, all without the need of a PC. Since the camera reduces the time required for preview after the user adjusts the parameters of RAW images, it enhances the speed of built in RAW development. The camera also lets the user retain the adjusted parameters after the initial RAW development is complete, making it possible to make minute re-adjustment of the already developed image with greater efficiency. The camera's image quality adjustment function for JPEG images is also upgraded: a newly added monochrome mode allows more minute adjustment of parameters in full-colour images, such as filter effect, toning, contrast and sharpness, to create monochrome images with the desired finishing touches. The camera also provides such creative tools as a choice of aspect ratio (16:9 or 4:3)* and image rotation in 0.1-degree steps* to facilitate the image editing process.
* A firmware upgrade for the RICOH GR III will be provided soon. GR III users are advised to update the camera's firmware to use these tools.

9. Bluetooth and Wi-Fi dual communication
The GR IIIx provides Wi-Fi functions for easy pairing with mobile devices such as smartphones and tables. By installing the dedicated Image Sync application, the user can transfer images to a mobile device, display a Live-View image on the device's monitor, change various settings remotely, release the shutter from a distance, and even upload captured images to various social media sites with ease. Even when the camera's power is turned off, the user can browse and download the images stored on the camera to a mobile device. The user can also send a mobile device's location data to the camera, and record the data on captured images. The Auto Resize function,* which automatically reduces the image size before transmitting an image to a mobile device, also helps improve the camera's performance.
* A firmware upgrade for the RICOH GR III will be provided soon. GR III users are advised to update the camera's firmware to use these tools.
Members photos with related tags: Pentax,GR