Past Issue
Click here for a free online sampler!
Click here to subscribe to the magazine or read below for details of the current issue and past issues
Click here to view the pictures by the members in this magazine
Summer Issue 2 2008 contents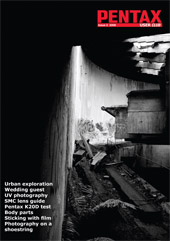 Wedding guest
When an invite to a wedding comes with the question "Will you bring your camera?" David Askham explains how he reacts.
UV photography
Photographers are using the fluorescent effect created from UV Blacklight to produce striking images. Pentax user, Stuart Meikle tells us how.
SMC lenses
For 50 years the single-lens reflex has proved to be the camera of choice for the majority of serious photographers. John Riley tells us why.
Urban exploration
Urban photographers are risking their lives by delving into the relics of time to record their piece of history. Suzanne Waters tells us why.
Photography on a shoestring
Roy Hampson asks if we've ever thought that award-winning pictures can be taken by cameras found in skips and car boot sales?
Digital? No thanks!
In this day of pixels, social networks and other Internet buzzwords, Christopher Jones explains why he's not become a digital convert.
Pentax K20D SLR test
After rumours abound on the Internet and plenty of chat on the Pentax User web site forum the latest hotly anticipated SLR arrived. Matt Grayson looks at the eagerly-awaited Pentax K20D digital SLR.
Body parts
Duncan Evans takes us on an abstract guide to shooting close-ups of the body.