Past Issue
Click here for a free online sampler!
Click here to subscribe to the magazine or read below for details of the current issue and past issues
Click here to view the pictures by the members in this magazine
Spring Issue 2 1999 contents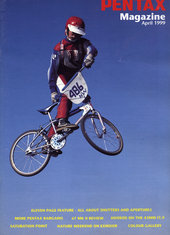 Saturation Point
The choice of film will normally decide how deep and saturated are the colours on your print or slide. But their are other ways to control or enhance colour saturation. Lee Frost explains how.
All About Apertures And Shutters
Read our eleven page feature on apertures and shutters.
The Best Just Got Better
Steve Bavister has been trying out the new Pentax 67 II, the latest version of the professional rollfilm camera that has been around for nearly twenty five years.
Hooked!
Retired architect Philip Vallis has abandoned his rollfilm cameras in favour of an MZ-3 and the limited edition, high resolution 43mm f/1.9 Pentax AF lens.