Past Issue
Click here for a free online sampler!
Click here to subscribe to the magazine or read below for details of the current issue and past issues
Click here to view the pictures by the members in this magazine
Spring Issue 1 2002 contents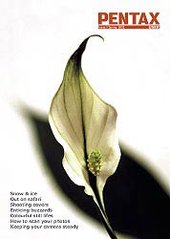 Wildlife adventure
David Robinson takes his Pentax MZ-S and Z-1P, and a spare pair of underpants, into the Kruger Park for some brilliant wildlife shots.
How to scan your photographs
We explain the basics of scanning and show you how to make your pictures digital.
Steady up for sharper pictures
There are many gadgets to help you support your camera...you could even use a tree!
Sales & wants
The place for used Pentax gear - and it's free to advertise
Powder paints
Regular contributor, Keith Hughes, offers a colourful technique for shooting indoors.
Colour Gallery
Six readers see their work in print and collect a pack of ten Fujicolour Superia.
Profile on Steve Herring
Learn how this biologist tempted a wild buzzard to come close enough to be photographed.
Still-life portfolio
A beautiful collection of minimalist still lifes from Paul Brough...the photographer who shot this issue's cover image.
Mail order special offers
Post free deals on accessories, books and other photo products in our mail order pages.
How to shoot a magazine cover
Expert tips from successful professional, Christopher Nicholson, on how to shoot perfect covers and make your camera pay.
Compact cameras' night mode
Your Pentax compact has excellent versatility, especially at night. Steve Bavister explains.
How to shoot snow and ice
Why do snow pictures often come out grey? Find out here, plus general shooting tips.
News and events
Pentax product launches and promotions, reader and local group news and events.