Top Tips For Zoo/ Safari Photography
Here are a few hints and tips for zoo and safari photography.
01/02/2013 - 08:50
Choice of lens
- If you're using a DSLR camera, then you will get the best results with a telephoto lens so you can zoom in on your subject and get a natural looking shot. The
Pentax smc DA 18-270mm ED SDM lens
is a good all round lens that will enable you to zoom in close to your subject from far away.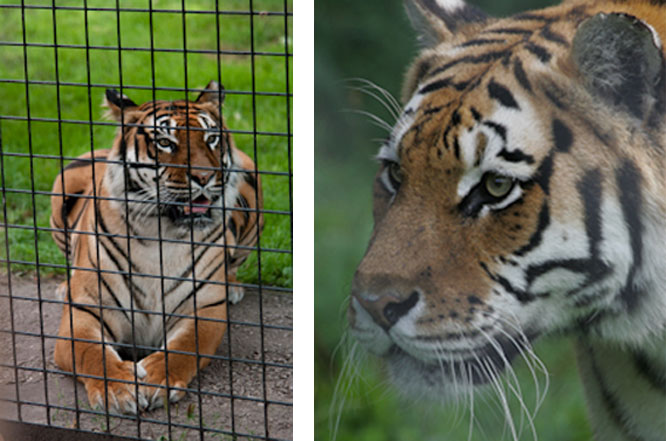 Use a wide aperture
– As a lot of the animals that you want to photograph will be behind mesh and bars, it can be difficult to get a clear shot of them. By using a wide aperture, and focusing on the animal's eyes, you can successfully eliminate the bars or mesh from your shot, though you may need to use manual focus to do this successfully.
Lens Hood
– If you're forced to shoot from inside a car, say at a safari park, then a lens hood can help to prevent unnecessary glare on the lens. By pressing your lens right up to the window, you can still get pretty good shots through glass, depending on conditions. If you're shooting through the glass of an enclosure, make sure to wipe down the surface first, to get rid of any unnecessary smudges. Sometimes using flash can startle animals, so bare this in mind.
Fast shutter speeds
– Animals can be very active and probably won't respond you your shouts of 'stay' when you really want that all important shot. Use a fast shutter speed to capture them in crystal clear clarity whilst they are active. Try creative shots by using a slower speed when shooting apes swinging or animals roaming around at a fast pace. Following the path of the animal as you press the shutter is a technique known as panning and if you get it right, you will have a sharp animal and a blurred background. With this technique aim for a shutter speed of around 1/8sec to 1/30sec, depending on the speed of the animal.

Patience
– It may seem obvious, but you'll probably need to hang around for quite a long time to get a good shot of your subject. If you bide your time and wait for the animal to move of its own accord without being provoked, then you will get your shot. You could try shooting creative macros of the scenery around to pass the time.
Natural
– Just because you're in a zoo doesn't mean that you have to shoot images that look enclosed. With careful angling and thought as to how your shot is composed, it is possible to make the shot look like it was taken in the wild. Get down to the level of the animal if possible for a more natural perspective. Try to avoid capturing any feeding bowls, playthings or the cage itself if possible. It is also possible to remove mesh from your shots in Photoshop –
see this tutorial on the clone tool over on ePHOTOzine
.
Rugged camera
– If you're shooting at the zoo, there is always the chance of your camera getting wet, or muddy. Use a rugged outdoors camera that is waterproof and shockproof to avoid any unexpected drops or bumps. The
Pentax Optio WG-1
range is an ideal camera for this scenario.
---