Shoot A Photo Theme
A guide to photographing themes with ideas on what to shoot.
08/03/2013 - 00:00
All you need is a camera and some inspiration. No special equipment necessary.
Simply choose a theme and then go looking for photos to fit the theme.
You could have a go at an A to Z theme like I did here using a
Tamron 18-270mm lens
. This was great fun and certainly challenged my creativity as well as making me look around at the less obvious subjects for photos.
And that's often what's good about themes, especially if you make the theme centre around certain subjects to seek out, such as patterns or shapes - looking for circles, lines or other geometric shapes. Likewise

colours can make you think. Choose red and go on the hunt for everything you can find that is red: phone box, old doors, traffic signs, plastic chairs, flower close ups, liquids etc.
Here are a couple of photos taken for a theme on yellow: Left is the lines of a clothes

airer

and right is a yellow object photographed through a sheet of bathroom glass. Others in my series include abstract shots of rape fields and close ups of daffodil petals.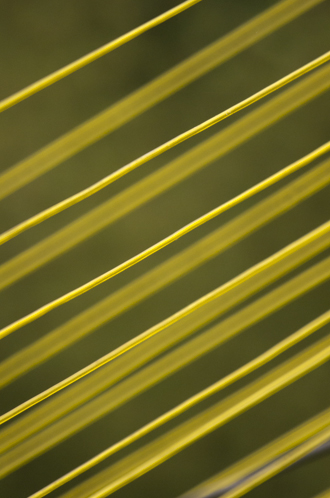 Another option, and one that's slightly more challenging, is to do a theme base on something happening in your community. You could concentrate on the local market and photograph characters at work. Make sure you get permission before you go pointing the lens in the stall holders' faces. Or look at local clubs and societies and speak with the organiser to see if you can document their activity. Ask to visit a local school and photograph the students in the night school class - art or pottery class would be a good starting point. Visit a local craft fair and create interesting documentary series of people and their products. Visit a local business and ask to record a day in the life type piece. These will all push your social skills as well as give you an interesting subject to photograph

and you may get spin off work from such activities.
I did a market project many years ago and was commissioned by one of the stall holder to do a few family portrait shoots as a result. Below are two from this series. Left is a butcher who'd already spotted me, but carried on while joking with his colleague. And the right is a lady who ran a lighting business from a market stall who was framed through an illuminated window that has overexposed. These are both scans from old black & white prints that were taken using a Pentax ME-Super.
If you don't have the confidence to work with people you could document the buildings in your village, town or city. And make a visual guide to the location, shooting all the typical things you'd expect to find in a location. Or take that a step more refined and focus on specific buildings such as historic buildings, modern designs, pubs or churches. Go even more defined and photograph letter boxes, pub signs, grave stone carvings, door handles etc.
I am building a series of post boxes around the world which is a varied long term project that I started in the 80s. Below are a couple taken using the Pentax K10. The left side one was a long exposure to record the night sky and the letter box (now removed from the location) was illuminated with a torch. The right side one was also taken with the Pentax K10 and is a typical village postbox that's built into a wall.
Themes were popular in the I Spy book series where you would go around ticking the items you saw. There's a full list of ideas in the books they publish here:
I Spy books
That's just a few ideas to get you going. Maybe you've started one of your own already? Please share your ideas in the gallery and other suggestions in comments under this article.
---