Pentax User Archive: MZ-5 1996 SLR
We take a look back to 1996 when Pentax launches the MZ-5, which was the World's smallest autofocus SLR.
23/11/2012 - 00:00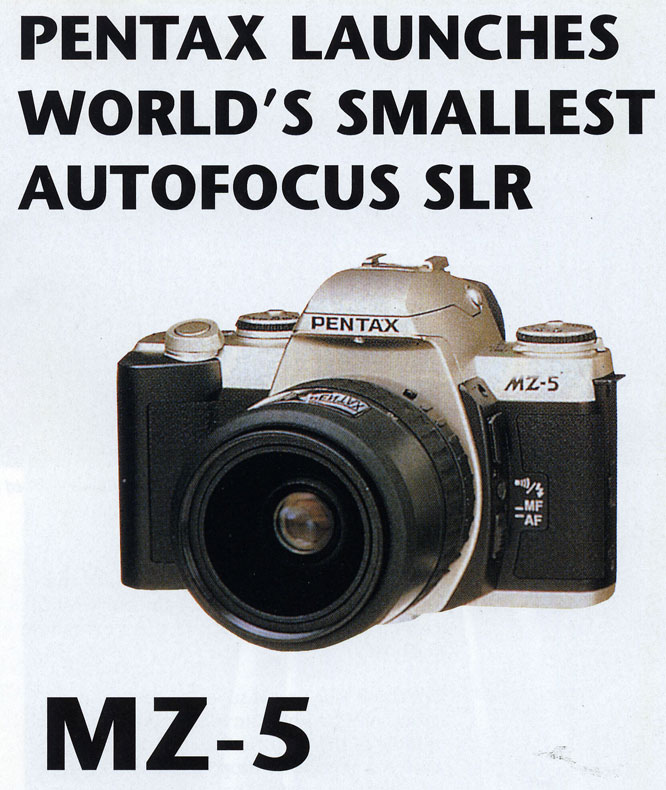 Spring 1996 marks the launch of the world's smallest autofocus SLR - the Pentax MZ-5. Combining the up-to-the-minute SLR technology from the Z series, the MZ-5 is both stylish and sophisticated. The new camera marks a return to traditional switches and dials, and has an eyecatching chrome-finished top panel, base and lens mount. In many ways it recaptures the compact dimension of the famous M series SLR's - which in their time heralded the arrival of compact interchangeable lens cameras - yet incorporates into a compact body design the exciting sophistication of the latest Z series models.
The MZ-5's four exposure modes are programmed AE, aperture priority AE, shutter priority and, for those who want total manual control, metered manual. Flexible metering ranges from six segment multi pattern to spot and centre weighted.
There is a fast, accurate 3-point autofocus system, a first on a Pentax SLR, which is complemented with predictive AF to capture fast moving subjects. The built-in pop-up smart flash has a 28mm angle of view and includes a warning for low or backlit conditions. Flash modes include daylight sync, slow shutter sync and red-eye reduction.
The camera's traditional look, switch and dial controls are designed to make operation simple and easy. Top panel dials control the shutter, exposure, exposure compensation and metering, while aperture control is via a lens aperture ring rather than a command dial on the body.
As well as ISO 25-5000 DX film speed coding, the MZ-5 gives photographers the flexibility to push or pull their film with it ISO 6-64000 manual speed control. For easy visibility, the illumination on the multi data viewfinder display automatically varies according to brightness of the subject.
To help keep its dimensions down to 135 x 90 x 61mm, the MZ-5 is designed to use two extra small CR2 batteries. For prolonged shoots in isolated areas, there is an optional battery pack which lasts for approximately 200 rolls of 24 exposure film using four AA sized batteries.
The new SMC Pentax 28-70mm zoom lens is an ideal partner for the MZ-5. Compact and lightweight it maintains its f/4 aperture throughout its entire zoom range. It uses hybrid aspherical lens (AL) elements to minimise aberrations. A compact 100-300mm zoom, again with constant f/4 aperture is expected later in the year. The new camera is also compatible with Pentax FA, F, power zoom and manual focus lenses.
---