Lego photography
Many children love Lego and so does Thomas Ochsner! Here he tells us why.
18/11/2010 - 15:16
Boba Fett clone production strike.
Photography can be Child's play Taking photographs of Lego sounds downright weird, but looking at Thomas Öchsner's collection of work has made Pentax User realise why so many people are becoming fans of this growing art.

If you look at Thomas Öchsner's portfolio there's the usual flower, nature and occasional black & white shots, but sneaking in there, among the quite normal collection of images, are little Lego characters. These popular little plastic toys fill his portfolio with colour and make for amusing as well as interesting images.

Lego photography is a growing phenomenon with many now trying to recreate famous scenes such as the 1932 photograph, Lunch atop a skyscraper, out of the tiny bricks. These are the types of images that inspired Thomas to start thinking of characters for his own project and now he can't
put his Lego down.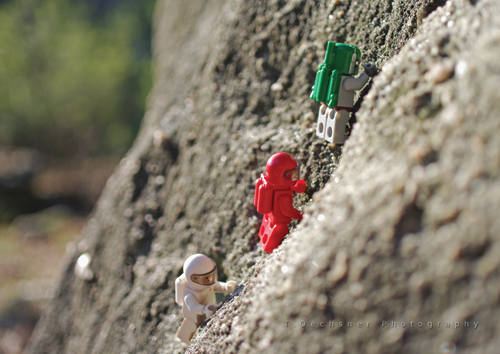 Boba Fett free climbing with his friends.
His series, made up of humorous shots of Boba Fett and the occasional appearance of other Star Wars characters, may look simple, but they can be hard to create. In the beginning, some scenes would take at least twenty takes as the slightest change in light, or the smallest draft of air could alter the scene completely and Thomas would have to start again.

"I had so many ideas and buying a K20D with a 18-55mm was the perfect tool to create the images I had in mind," explained Thomas. "But as I had no experience with a camera, I was learning what settings, shutter speeds and lighting would be best to help me turn the ideas I had in my head into reality."

After some months of shooting with the 18-55mm lens, Thomas realised the limitations of this lens and he purchased the Pentax DA35mm f/2.8mm Limited macro lens to get closer to his mini figurines. His new purchase quickened the photographic process, reducing the amount of glare present in the photographs and ensuring colour was always near perfect. Thomas also found he didn't need external lights any more, only using ambient light and a sheet of white cardboard to give the Lego character a very fine natural light gradient and soft shadows.
Boba Fett on Naboo.
"With the new lens, the right aperture and white-balance adjusted correctly I found within four or five shots I had the image I was imagining and only small adjustments were needed in post production later on."

It's important to think of unusual angles and/or locations for Lego imagery, a nice bokeh is very important to create a good sense of depth in the shot too. A clear focus point is essential and if your background isn't that interesting, try a shot at eye-level with the figurine. This may get you some
odd looks from passers-by, but for a good image it's always worth it in the end.

"If you're concerned about this go out on a meet with people you feel comfortable with. I have shot Boba Fett on many meets and I didn't get any funny looks, some even shot the character themselves!
"Photographing Lego is fun, you can shoot it everyday and your only limit is your imagination!"

For more information on Thomas Öchsner's work please visit his website: Thomas Öchsner.
Boba Fett visiting Endor.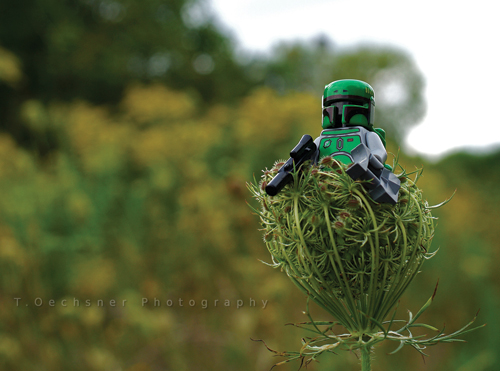 After partying, clubbing and the deconstruction problem, Boba relaxes in his new and very comfortable outpost. He enjoys the silence, the nature and passing the time observing.
---