How To Use Your Camera's Bulb Mode
Here are a few subjects you can capture more creatively with the Bulb mode.
07/12/2012 - 00:00
What setting am I talking about? Well it's the Bulb setting and it's one you should really get to know how to use if you want to get a little more creative with your photography.
The Bulb or B mode can be found on quite a few Pentax DSLRs, including the
K-5
,
K-5 II
and K-5 II s which happens to be weatherproof, something which is very useful at this time of year when we are more likely to get wet! The
K-30
also has this feature and you can currently claim
£50 cashback
when you purchase a K-30 with any Pentax lens.
This setting gives you more creative freedom as unlike other shutter speeds which restrict your exposure times, Bulb mode allows you to lock the shutter open for minutes, hours or longer if you really want to. Just remember your remote or cable release as you need to keep the shutter button pressed and one of these will allow you to do this without touching the camera which can cause shake.
Do make sure your camera's battery is fully charged or if you're using disposable batteries that they are fresh as this mode can drain power quickly, plus if the battery dies before the image is written to card all that time you have been waiting will have been wasted. Remember, in cold temperatures the battery will run down relatively quickly too.
When it comes to subject choices, there's plenty to have a play around with, including fireworks - a subject you may be trying to capture once Big Ben strikes it's last chime on the last day of the year. You can capture single explosions of fireworks quite easily with exposure times of around 1-4 seconds. However, for a shot filled with colourful explosions you'll need to use Bulb mode. Switch to a wide angle lens if you have one as it'll be easier to capture a series of explosions and will help with composition. It can be a little trial and error with this form of photography but if you watch a few go up in the air you'll soon have an idea of where you need to aim your lens. Once set up, switch to Bulb mode and keep the lens covered with a dark piece of card, or something similar, until a burst appears. At this point, uncover the lens then put the card, or whatever you're using, back in place again until another burst occurs. You can keep this going for as long as you like but once finished, do remember to stop the exposure.
In the city, try photographing architecture as even the most boring of floodlit buildings can come to life when shot in Bulb mode. If you have a big wheel in your town or city you can use longer exposure times to capture the movement of the wheel as a circle of colour when shot at night. Plus, the longer exposure times should mean that anyone who happens to be moving through your shot on the busy street won't be recorded on to your camera's sensor. You may also find foreground rides popping up around wheels and Christmas markets at this time of year which can be blurred into colourful lines that exaggerate movement when captured at night with the Bulb mode.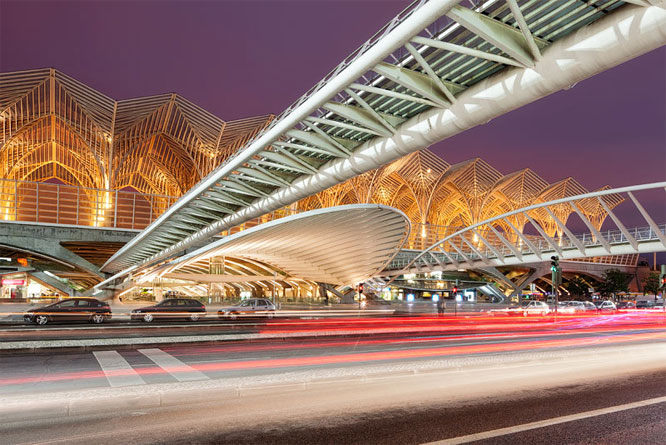 While you're out in your town at night you should take advantage of busy roads and shoot some light trails. This is when you use long exposures (making Bulb mode ideal) to turn headlights into long streams of colour. Just set up above or next to a busy stretch of road, put your camera on a tripod and switch to Bulb mode. It's worth noting that street lights can end up looking like overexposed, white circles in your shots as they don't move, however most of the time it isn't a problem and it can actually look quite effective, particularly on cold, foggy evenings.
If you're feeling really creative why not try light painting. This is where you use a torch, LED, lamp, or whatever other portable light source you have to 'paint' your scene with light. Once you've opened the shutter you can paint shapes in the air, Christmas stars and holly work well at this time of year, or apply your 'paint' to other objects in the scene. Tools such as light wands can be used to create abstract pieces of work that have various colourful lines and other shapes decorating the shot too.
Our last subject is star trials and when you have a clear night, this is something you can capture in your own backyard. Although, if you live in a busy city there may be too much light pollution so you may be better off heading for the countryside. You don't want it to be too cold either as frost will start to form on your lens after a while, plus it'll become uncomfortable for you too.
Put your camera on a tripod, aiming the lens at the pole star, open the shutter on B and keep it open for... well, quite some time. Stick to smaller f/numbers (over on ePHOTOzine it is suggested you start at around f/5.6) and start with an exposure of around 10 minutes. If you find the effect isn't great, go for a longer time, increasing the length until you produce a result you're happy with.
Photo by Peter Bargh.
---