From Z to FA lens guide
John Riley looks back at Z and FA series Pentax AF bayonet lenses.
13/12/2010 - 10:20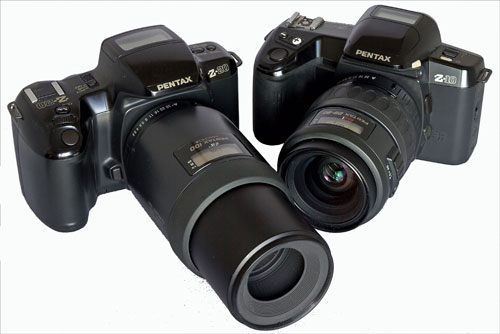 The Z-10 and Z-20 with FA 100mm Macro and FA 28-80mm Power Zoom lenses.
By 1991 the autofocus revolution was well under way and the Pentax SF camera series was beginning to look dated. Pentax were looking to tempt compact users to move to SLR, so a rethink in the facilities and complexity of some models was also examined closely. As a result, the first of a new camera range was the Z-10, introduced in June 1991. This remarkably simple SLR offered just program and manual modes, not unlike the earlier A3. But with its new range of FA lenses a new mode was introduced – Hyper Program, where basically a button was pressed and the camera selected the appropriate shutter speed for whatever aperture was set on the lens. In effect, a one-off aperture-priority exposure. In some later models setting the shutter speed allowed a one-off setting of the aperture by the camera.
There was only single frame advance on the Z-10, so no frames-per-second rate can be quoted, and there where very few controls or buttons to confuse the photographer new to SLRs. I was surprised at the simplicity of this camera, but, despite that, it gained good reviews in the photographic magazines of the day.
The line of simpler models continued gaining some exposure modes and minor facilities along the way through the Z-20, Z-50 and Z-70 carrying us through the 1990s. All these models have full function KAF2 mounts and can support features available with the latest FA lenses.
The flagship Z-1 arrived in February 1992, joining the Z-10 in the range. There were no mid-range models at the time. The camera was well received and was said to outshine the Canon, Nikon and Minolta offerings that were the mainstay of the market. The usual minor upgrade to the Z-1p followed, as did a simplified version in the Z-5 and then Z-5p.
For some the Z-1p represented the pinnacle of Pentax AF bodies. Modern users will find the cameras heavy, but totally familiar, as that Pentax design logic is still there and is relatively unchanged even in our new DSLRs. I'll quote Amateur Photographer magazine to sum up this range, "The Z-1 is as easy to use as the best that Canon has to offer and is better designed than any other camera from the Minolta, Nikon, Olympus, Yashica and – for that matter – Pentax stables." High praise indeed.
The FA Series Lenses
The FA series of lenses are, in some instances, optically identical to the previous F-series, but more functionality is added to the communication between camera and lens. There are also new designs and the quality of these lenses as a group is on a par with the best available at the time they were issued. Construction quality is exemplary and we have heavy, professional quality lenses throughout the range. Focus tends to be very usefully closer and the need for a macro setting largely dropped.

These are all good lenses to try on our DSLRs, although for that purpose, of course, some will be better than others. In a sense there are two ranges of FA lenses, as the arrival of the MZ series cameras (yet to be covered in PU) brought new, silver bodied, lighter lenses with a far greater use of plastics. But these are good lenses too, so we shall group them together optically. It's interesting to note how the later use of aspherical (AL) lens components reduced the complexity and number of elements in a lens. There are a few features that were very new and made the Z series cameras and FA lenses unique.

Power Zoom
As far as I can tell, seven Power Zoom lenses were actually released, although more were planned. A Power Zoom lens (the naming of which also explains why in the USA Z cameras were PZ cameras) can be zoomed in the usual way, but when the zoom ring is pushed forward to reveal the words POWER ZOOM you have motorised zooming. Just like on a compact camera.
Apart from some convenience to this, it makes it possible to zoom smoothly during long exposures for creative effects. Zoom Clip memorised a focal length, so you choose the length and press the memory button on the lens barrel. You can continue to zoom as you wish, but as long as that lens stays on the camera when you push the button again the lens zooms back to the memorised setting. This was useful to frame a group of people, zoom in on an individual, but be able to return to the group shot at the press of a button.


Image Size Tracking enables you to select an image size for a moving subject and maintain it at that size in the viewfinder as the picture unfolds in front of you. This was ideal for sports and action photography.
Predictive AF is also available with these lenses, where the position of moving subjects is predicted by the camera. Pentax Power Zoom lenses were unique in allowing these new functions, but didn't catch on. The lenses can still be used and will even power zoom on modern cameras, but the other facilities are no longer supported. They are excellent lenses though and can be used with confidence.
Worsley Packet House on a wet morning, taken with the FA 28-80mm Power Zoom at ISO200 and an exposure of 1/45sec at f/8.
Within the range there are two lens designations that deserve special mention. The FA* lenses were professional lenses of a superior standard with very high price tags to go with them. The Limited lenses are a series made in small numbers where the standards of design and manufacture aspire to
the very best of the lens makers' art. Beautifully engineered, with a finish that is quite extraordinary in its precision. Look closely at the engraving of apertures on these to see how the very best can look. These lenses are second to none.

An interesting and innovative camera series, with the Z-1p representing one of the best Pentax film bodies ever made. The less well specified cameras are excellent quality and are available at very low prices on eBay and elsewhere.
The FA lenses are, in a couple of cases, still available, as in the 50mm f/1.4 for example. They are all fully useable today, and definitely worth a try out on your digital SLR. View lens tables associated with this article here.





(Top left) Andrea in the mirror by candlelight. FA 50mm f/1.4 at f/1.4 and ISO1600.
(Top right) Flat subjects need a macro lens to ensure even sharpness. FA 100mm, f/2.8 Macro at f/16 and ISO200.
(Right) Detail of a small wooden box. FA 100mm f/2.8 Macro at f/16 and ISO200.



Excellent flare control with the limited lenses. FA 43mm f/1.9 limited at f/4.5 and ISO800.
---