Action Dog Photography
Tips on taking action photos of your dog.
31/05/2013 - 00:00
Many dog owners photograph their beloved pets, but many of these are static shots, so here are a few tips to bring some drama to your pet photos. If you don't own a dog, you could even make a few quid photographing someone else's who may love an action-style photo to add to their family album.
The technique is fairly easy to set up, but can take a few trials to master.
What you're going to do is get the dog to run towards you and photograph it in motion.
Go with a partner or friend who can assist by holding the dog at a good distance from you. At the moment when you're ready they will let the dog go and you will take a photo when it reaches a specific point close to you.
To get the dog to run in your direction either shout it, ask the assistant to throw a stick towards you (good aim needed!) or ask another helper standing near or behind you to shout the dog.
Before you start you will need to set the camera to the correct exposure. Move close to the dog and take a reading with it filling the frame first. Make sure this exposure reading is set either manually if available or using exposure lock or compensation when the camera is in

auto. Most modern cameras will do a good job on auto though so you may not want to be concerned with such efforts.
The important thing is to make sure the shutter speed is fast enough to freeze the dog in its tracks. A speed of 1/250sec or above will be needed

depending

on the speed of the dog. In dull conditions you may need to increase the ISO to achieve this kind of shutter speed.
Now move into the position, making sure the background is de-cluttered. Your camera may be able to focus quickly on a moving subject, but when it's coming towards you it gets harder for most cameras to keep up. If yours struggles it will be better to pre-set the focus on the ground at a point where you want the dog to be when you take the photo. This can be done with focus lock or by switching to manual. You then need good trigger response to be sure you press at the moment the dog reaches that point.
With exposure and focus set you're ready to go. Ask your assistant to let the dog go and brace yourself.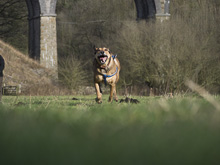 Shooting from lower to the ground will give a better viewpoint, so either kneel, lay down or hold the camera at a low position. But don't go too low or the foreground grass may obstruct as seen in the shot to the right.
When the dog reaches the correct distance, press the shutter button. Those with cameras with good focus speed can set focus tracking so the system will keep the point of focus on the dog and adjust as it comes closer.
If you set the camera to continuous frame shooting you can take a sequence of shots as the dog reaches the optimum point and goes beyond. You can then select the winning photo from your sequence.
If the dog is going to be running past you make sure you judge

speed and pan quickly enough or you'll miss the shot as the dog runs out of frame, like our result to the right.
At this point you'll be seeing good results or will need to re-run the task. It may not be long before your dog starts to tire. One reason why it's not a good idea to try the shoot at the end of a walk! Equally the dog may become wise to what's going on and stop playing. You will know your dog best and can shoot according to its temperament.
Below is my best attempt at a recent action shoot in Monsal Dale in Derbyshire with friends. I asked one friend to stand at a distance with the dog, and her partner stood to my right and shouted the dog when she let go. We'd already covered a few miles so he was getting a bit tired, and after several reruns his tongue was out which you can see on the shots above.
This is the best position where both front paws are high in the air so the overall posture is good. Getting the dog on the down step doesn't look as dramatic.
The shutter speed was 1/2000sec which has really frozen the action. To allow this speed I needed to be at ISO1000 and had a wide aperture of f/4.5.
Let's see your attempts at dog action photography in the Pentax User Gallery.
---